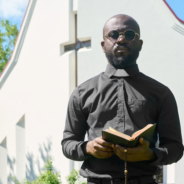 Ted Atkins
Pastor, Church Leader and Founder
"Even in the midst of storms, remember God is the lighthouse guiding us to safe shores. With faith, every step forward is a step closer to His grace."
Hello there, 
I'm Ted Atkins, the founder, editor and writer for Best Daily Prayer who also works as a pastor at our local church. My entire life has been centered around faith, guiding me through every storm and leading me to my calling.
Growing up I was blessed with a devout Christian family where love, faith, and acts of service were encouraged on a daily basis. Praying from an early age helped me develop a deep connection to God even as a child. This connection has guided my life throughout many ups and downs, shaping my journey and setting me on my mission – to spread God's word.
In order to strengthen my understanding of faith, I pursued a degree in theology from the esteemed Boston University School of Theology. Years spent studying God's word not only enriched my knowledge but also fortified my resolve to dedicate my life to serving God and helping others find solace and strength in His love.
After graduating, I took up the mantle of a pastor at my local church. In my role, I have the honor of guiding our community in their spiritual journey, offering words of comfort and wisdom, and sharing the message of God's unending love and grace. Each day, I strive to live out the teachings of Christ, providing a safe and supportive space for all who seek God's presence.
As a writer and author, I channel my experiences and insights into my work, hoping to touch hearts and minds beyond the four walls of our church. I've had the joy of seeing my words resonate with people from all walks of life, inspiring them, offering comfort, and guiding them towards a deeper connection with God.
In all that I do, my mission is to bring people closer to God, to help them find peace in His presence, and to inspire them to live their lives rooted in love and faith.
So, whether you're just starting your spiritual journey, or you're looking for a deeper understanding of your faith, I invite you to join me. Together, let's explore the profound wisdom and infinite love of God.
Remember, no matter where you are in your journey, God is always there, waiting with open arms. My hope is that my words and teachings can serve as a bridge, guiding you towards His everlasting love and grace.
In faith,
Ted Atkins