God Gives His Toughest Battles To His Strongest Soldiers
March 2023
What does it mean when people say 'God gives His toughest battles to His strongest soldiers,' and is it really true? This adage is often used when someone is facing a challenging situation and wonders why they are being tested in this way. It can be difficult to understand why God would allow us to face tough challenges, especially when we already feel like we are at our limits.
In this article, we will explore the biblical basis for this idea and consider whether it holds up under scrutiny. By examining passages from the Bible and looking at the experiences of biblical characters, we hope to find comfort, guidance, and understanding in the midst of our own tough battles.
The Origins of the Phrase
The exact origins of the phrase "God gives His toughest battles to His strongest soldiers" are unclear, as it does not appear in any religious texts or scriptures. Despite its uncertain origins, this adage has become widely popular and is often attributed to various religious figures or inspirational speakers.
Its sentiment resonates with many people, regardless of the author, as it encapsulates the notion that our struggles and hardships serve a purpose in shaping our character and resilience.
By embracing this powerful message, we can find comfort and strength in the belief that we are equipped to handle the challenges that come our way, and that these trials are an opportunity for personal growth and spiritual fortification.
The Meaning of "God Gives His Toughest Battles to His Strongest Soldiers"
In James 1:2-4, we are told to "O my brothers! When you meet various trials, consider it rather a great joy. For you know that the testing of faith produces endurance. Therefore, exercise your endurance to the fullest so that you may become a complete and complete man, without any defects." This passage suggests that trials and tests can help us grow and mature in our faith.
Knowing that God is with us in the midst of our troubles and that He is using them to shape and mold us into the people He wants us to be can bring us comfort, even though it may be difficult to understand why He allows us to face such challenges. The solution is to find joy and purpose in our sufferings, knowing that God is using them for our ultimate good and for His glory.
Why Does God Give Us Challenges?
God allows us to face battles and challenges in our lives for various reasons, one of which is to promote our spiritual growth and character development. As we navigate through adversity, we learn to lean on our faith and develop a deeper connection with God. These trials also serve to refine our character, enabling us to cultivate virtues such as patience, humility, and perseverance.
The Bible speaks to this transformative process in 1 Peter 1:6-7 stating, "In this you rejoice, though now for a little while, if necessary, you have been grieved by various trials, so that the tested genuineness of your faith–more precious than gold that perishes though it is tested by fire–may be found to result in praise and glory and honor at the revelation of Jesus Christ."
Similarly, Romans 5:3-4 tells us, "Not only so, but we also glory in our sufferings, because we know that suffering produces perseverance; perseverance, character; and character, hope."
By embracing the challenges and suffering that God places before us, we can grow stronger in our faith, develop a more resilient spirit, and ultimately become the individuals that He intended us to be.
Strength Comes With Faith
Faith plays a central role in many people's lives and can be a powerful source of strength and comfort in times of trouble and hardship. In the Bible, Faith is often portrayed as a spiritual armor that protects us from harm and helps us to persevere in the face of challenges.
For example, in Ephesians 6:16, Paul writes, "and take the shield of faith above it. With it you will be able to extinguish the fiery arrows of the wicked." This passage suggests that Faith can protect us from the attacks of our enemies and help us to overcome any obstacles that come our way.
In Hebrews 11:1, we are told that "Now faith is the conviction of things hoped for, the confirmation of things not seen." This passage suggests that Faith gives us a sense of confidence and certainty in the things that we hope for and believe in, even when we cannot see them with our physical eyes.
Faith can also provide comfort and a sense of purpose during difficult times. In Psalm 23, David writes, "Though I walk through the valley of the shadow of death, I will fear no evil. because you are with me. Your rod and your staff comfort me." This passage suggests that Faith in God can bring us peace and comfort, even in the midst of the darkest of circumstances.
Furthermore, Faith can give us a sense of purpose and meaning in our struggles. In Romans 8:28, Paul writes, "We know that God works with those who love him, who are called according to his purpose, for the good of all things." This passage suggests that even when we are facing tough battles, God is working behind the scenes to bring about a greater good in our lives.
Overall, Faith plays a powerful role in helping us to face and overcome difficult challenges. By trusting in God and His plan for our lives, we can find the strength and courage to persevere and emerge victorious.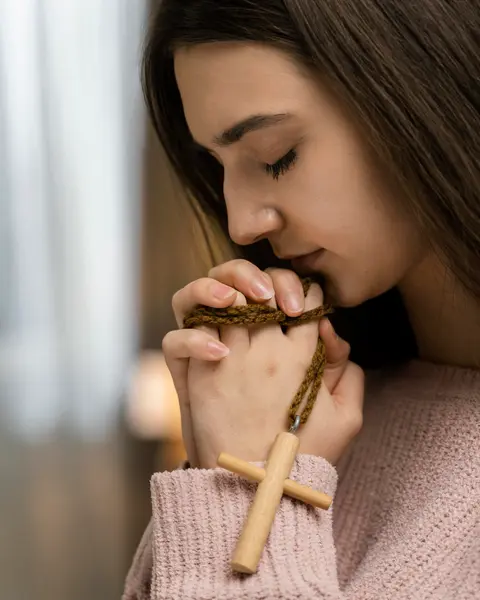 How Can We Strengthen Our Faith?
We may be biblically resolute in our beliefs and deeds in a variety of ways. Here are a few examples:
Praying: Prayer is a powerful way to draw closer to God and find strength in times of difficulty. In Ephesians 6:18, Paul writes, "Consistently pray and supplicate, pray in the Spirit at all times, and keep awake for it, and keep praying for all the saints." This passage suggests that we should pray consistently and with a variety of types of prayers including prayers of thanksgiving, confession, and intercession for others.
Doing good deeds: We are called to love our neighbour and serve others as a way of demonstrating our Faith and glorifying God. In Matthew 25:40, Jesus says, "Truly I tell you. What you did for one of these least brothers, who are my brothers, is what you did for me." By doing good deeds, we can show the love of Christ to others and be a light in the world.
Sharing the gospel: In order for people to experience Jesus' love and redemption, we are also obligated to spread the good news of the gospel. In Matthew 28:19, Jesus says, "Therefore go and make disciples of all nations to the Father. In the name of the Son and of the Holy Spirit, baptize them" Sharing the gospel can be challenging, but relying on the Holy Spirit and being bold in our witness, we can be used by God to bring others to Faith.

Final Thoughts
In conclusion, the powerful phrase "God gives His toughest battles to His strongest soldiers" serves as a reminder that we possess the inner strength and faith to triumph over life's challenges. By leaning on our beliefs, fostering resilience, and finding support in our communities, we can navigate through adversity and emerge as stronger, more spiritually grounded individuals.
As you continue your journey, remember that the battles you face are opportunities for growth, and with faith as your foundation, you are well-equipped to conquer even the most daunting obstacles.