50 Thursday Blessings And Wishes in 2023
November 2022
Thursdays are beautiful. It is a day that brings gratefulness to the soul of a believer, a day that deserves every strength and passion that can be poured into it. But most times, Thursdays are simply "lived by".
This day of the week has always had a rich significance to the Church, right from the time of the early Christians. For instance, Holy Thursday.
Holy Thursday is a day set aside by Christians all around the world to celebrate and remember Jesus Christ's last supper. It is celebrated just before the Easter rituals, and is one of the most important days in Christianity. Holy Thursday is also referred to as Maundy Thursday.
Even in a typical normal week every year, Thursdays signify that the week is coming to an end, and it's best to end the week with God's blessings.
This article contains a rich collection of carefully selected Thursday blessings to brighten up your day. You can pray with them, read them out loud, and also share them with your friends and family.
Thursday Blessings To Uplift The Rest Of Your Week
1. May God cause this Thursday to overflow with His blessings for you in every aspect of your life. May joy and fulfillment continually flow in your heart. I wish you the best God has to offer you today.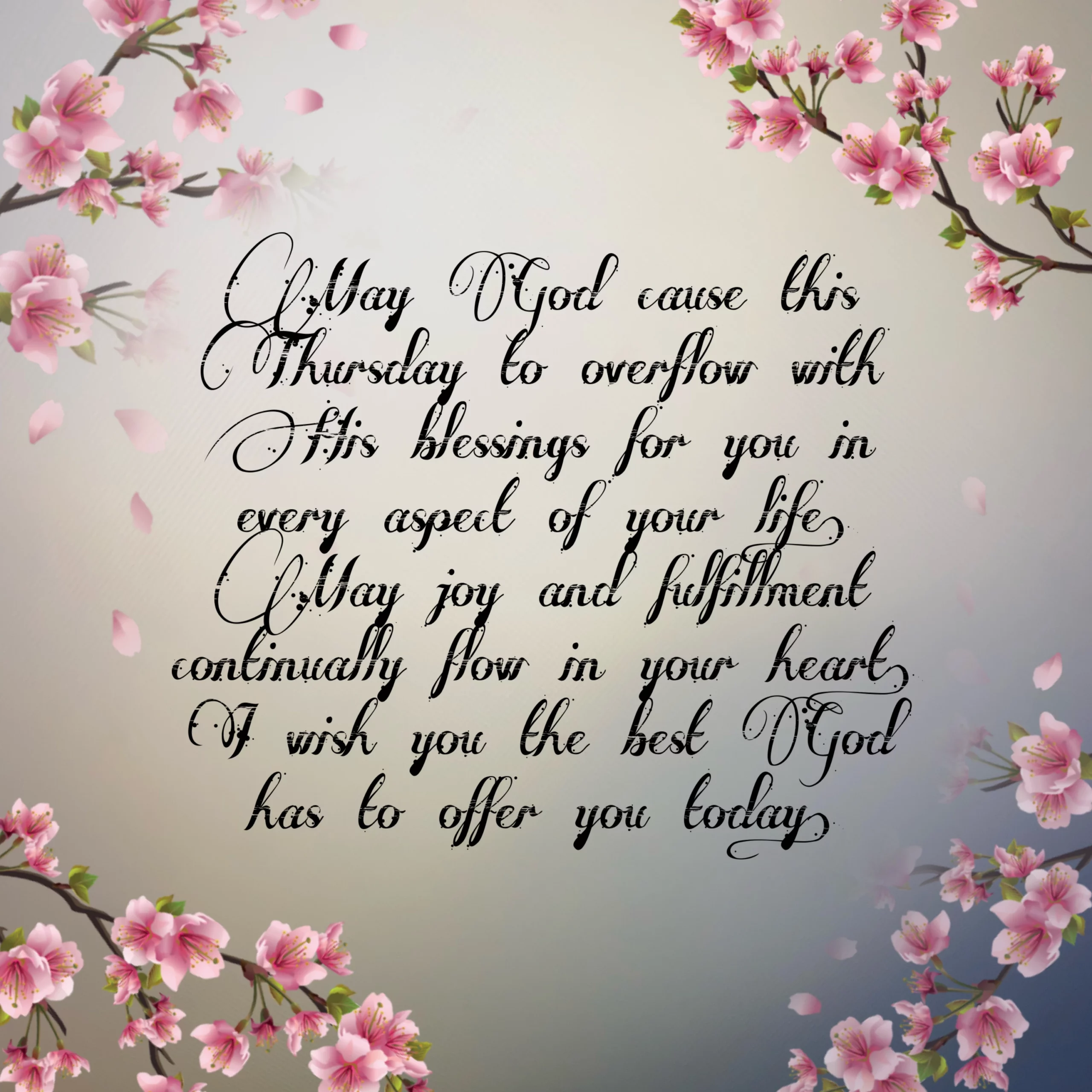 2. On this Thursday, May God shower you with immeasurable peace so that you can shine the love of Christ throughout your day. Blessings and glory be showered upon you. Amen.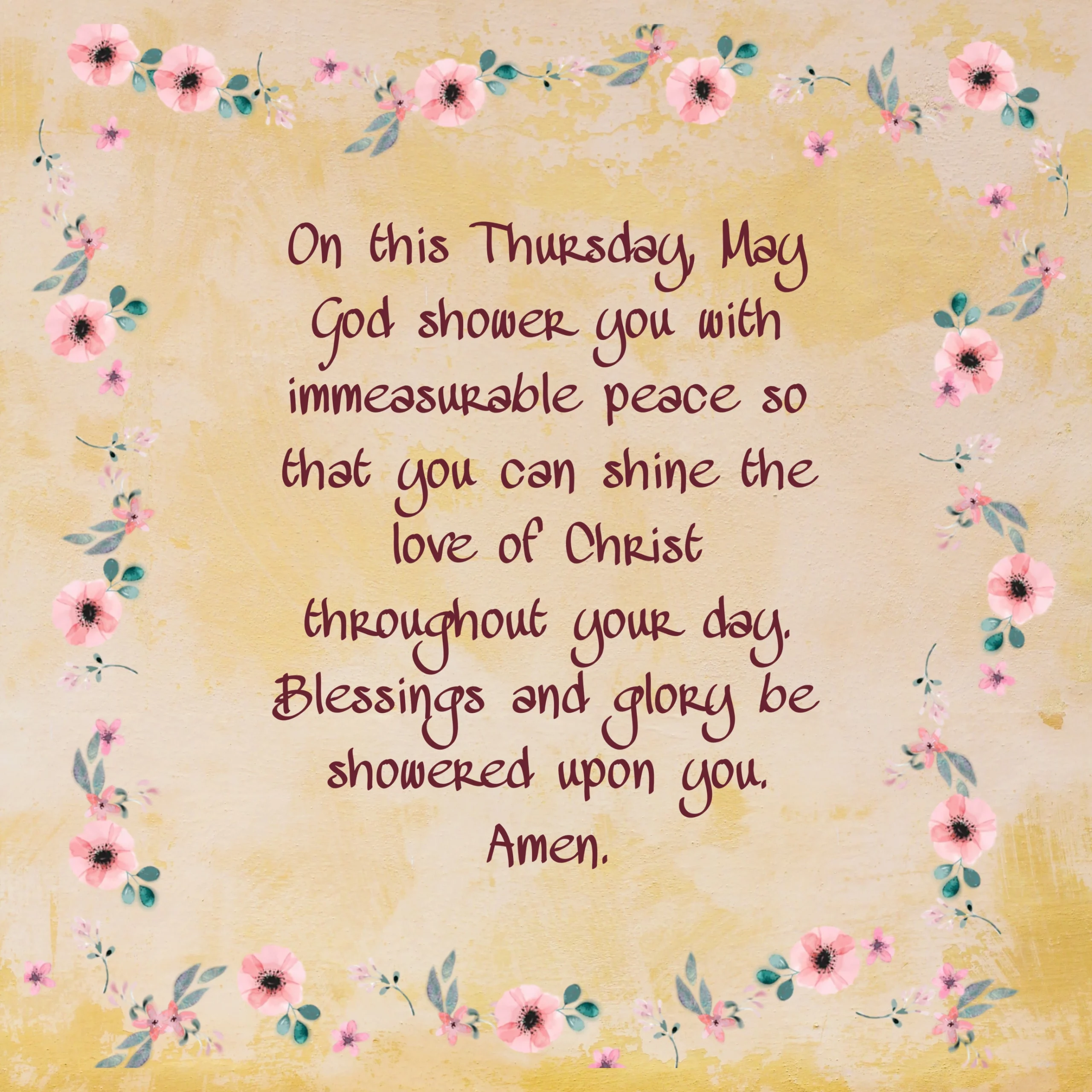 3. Let this lovely Thursday morning give your heart a renewed sense of God's presence and love for you. Cheers to a productive Thursday. Shine on!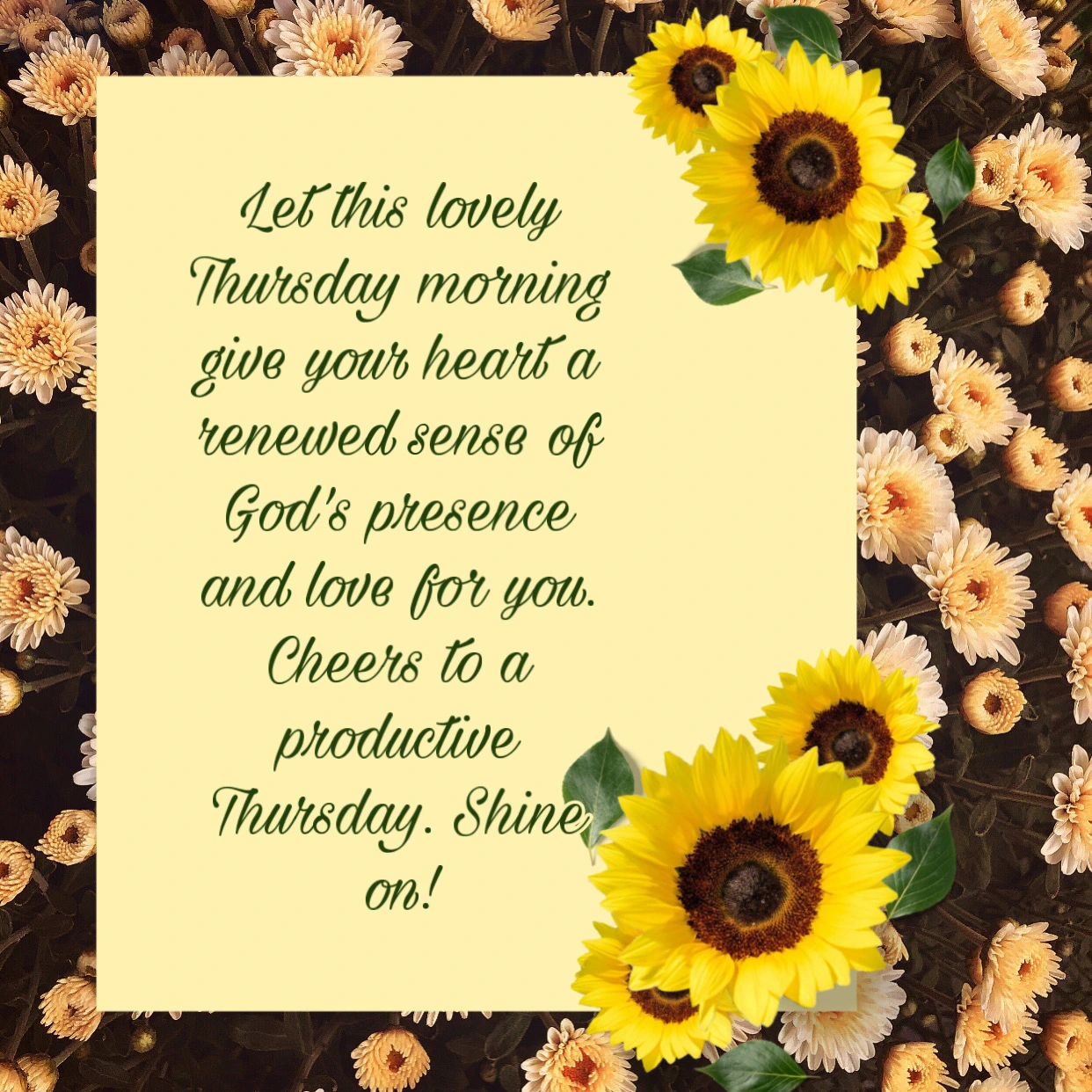 4. Let this Thursday be guided by the Holy Spirit so that every step you take today lights the world with God's blessings.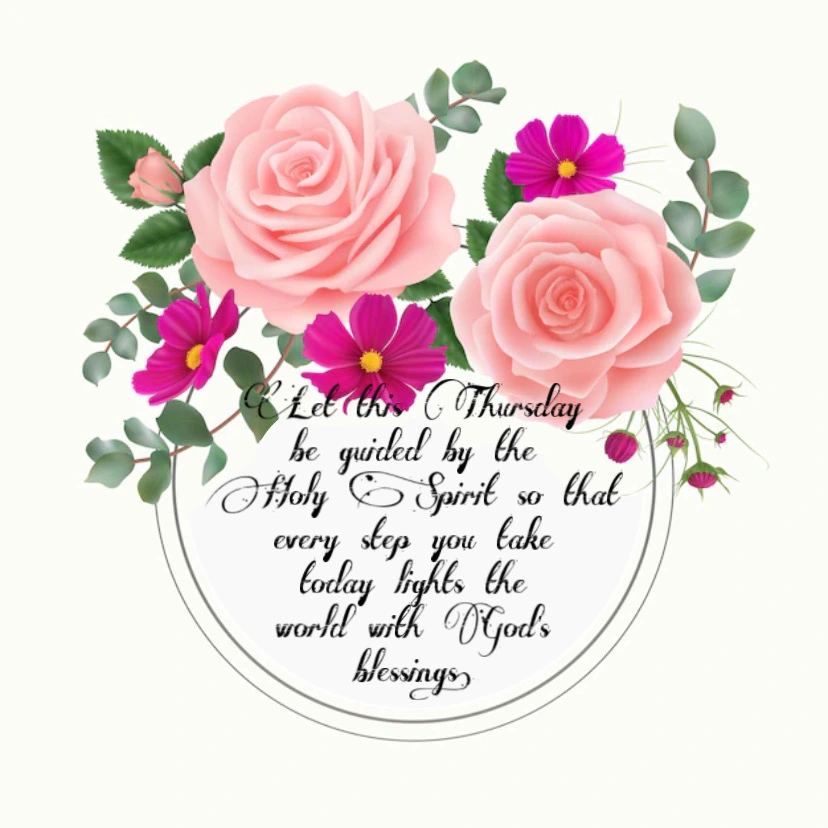 5. May this Thursday's sun warm your heart with love, the clouds shower you with affection, and the wind whispers God's blessings into your heart.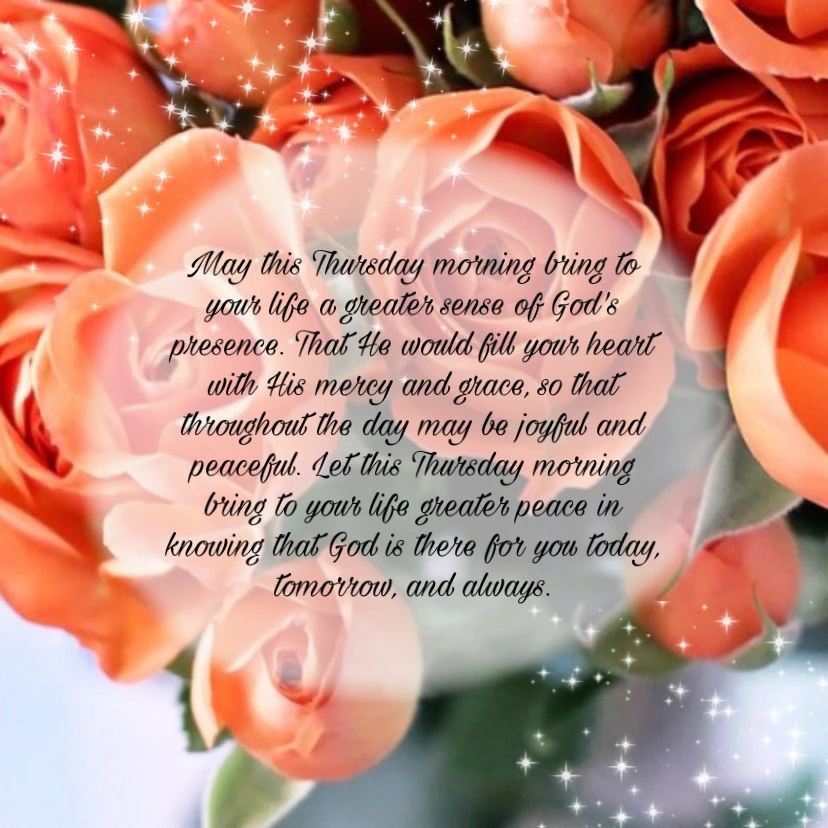 6. I am sending you good morning blessings with love and encouragement to succeed in all you do. Let the blessings of God grant you good health and happiness this Thursday morning.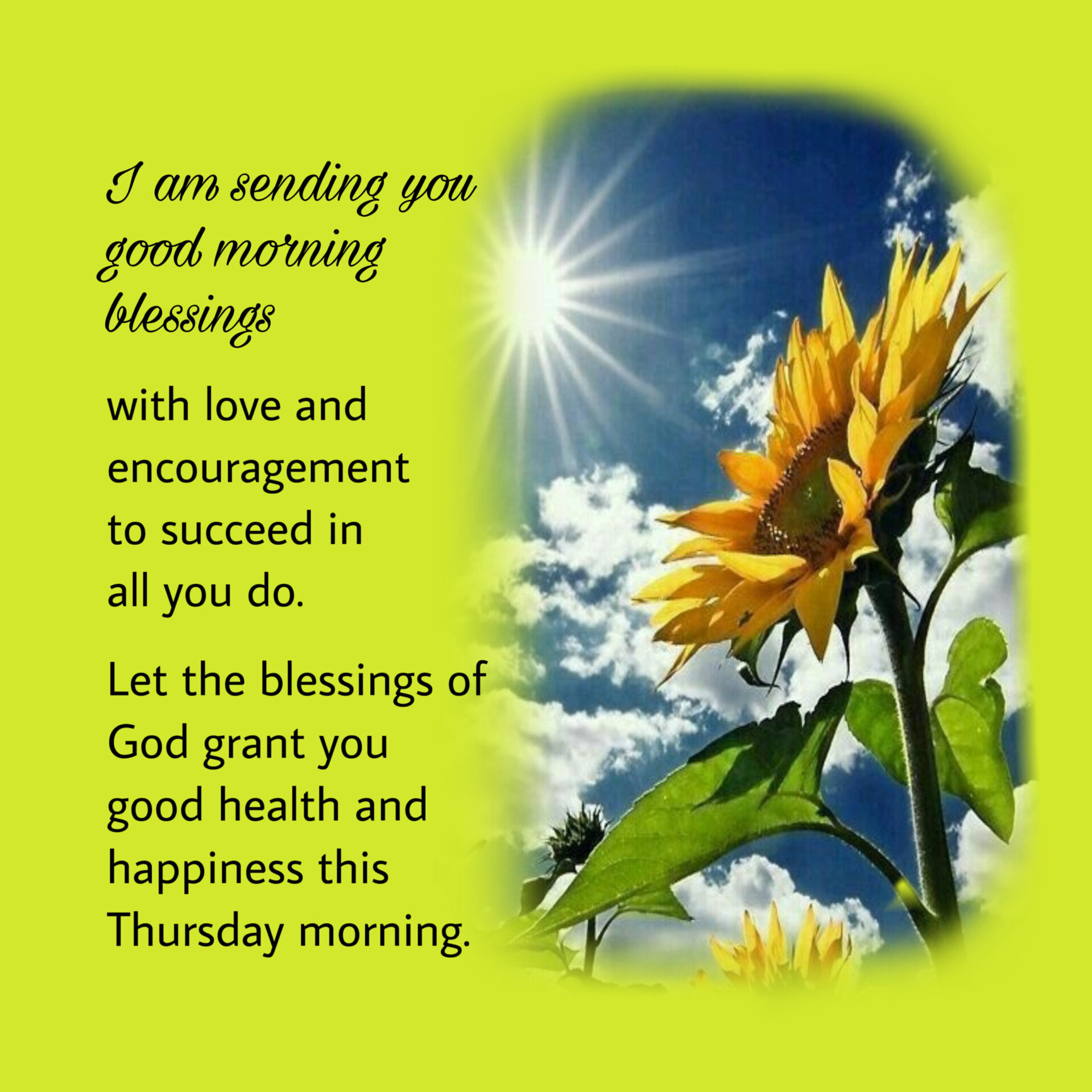 7. Receiving this Thursday morning with a lot of enthusiasm. May you be blessed from dawn to dusk, and may you be a blessing to others. God does not bless us to make us happy but also to make us a blessing to others. Good morning!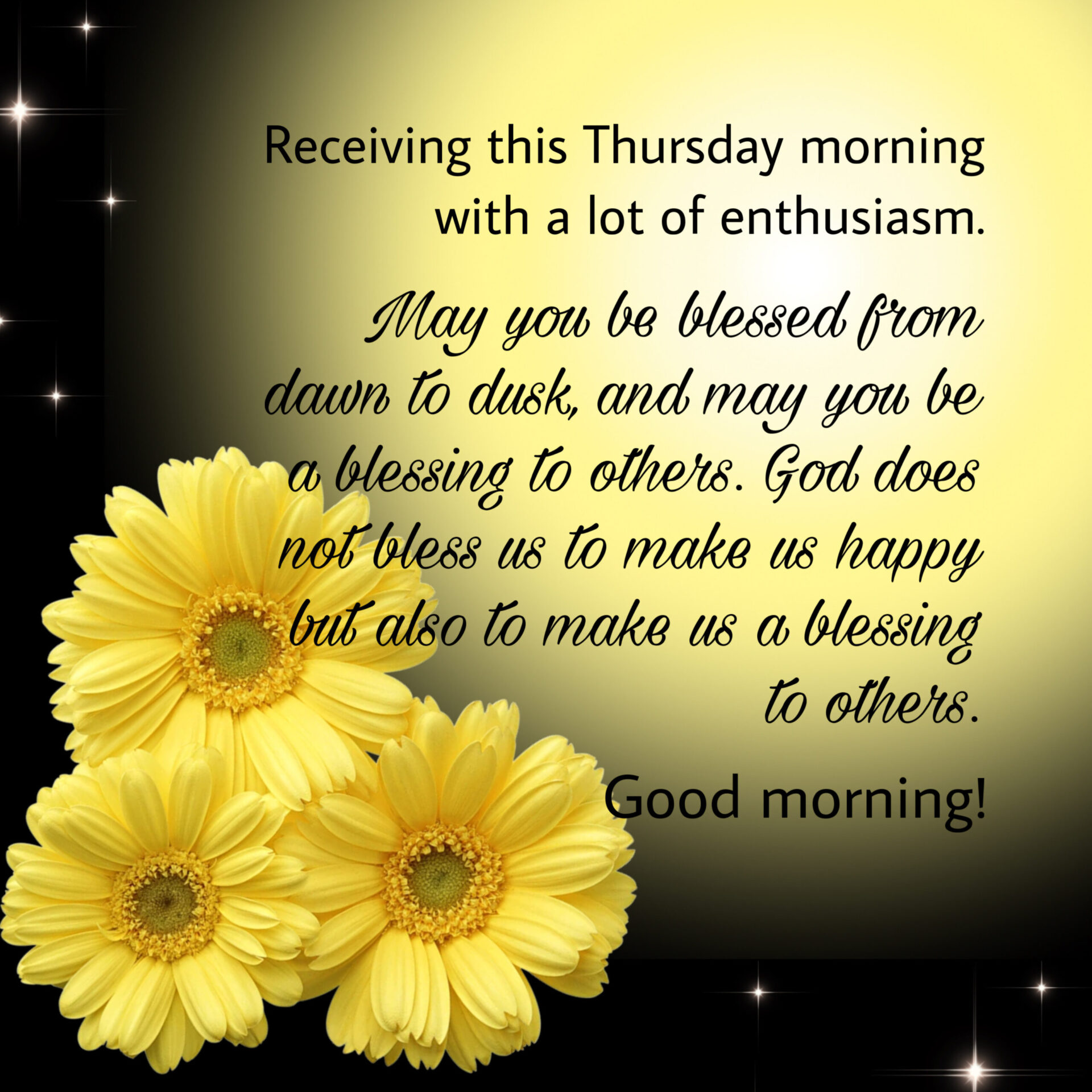 8. Happy Thursday! Here is a scripture to hold onto throughout today: "So do not fear, for I am with you; do not be dismayed, for I am your God. I will strengthen you and help you; I will uphold you with my righteous right hand. (Isaiah 41:10)"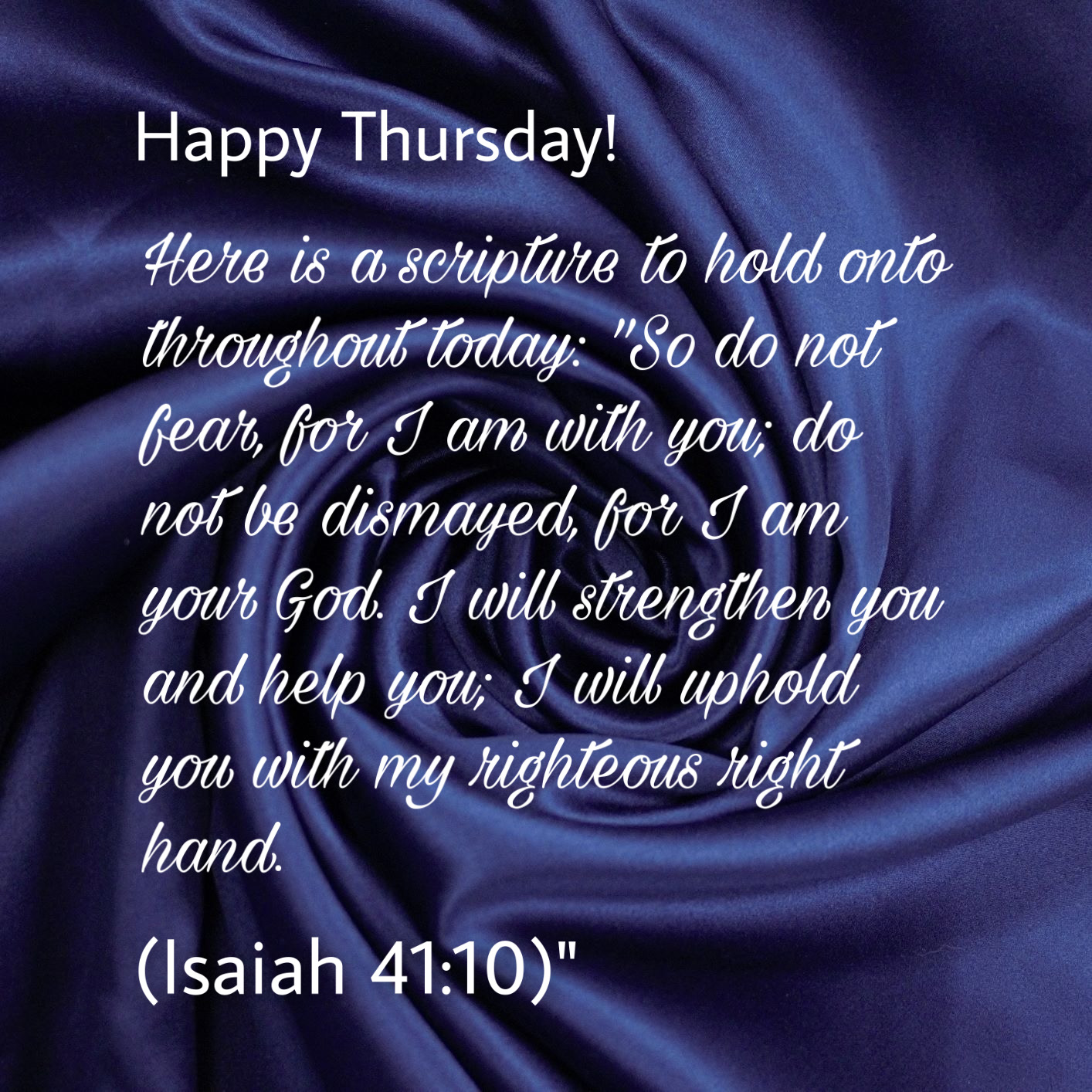 9. You can do anything you put your heart, mind, and soul into. Far more than you can imagine. Be fearless. Do it, for God, your Heavenly Father is with you always. Wishing you a happy Thursday!"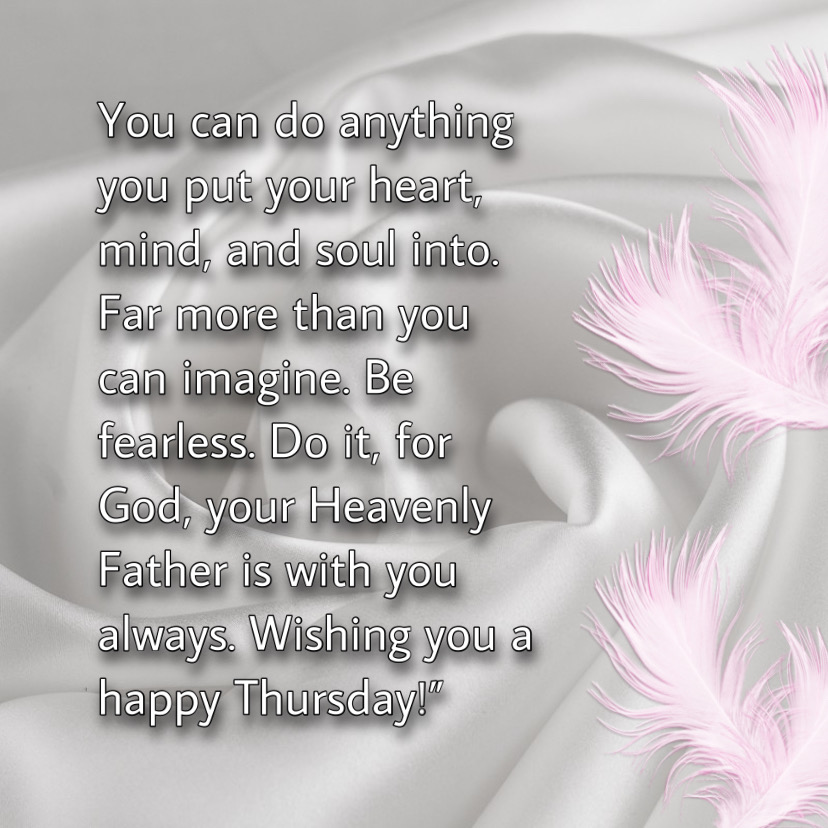 10. Remember, everyday God takes you by your hand and says, "No matter how difficult the path you thread, I will never leave your side." Welcome to you best Thursday yet.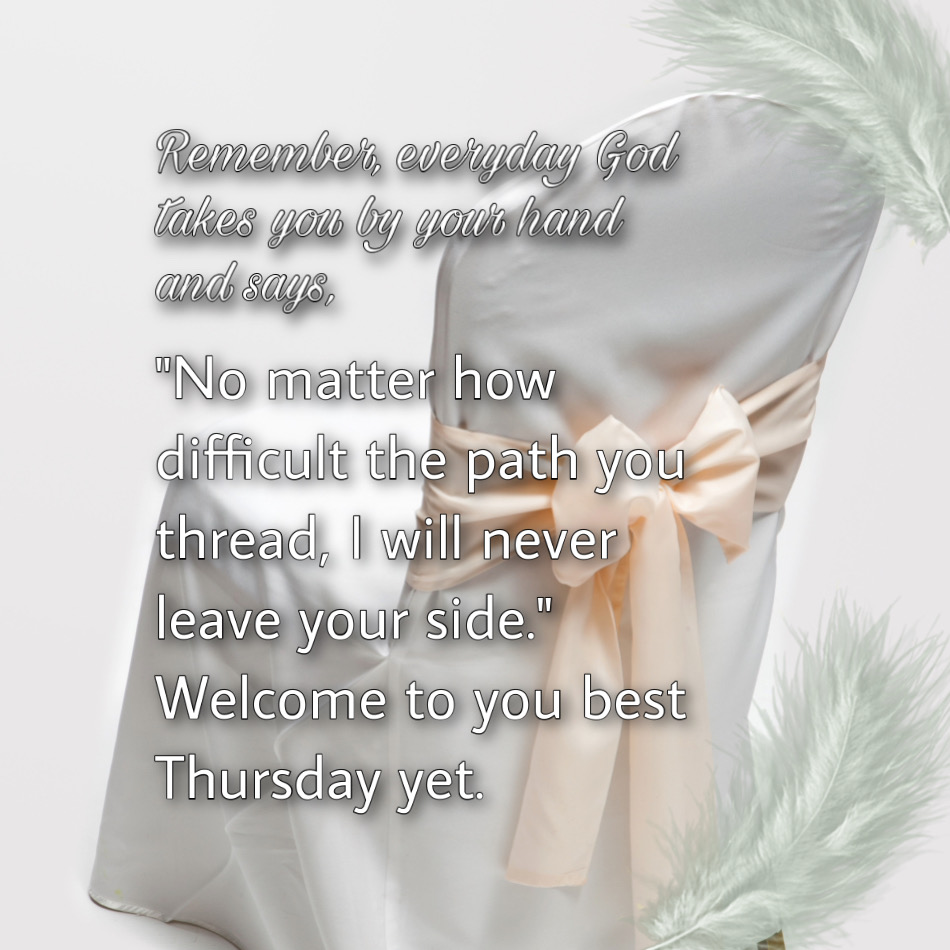 11. May God open doors of blessings for this Thursday and favor you in all that you do. Good morning and have a beautiful Thursday ahead.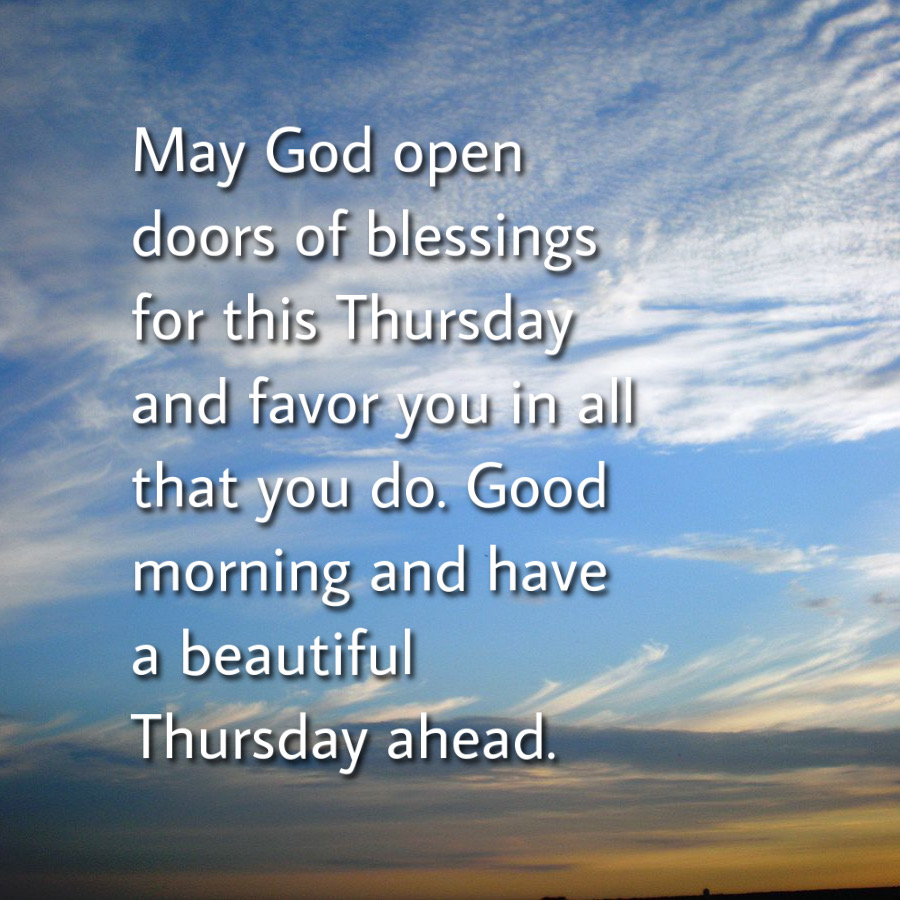 12. Be cheerful, for this Thursday is a day that the Lord has made. Rejoice and be glad in him, for his blessings endure forever. May his blessings rain on you today!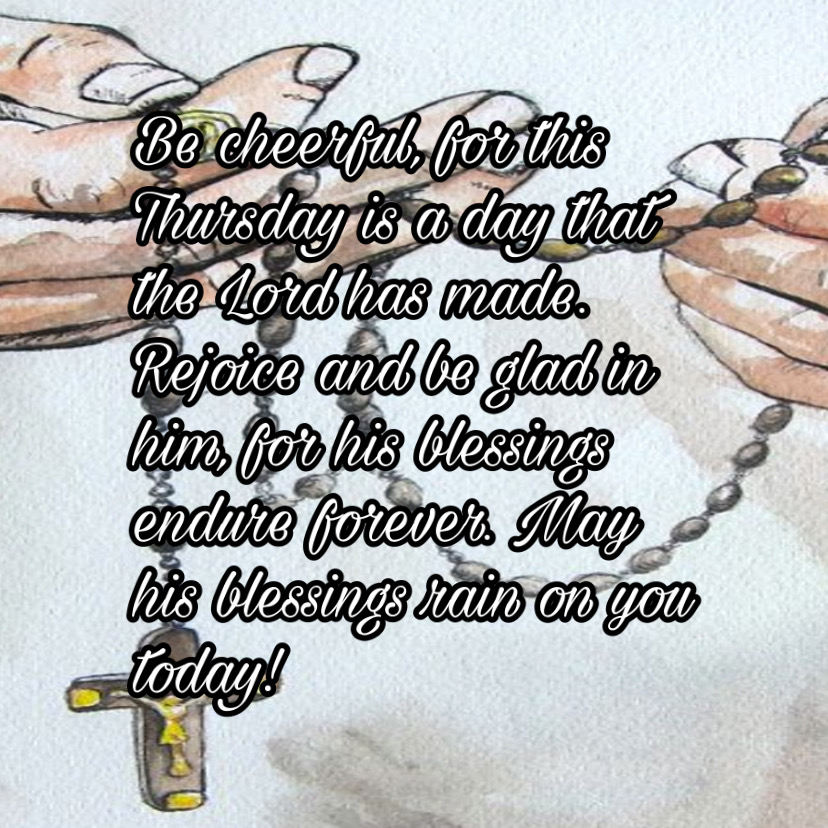 13. The enemy will not be able to stop your blessings. Whether the devil likes it or not, you will shine as bright as the sun. Your name shall echo with God's favor. Do have a marvelous Thursday.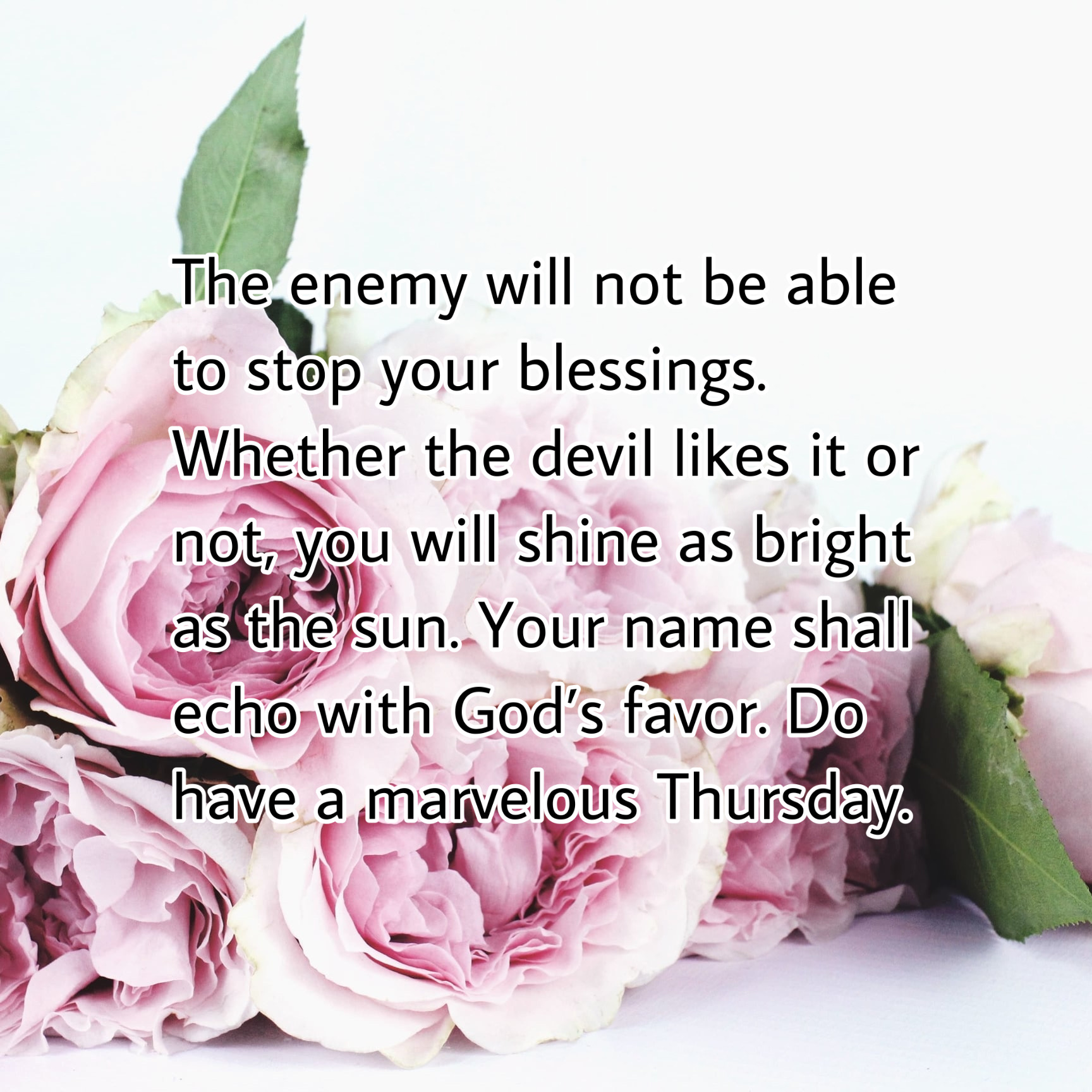 14. Good morning. Wherever you are, God's blessings will locate you this Thursday. You will be blessed in a way that you have ever imagined. Stay productive!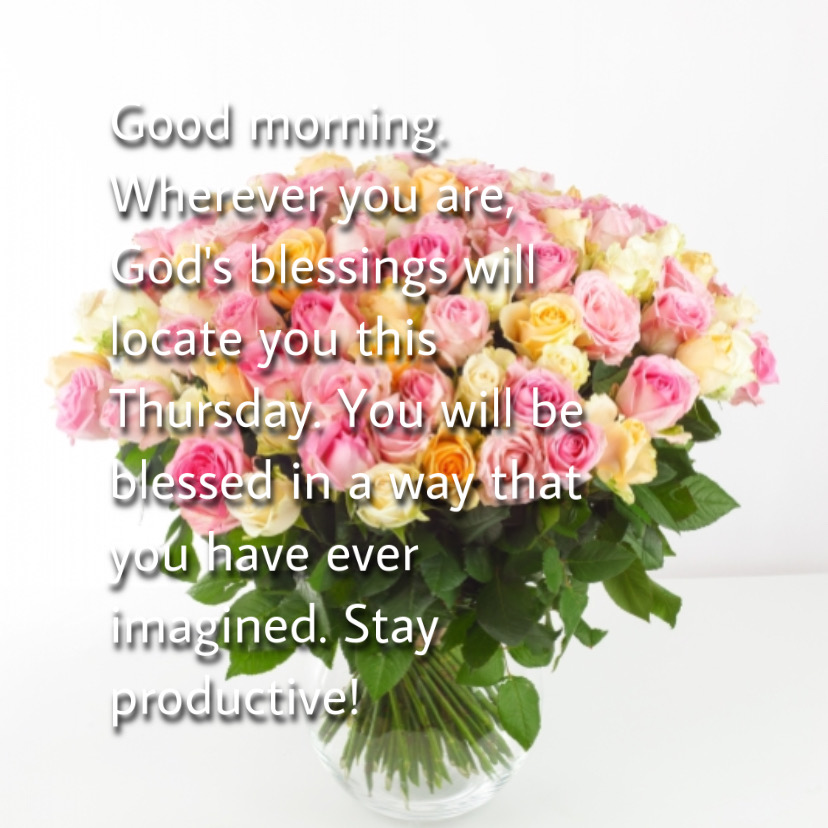 15. Good morning dear. This Thursday, many shall ask you, "How did you go about it?" because the blessings of the Lord shall be obvious upon your life and all that you lay your hand on.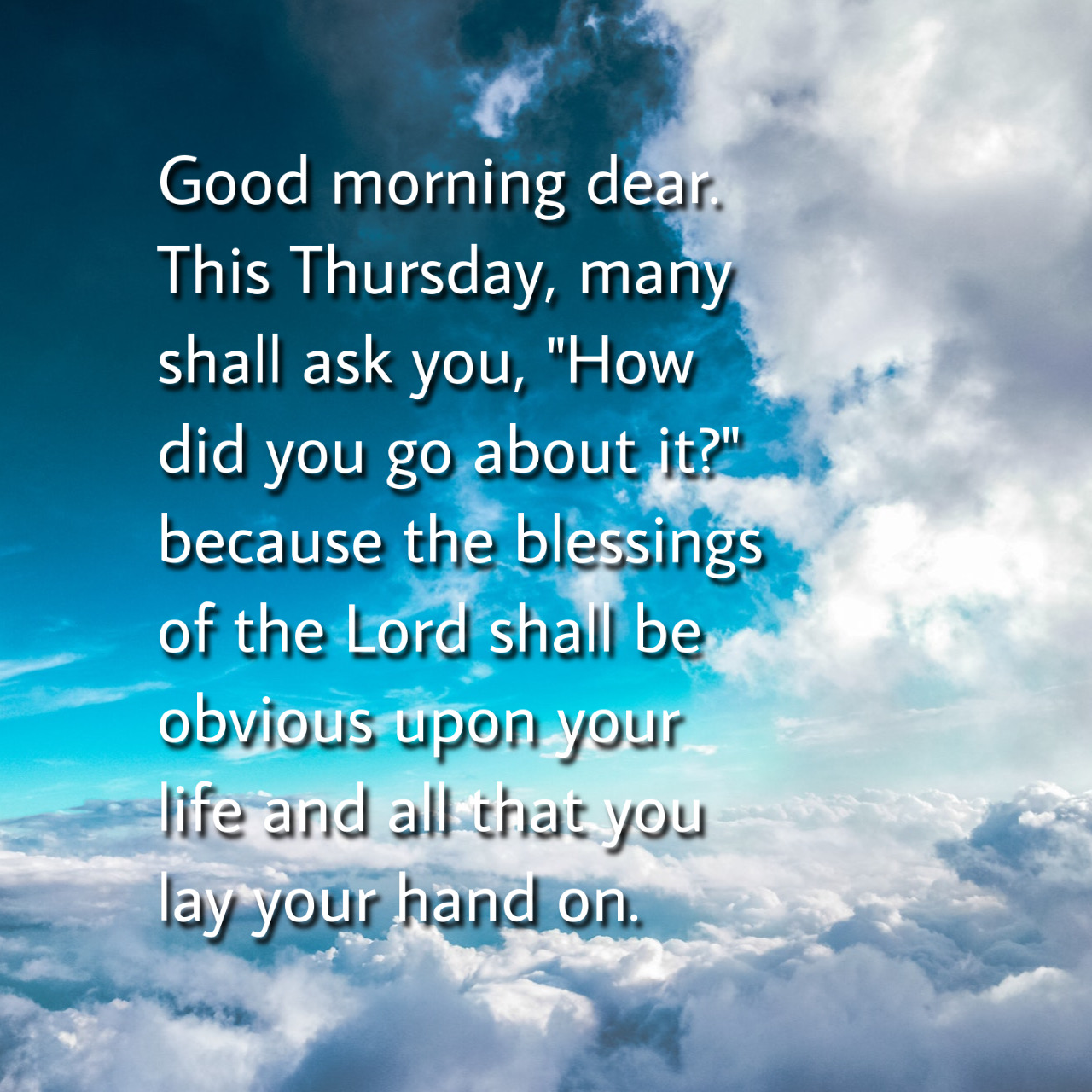 16. It's a great Thursday! May you enjoy the fullness of God's blessings in all your ways. May your life be encompassed with peace and joy. Do have a great day. Good morning.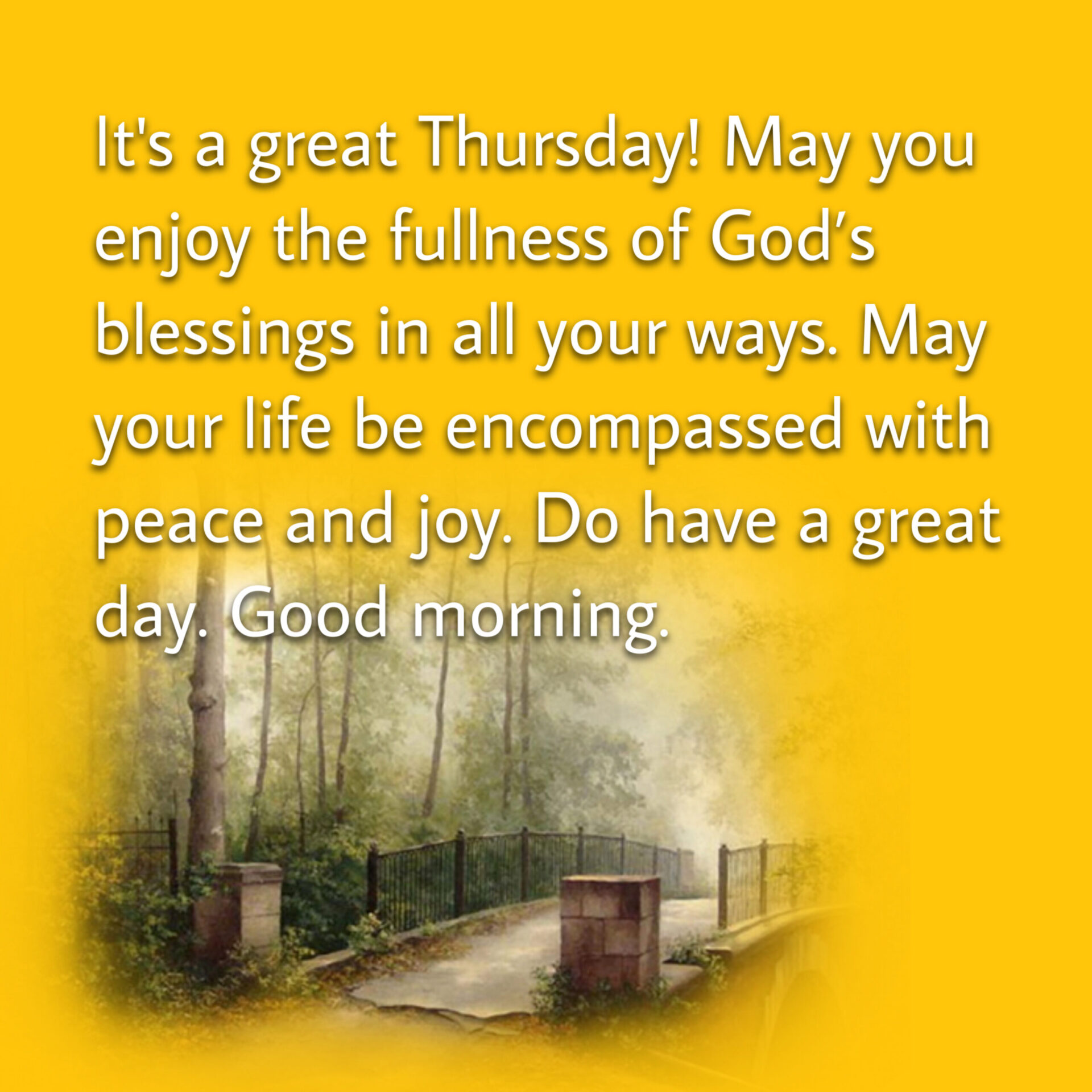 17. Good Morning! Forget all your worries and start a new life today. Trust in God, for he will answer all your prayers. For you, this Thursday is blessed.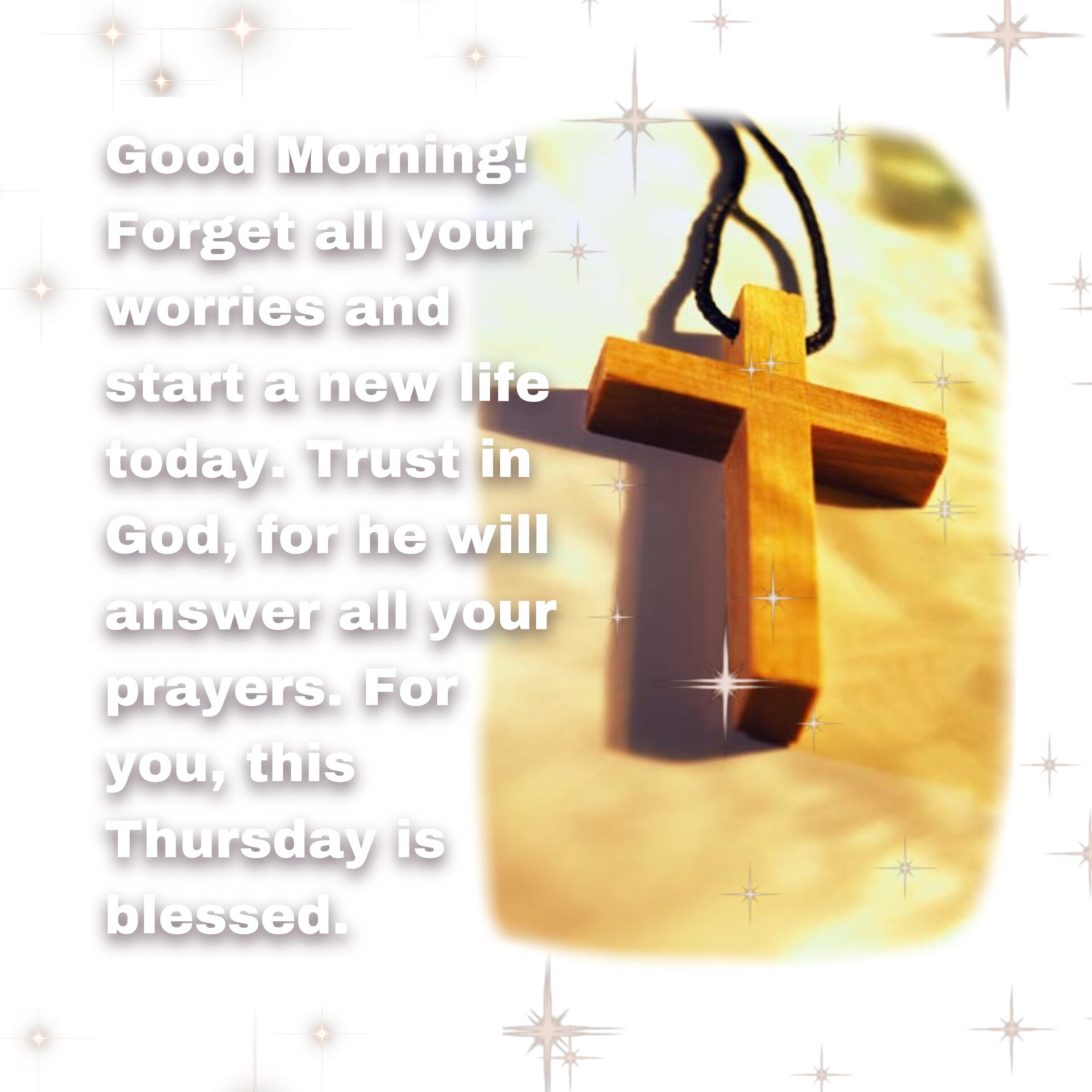 18. The Lord will bless the work of your hand and prosper you greatly. You will be the head and not the tail in all that you do. You will never be disappointed. Good morning.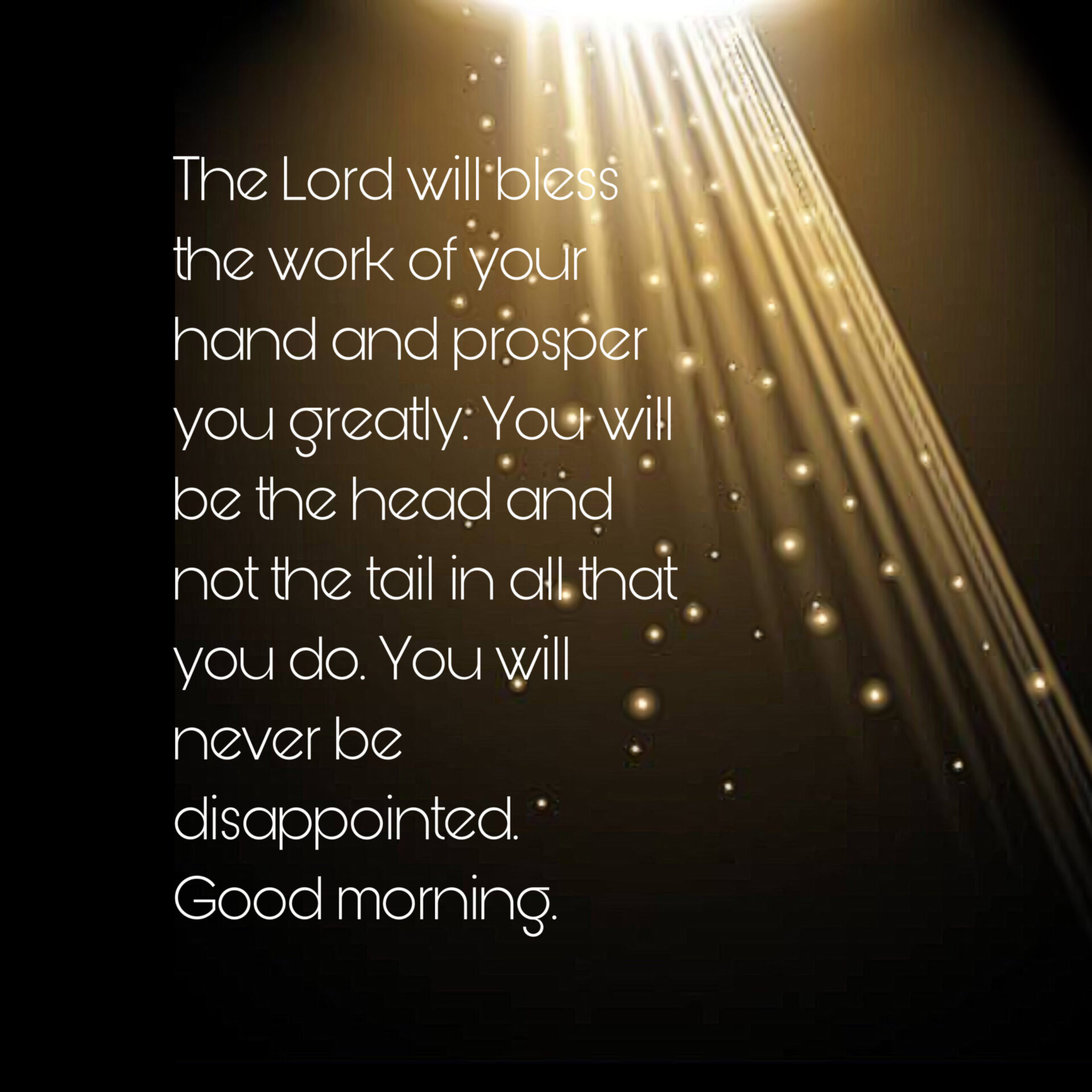 19. As you go out this morning, my prayer is that the Lord shall protect you by fire, keep you by His Angels and guide you by His light. No trouble will come your way, and no disaster will happen to you. I love you, always.
20. This Thursday morning calls for much celebration because we have been blessed with the priceless gift of life. May our lives continue to be showered with God's amazing blessings. Good morning.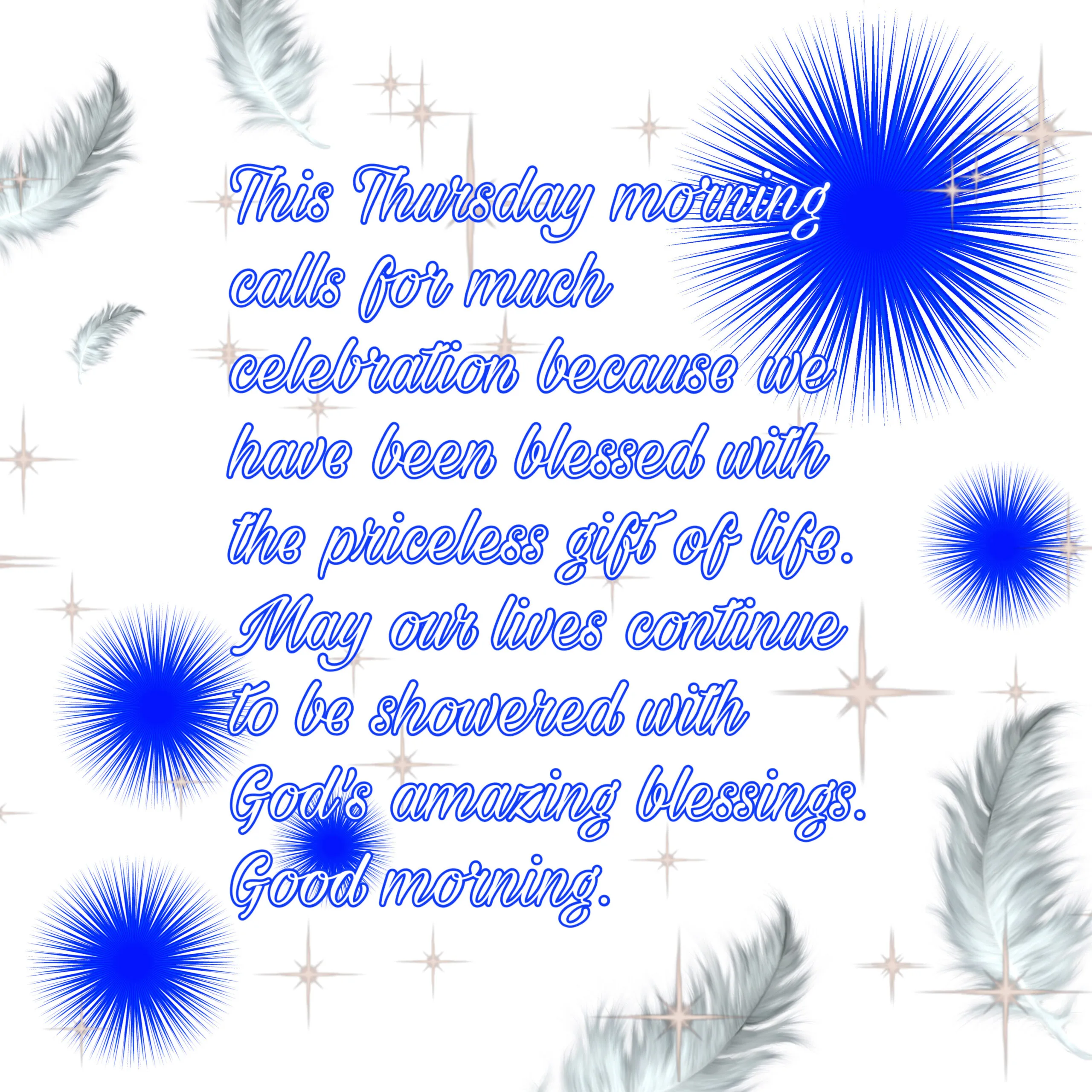 21. As you go into today, you will surpass your expectations, you will go from strength to strength and grace to grace. Have a beautiful day ahead, my dear. Enjoy.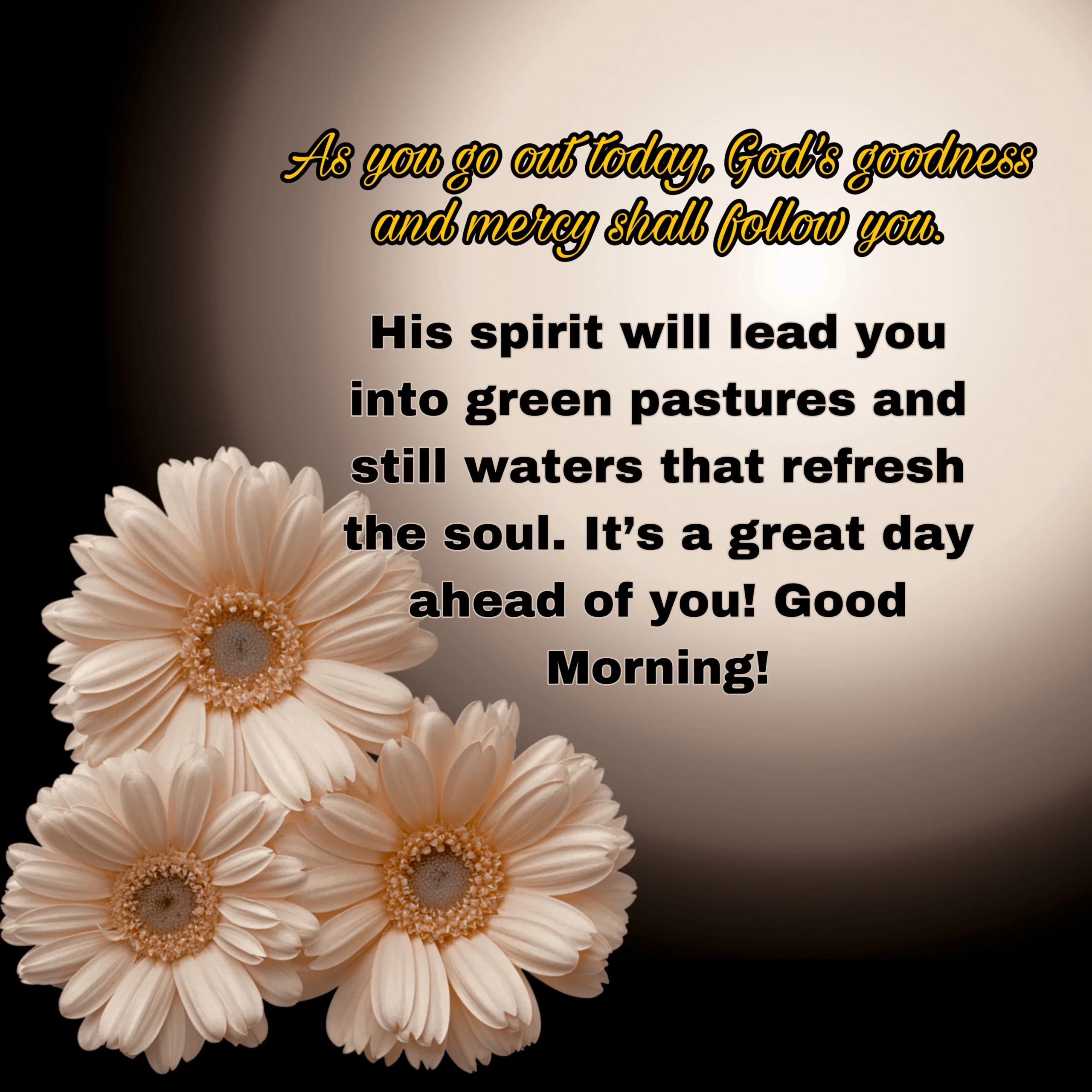 22. May His heavenly hand shield you, and may peace constantly reign under your roofs. As you go about your activities for the day, God will be right by your side to guide and guard you. Good morning and have a bright Thursday.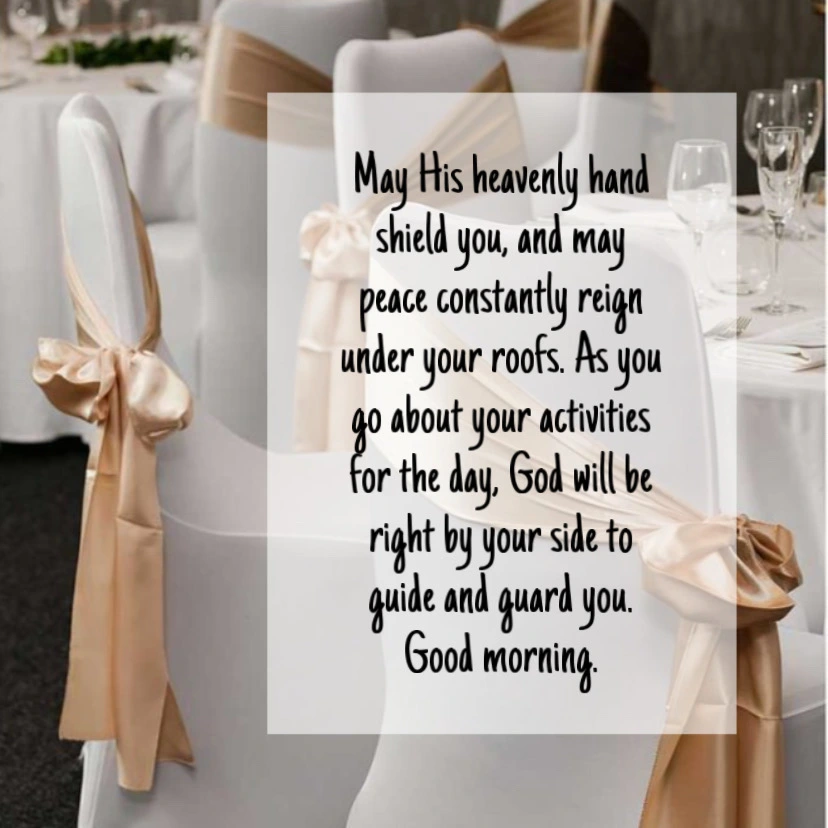 23. Thank God, for giving you the Thursday ahead. I hope you wake up to indulge in God's grace and feel your soul's presence everywhere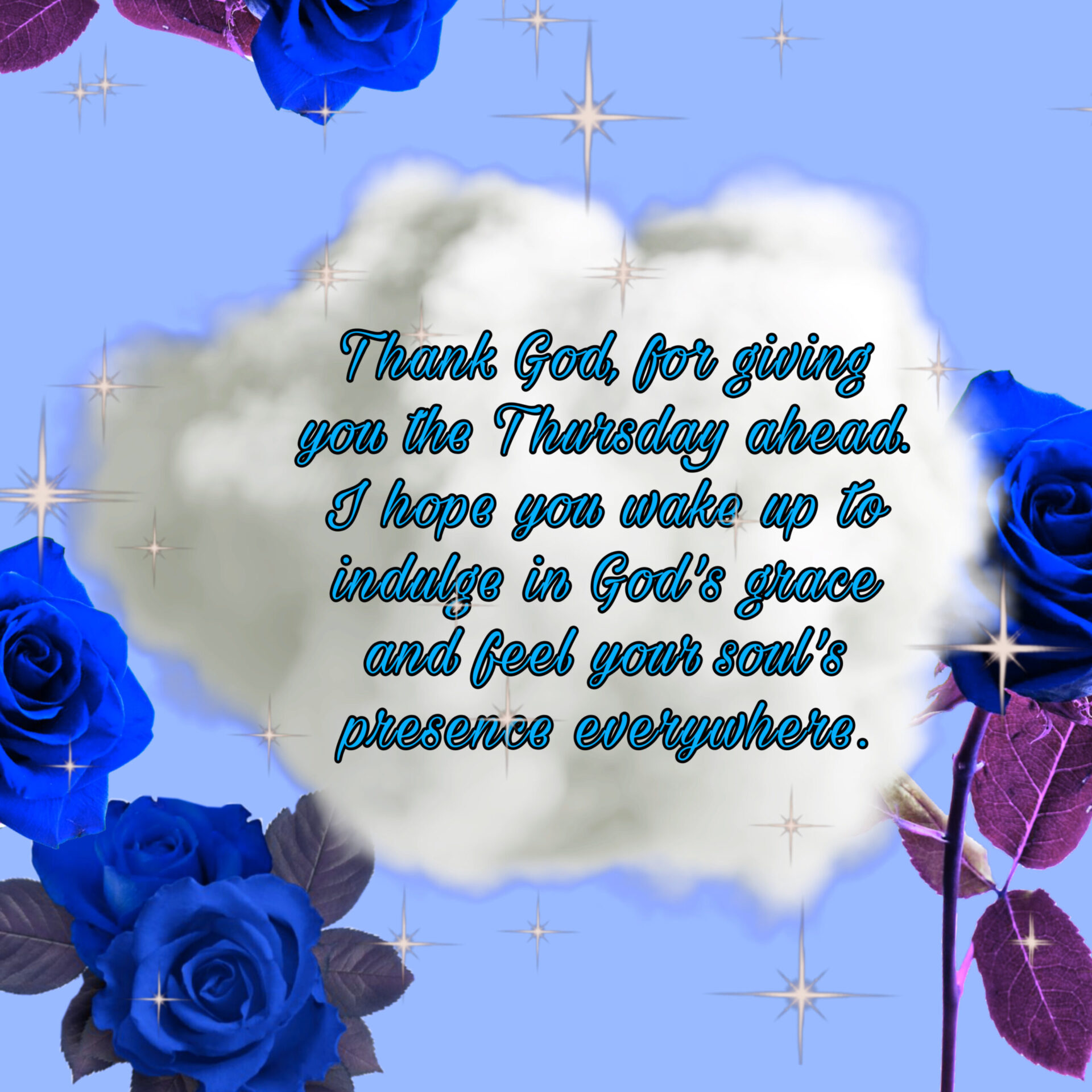 24. It's another opportunity for great success for you. Approach everything with confidence because your God is opening doors of good things for you today and beyond.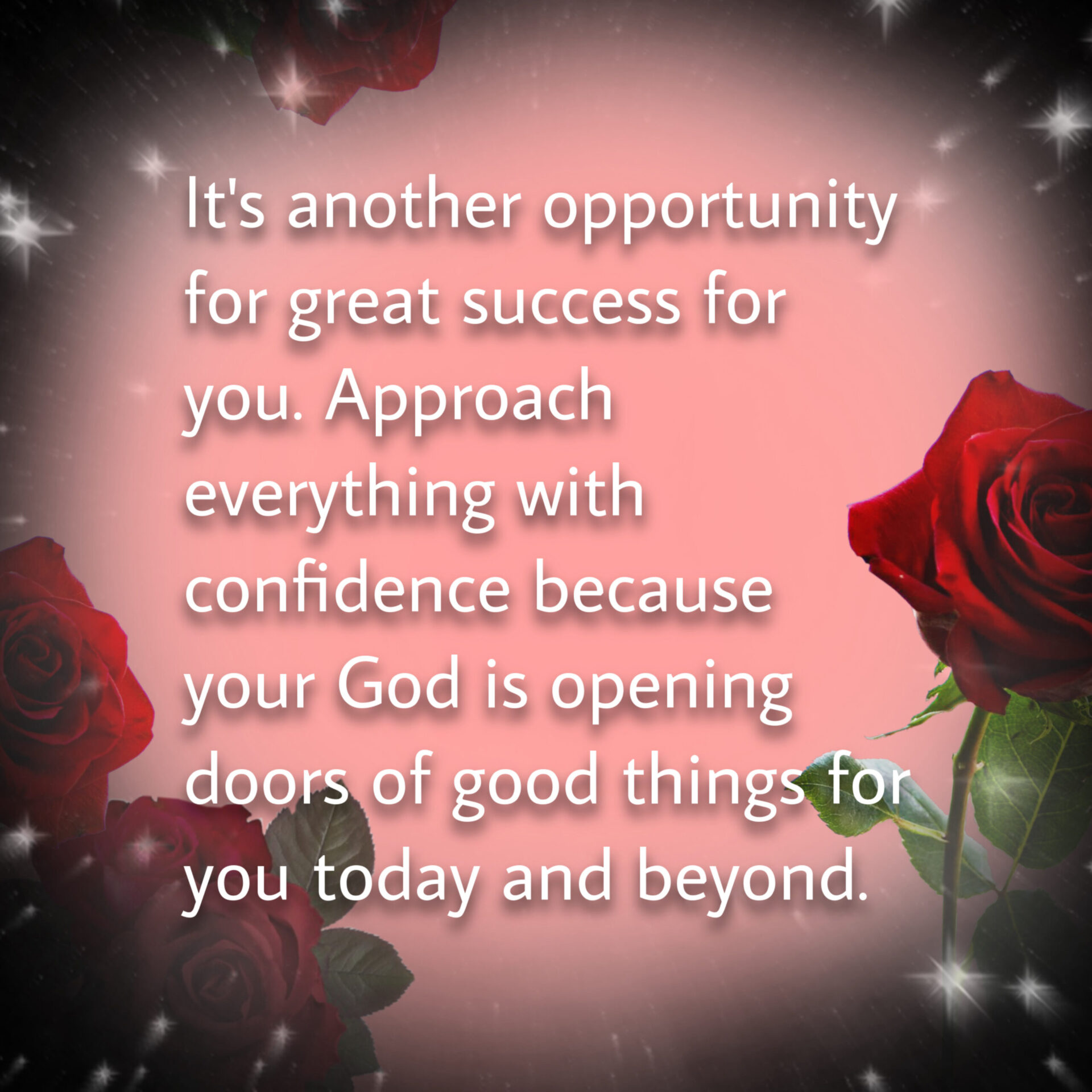 25. Today your sun will shine brighter. May your flower blossom. May you be fruitful in all your endeavor. Good morning.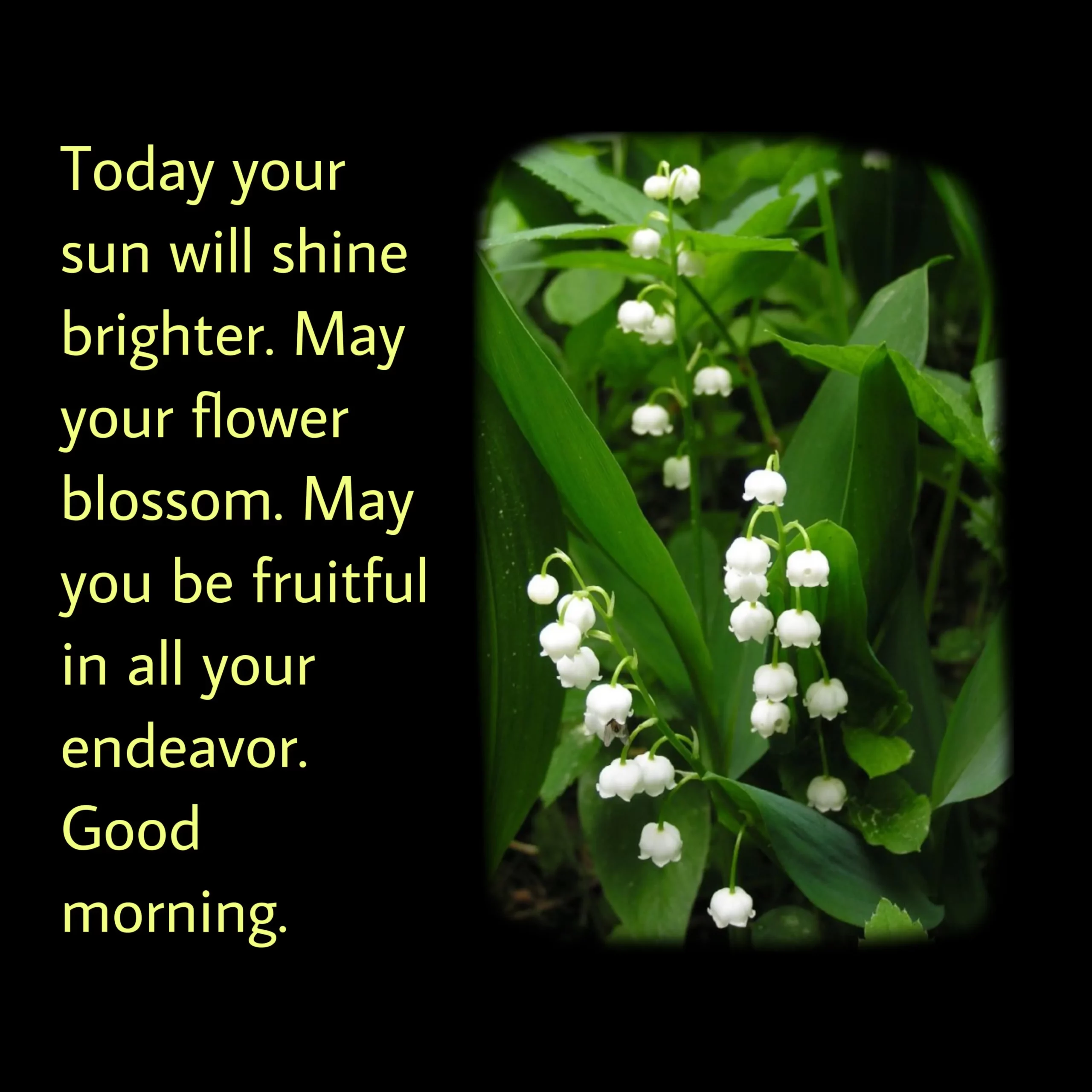 26. May the good Lord bless and satisfy your heart this day. May He cause His countenance to shine upon you and give you peace. May this day mark a significant outpouring of the blessings He has in store for you, beloved. Happy Thursday!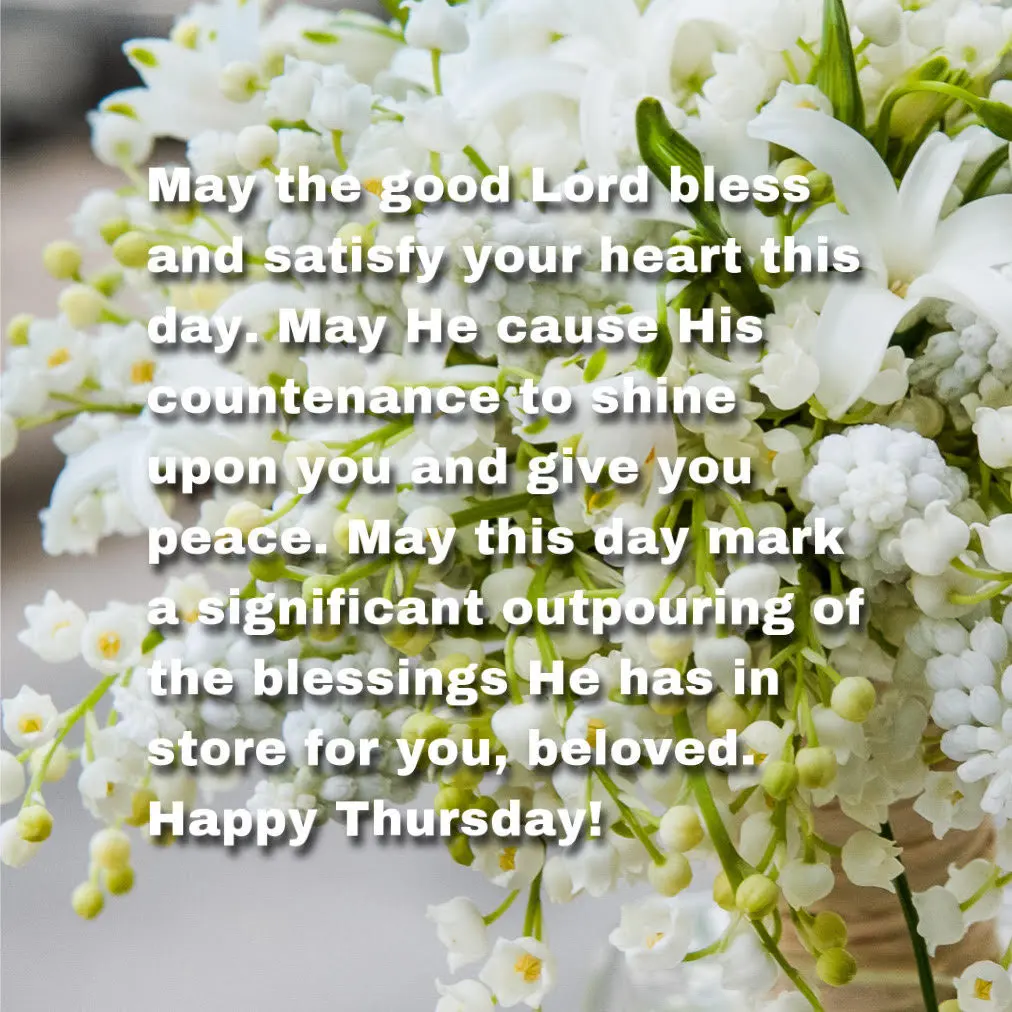 27. Thank God for a bright new morning. May the day be filled with awesome happenings and pleasant surprises for you. Have a pleasant day ahead.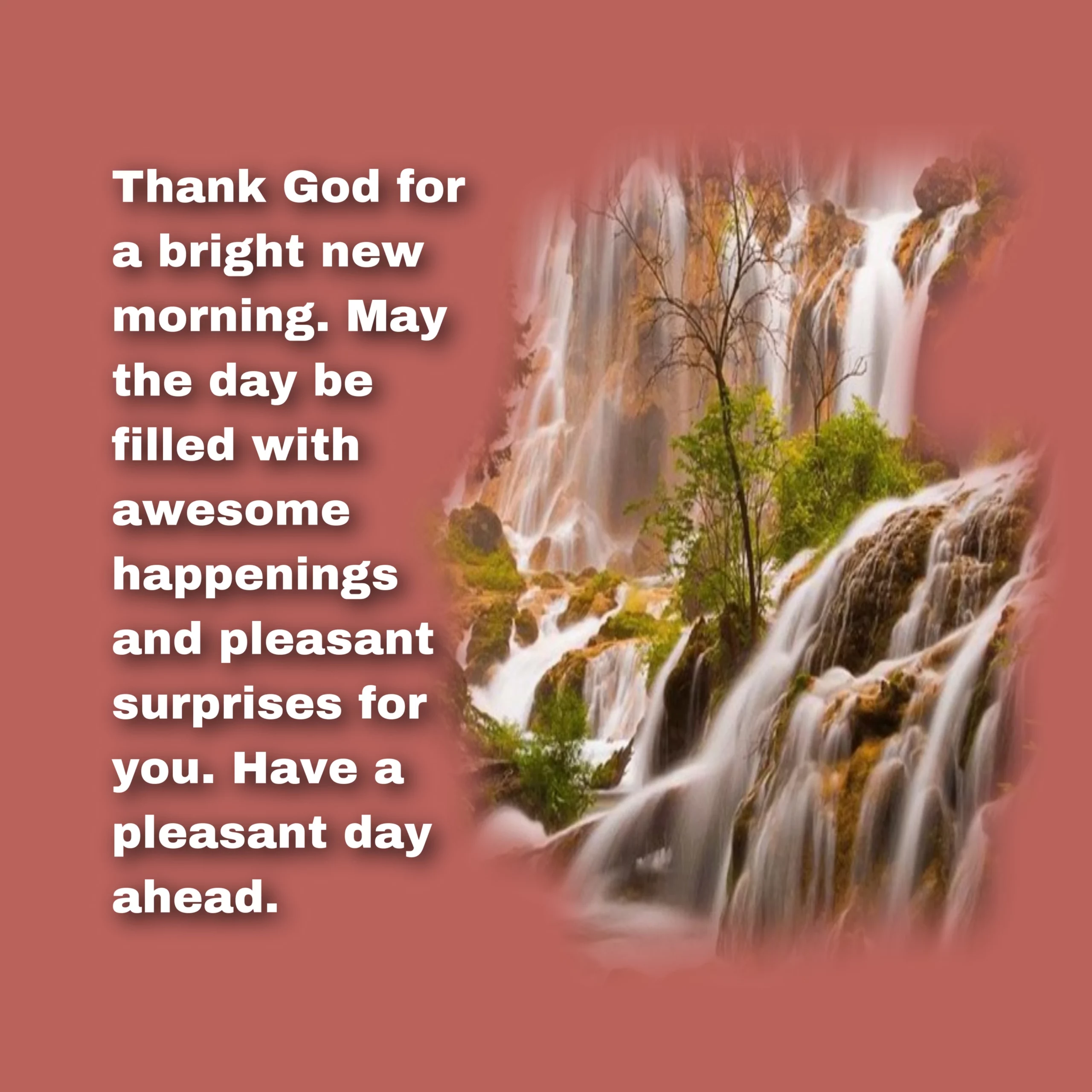 28. Best wishes in everything you do this Thursday. May the Lord keep you from danger and sorrow as you make your way out this morning. Have a blessed day.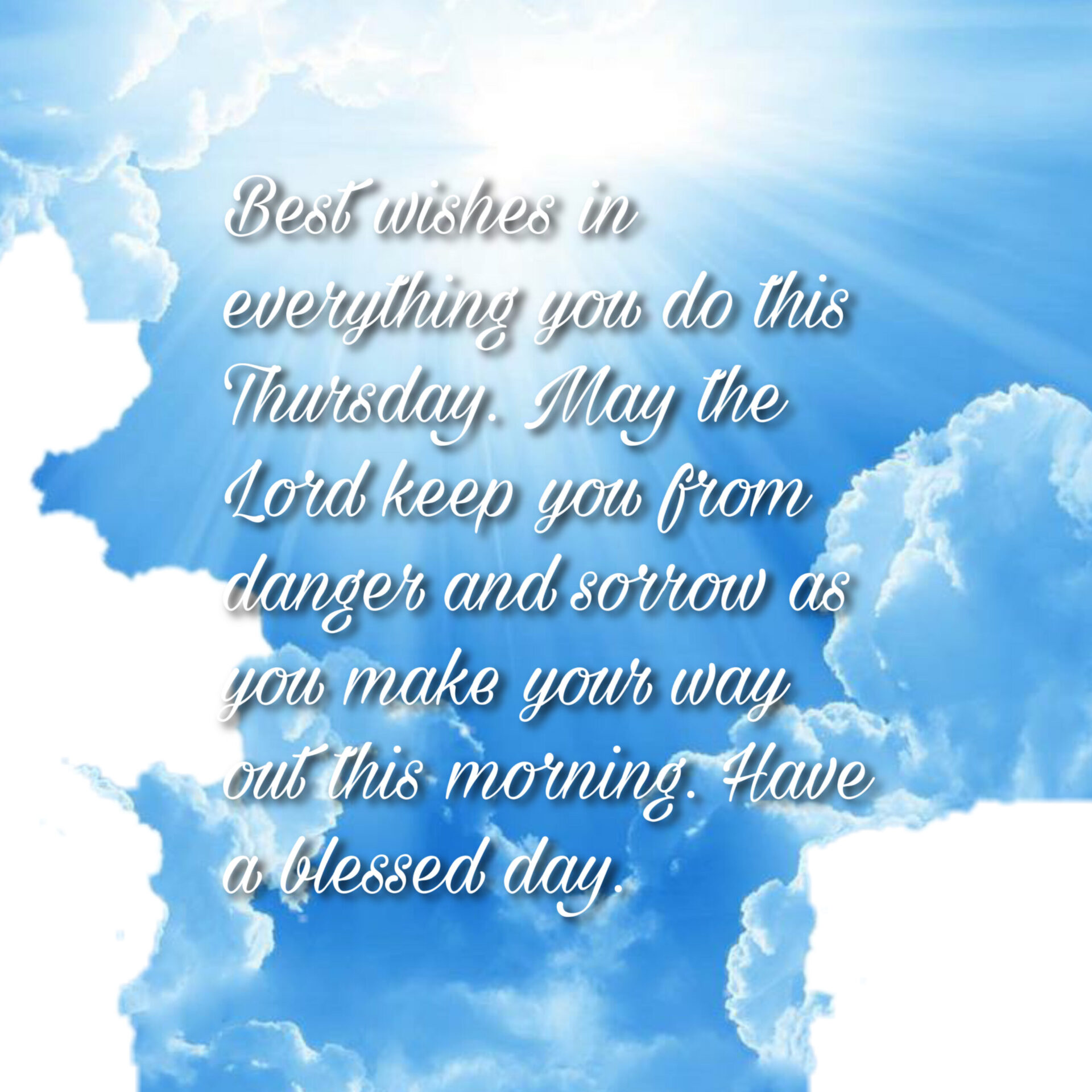 29. Welcome to a wonderful Thursday. Here's a word for you:
The Lord bless you and keep you;
the Lord make his face shine on you and be gracious to you;
the Lord turn his face toward you and give you peace.
Numbers 6:24-26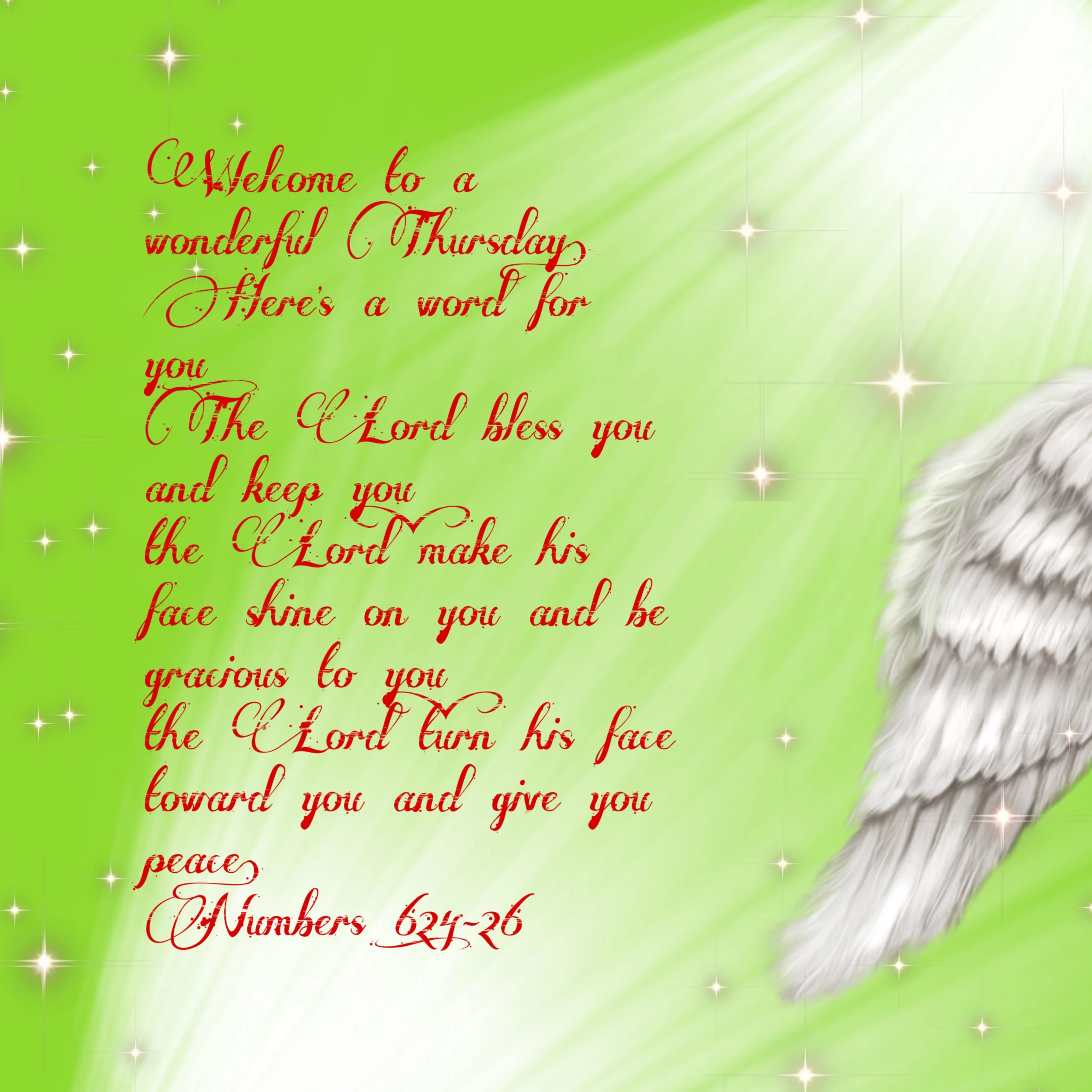 30. It is my sincere prayer that the Lord opens doors of blessings and favor for you in every way. As you move out today, may all you do be blessed and glorious. Good morning.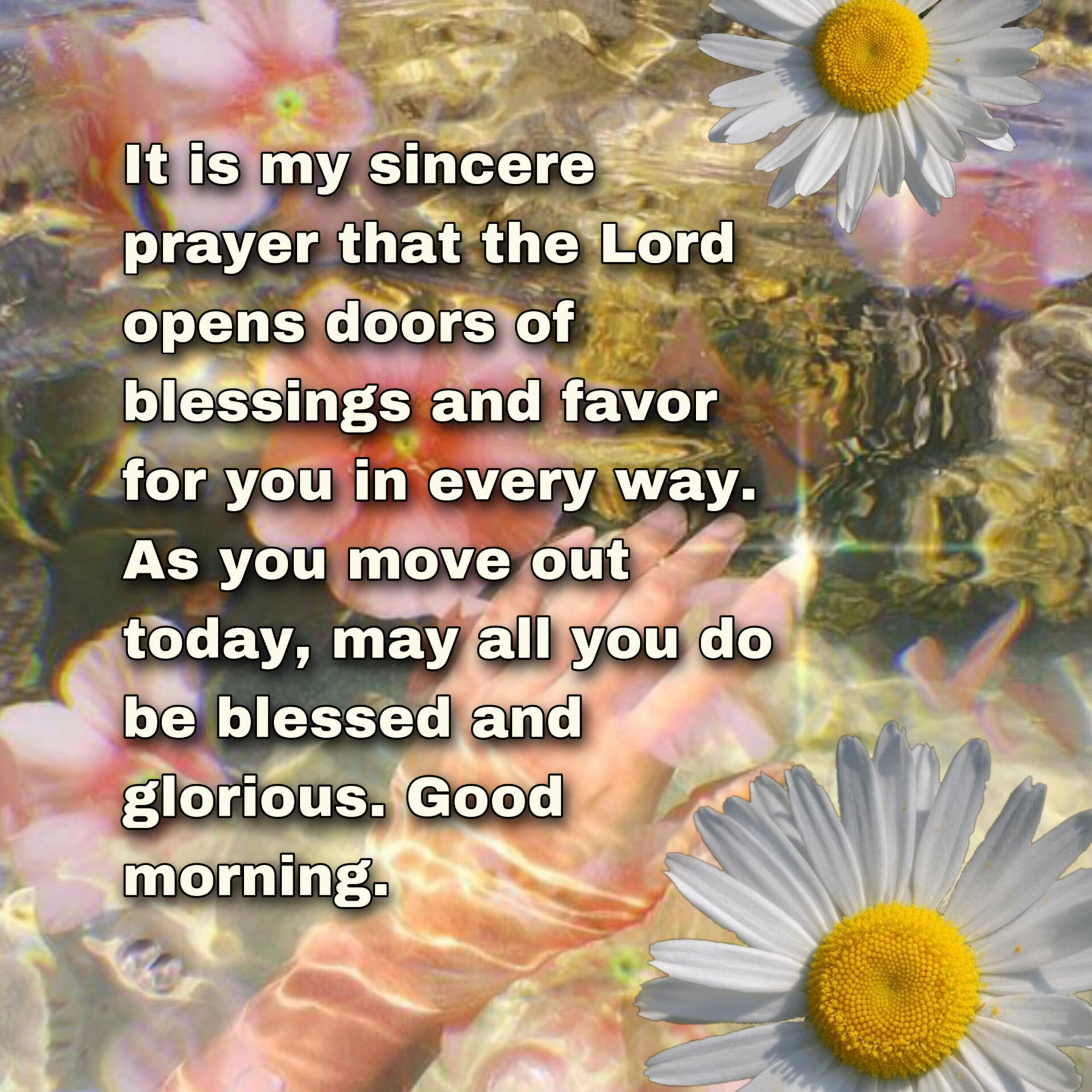 31. Today is the day God has made beautiful for you. May you find joy and gladness in it. From every direction, may His blessings locate you. Be expectant. Your Angels will be working for your good. Good morning.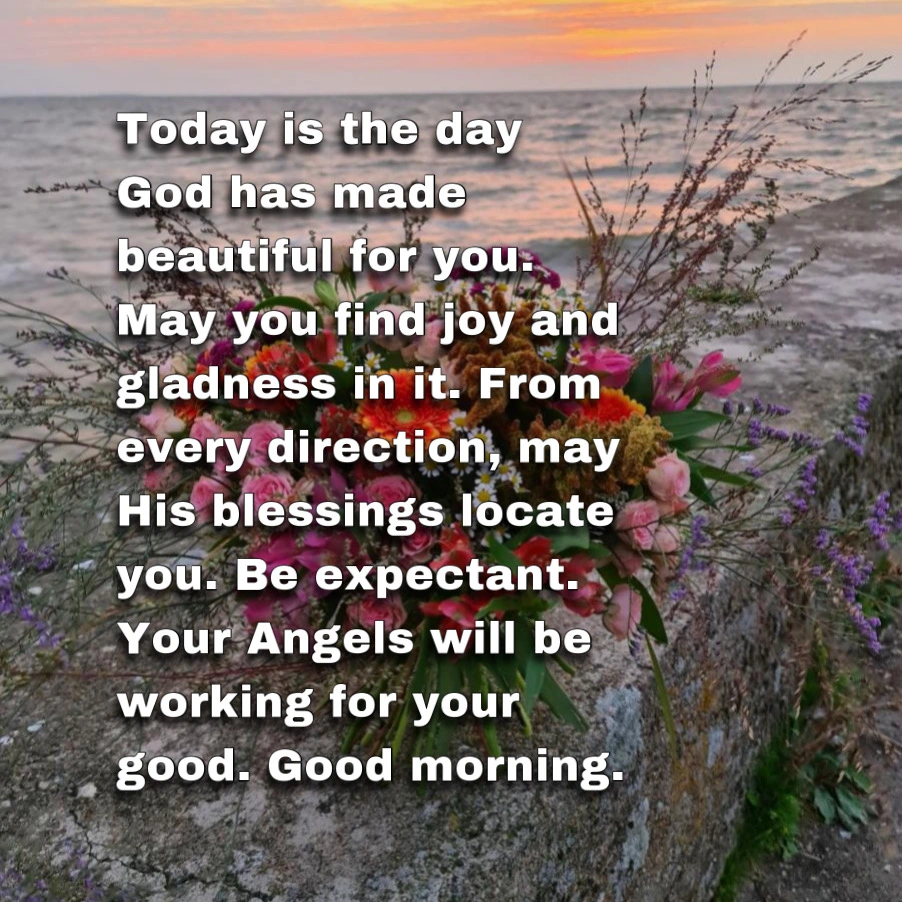 32. It's a beautiful Thursday! Your path shall drop fatness and be made awesome. Your ways shall be filled with good things. It's a good beginning of a glorious day. Good Morning.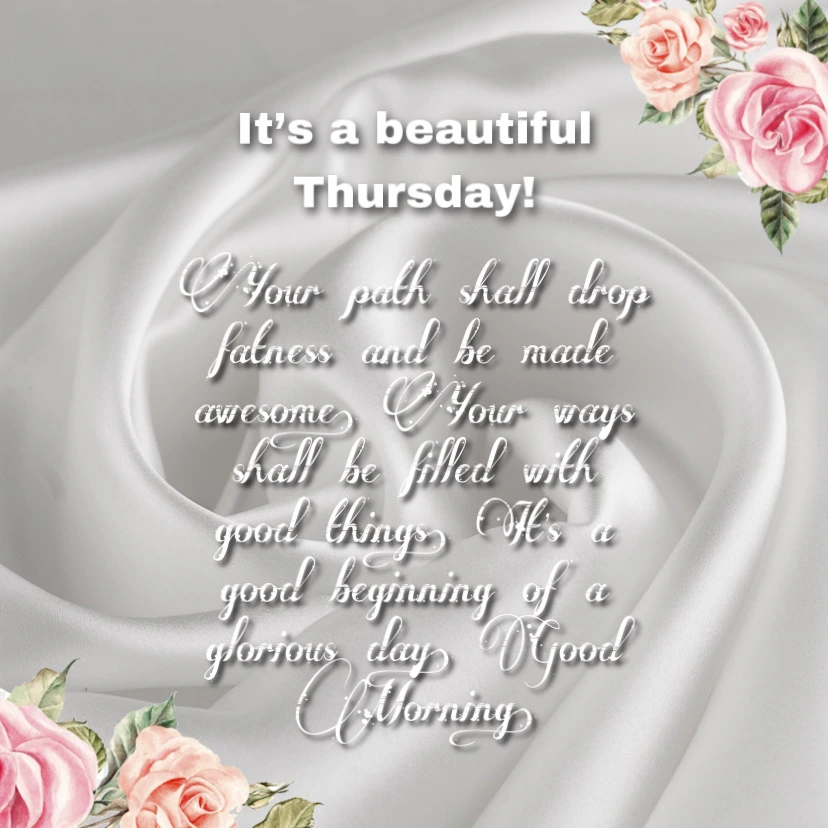 33. This day, God's glory shall be obvious upon you. God's blessings shall be evident in you. God's goodness shall be seen in all your endeavors. You shall be envied and not pitied. Good morning.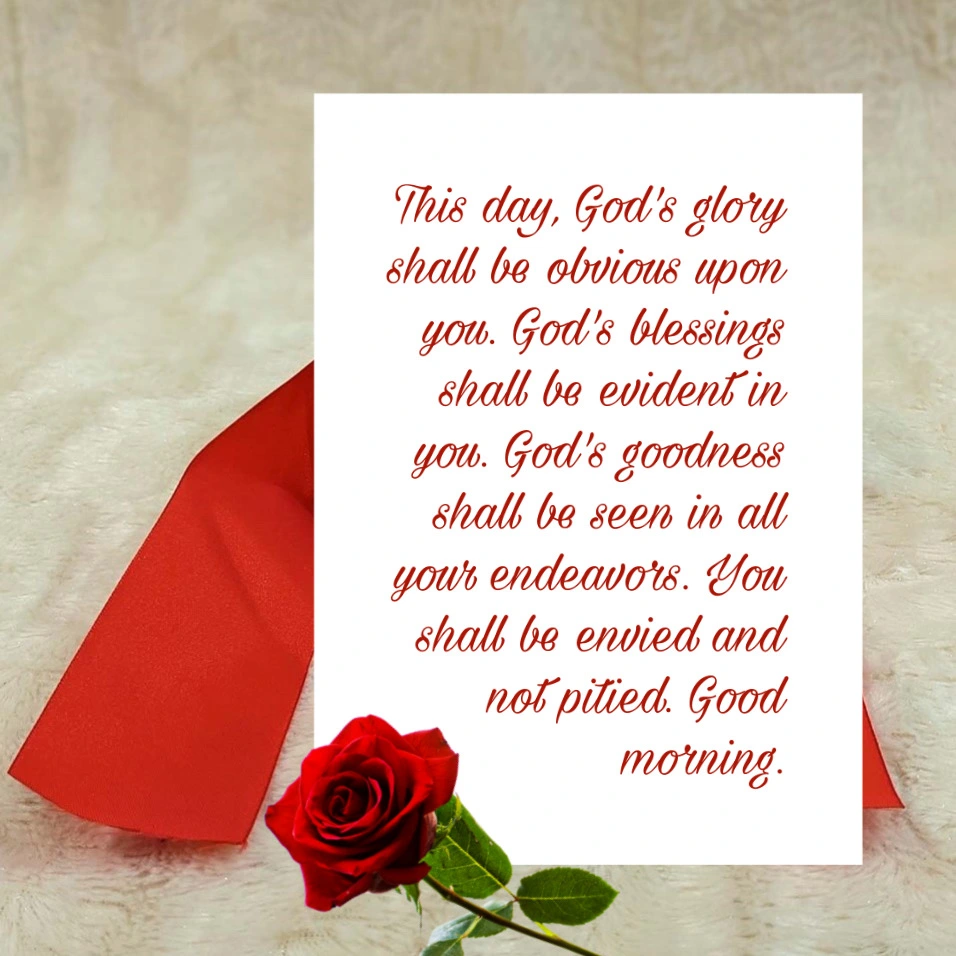 34. It's a bright day! No need to worry. No reason to fear. Relax and enjoy all the goodies God has prepared for you. May today bring you all that your heart desires and even more. Cheers to a blessed Thursday! Good Morning.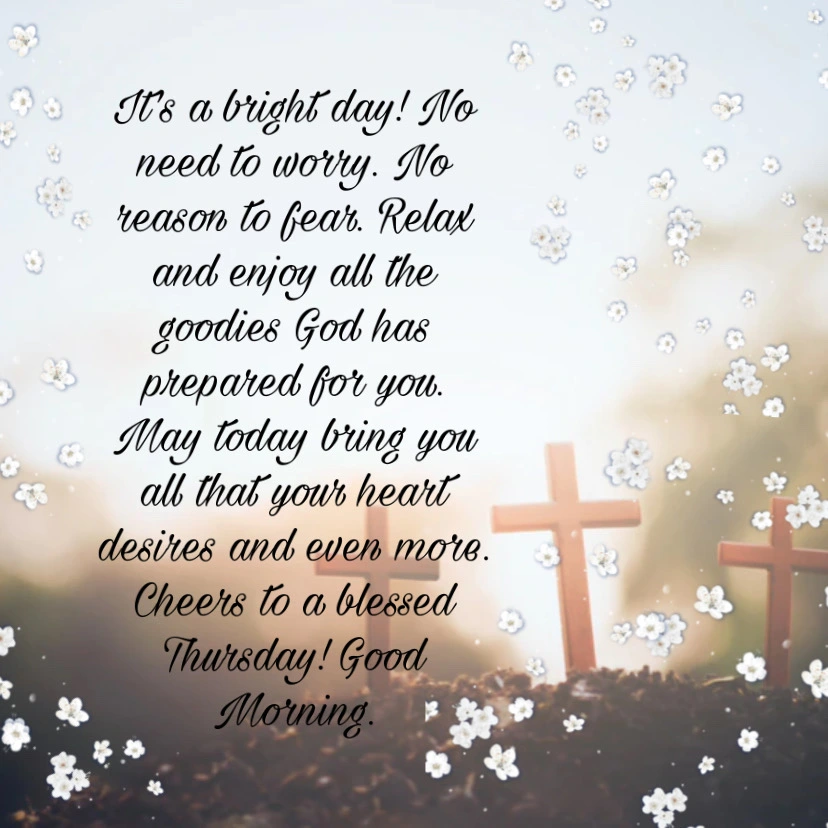 35. No weapon formed against you shall prosper. Every evil plan and scheme against you shall utterly fail. The protection of the Lord is upon you. You're undefeatable. You'll experience all-round victories this Thursday and every day of your life. Good Morning.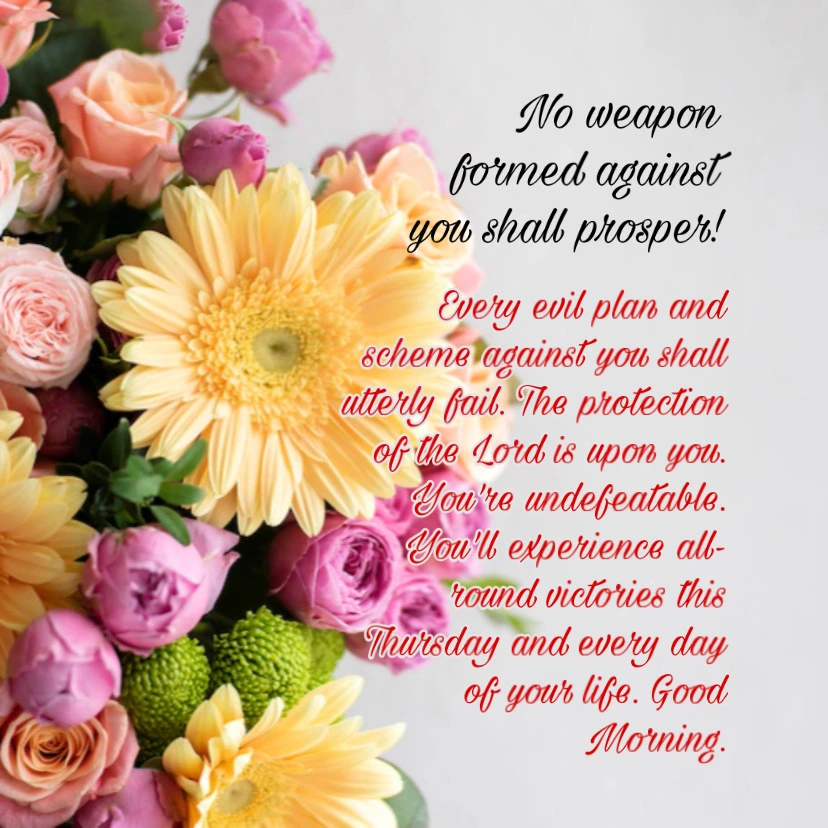 36. As you go out today, God's goodness and mercy shall follow you. His spirit will lead you into green pastures and still waters that refresh the soul. It's a great day ahead of you! Good Morning.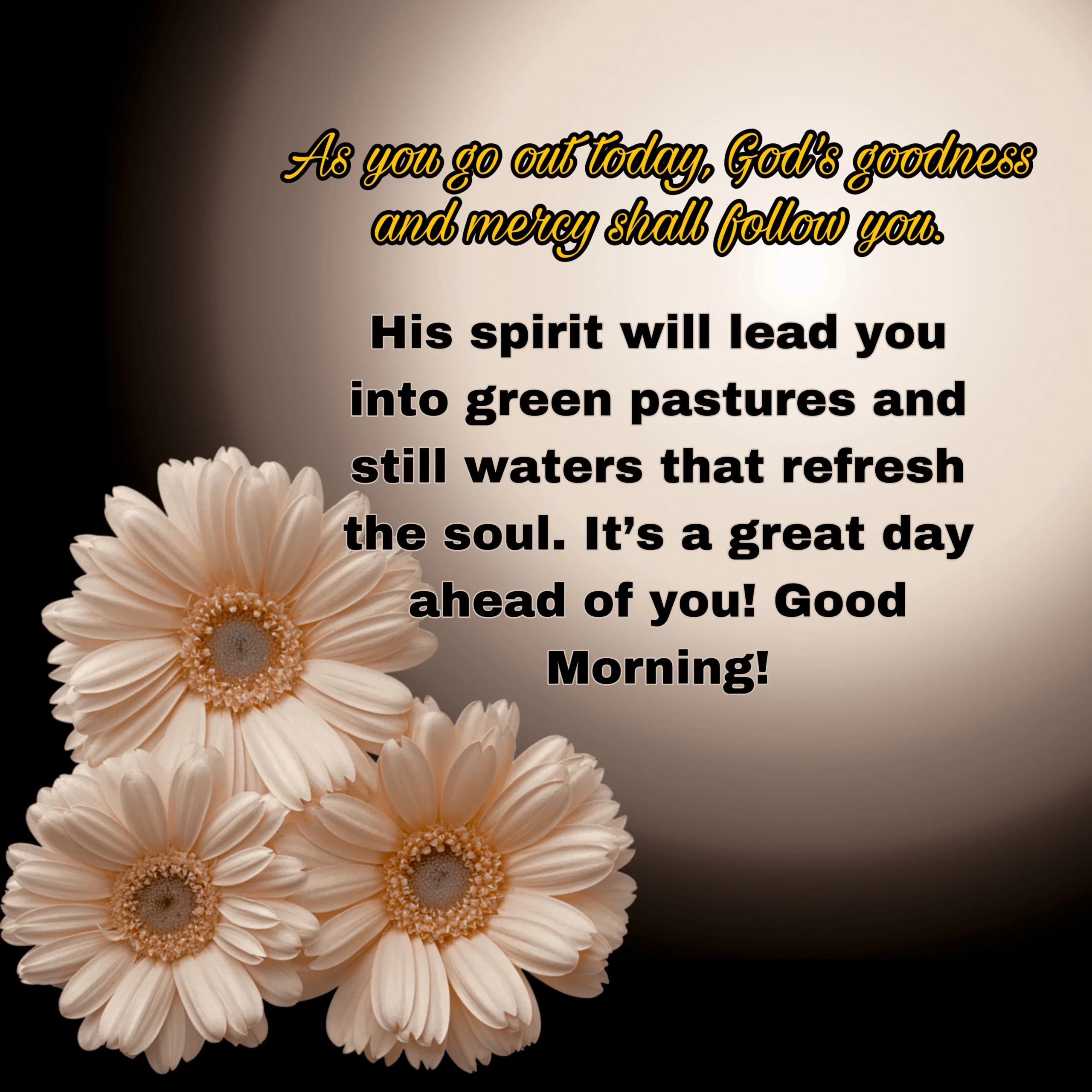 37. From dark to dawn. From dawn to daylight. These are the stages that lead to this morning. My prayer for you is that your life will become brighter today. Good morning!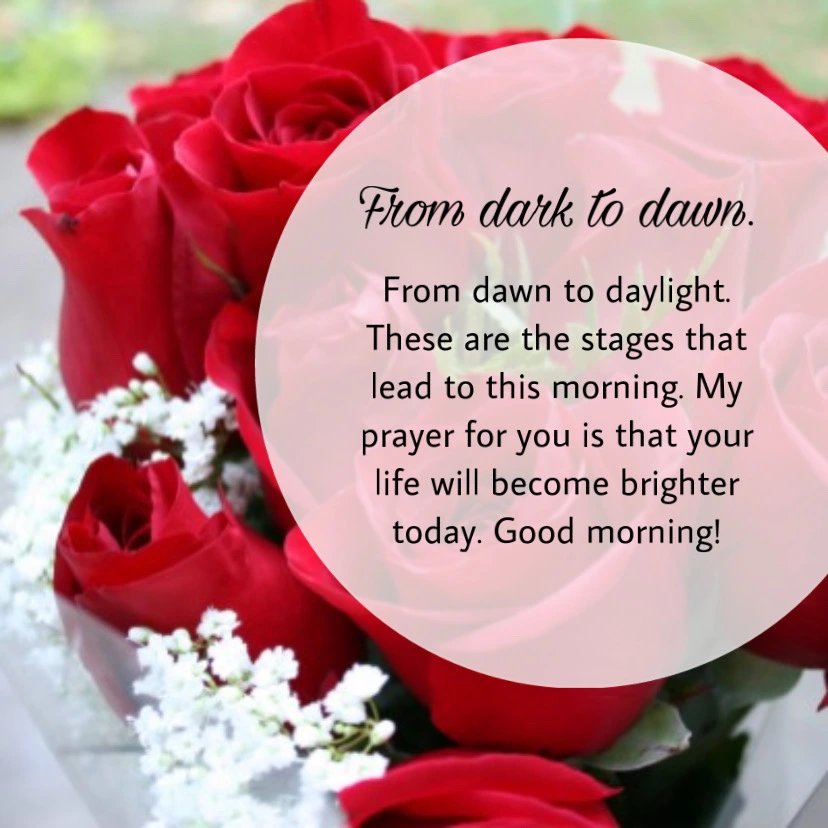 38. Today, as you rise, you'll shine. As you ask, you'll receive it. As you knock, beautiful doors shall be opened to you. Enjoy a stress-free Thursday with amazing achievements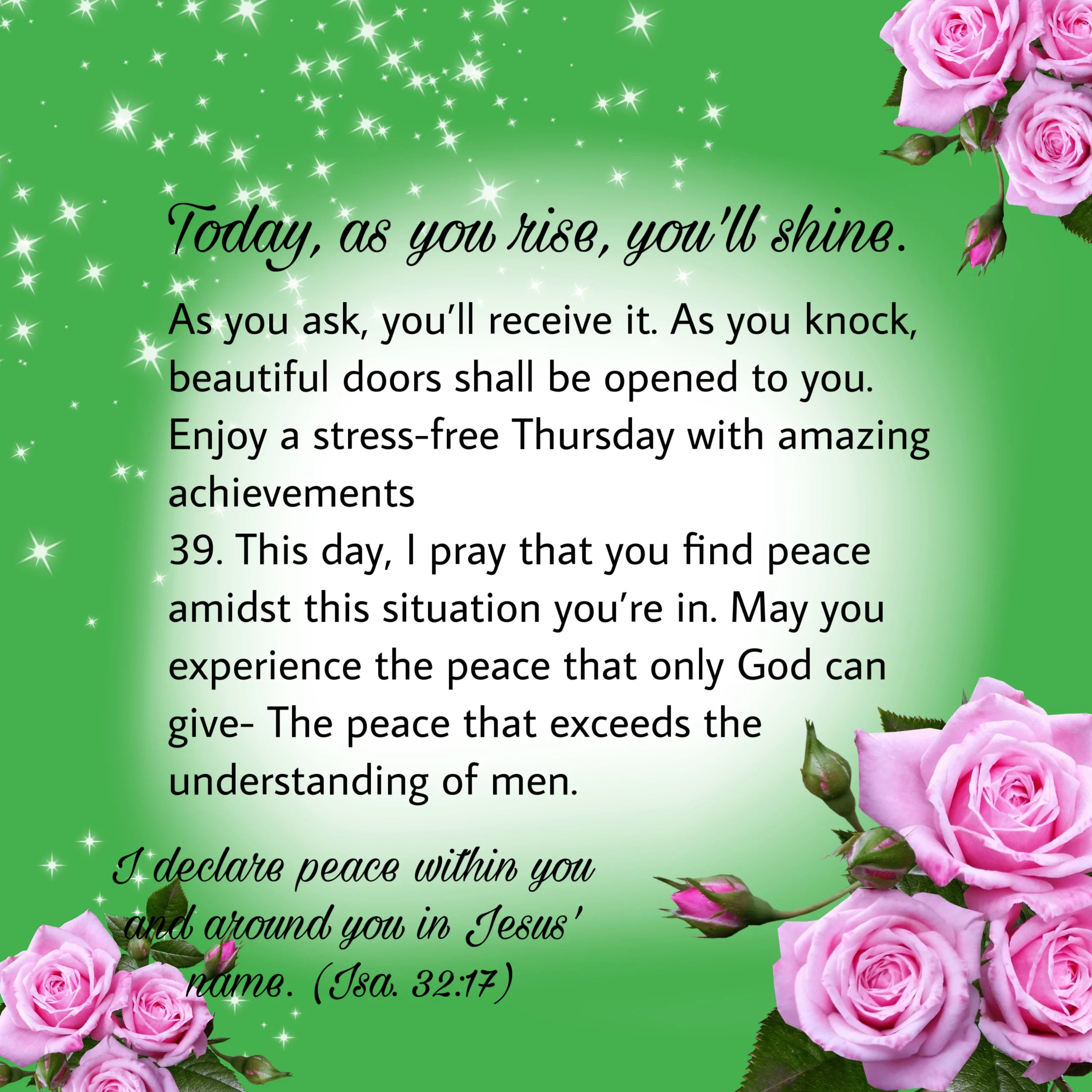 39. This day, I pray that you find peace amidst this situation you're in. May you experience the peace that only God can give- The peace that exceeds the understanding of men. I declare peace within you and around you in Jesus' name. (Isa. 32:17)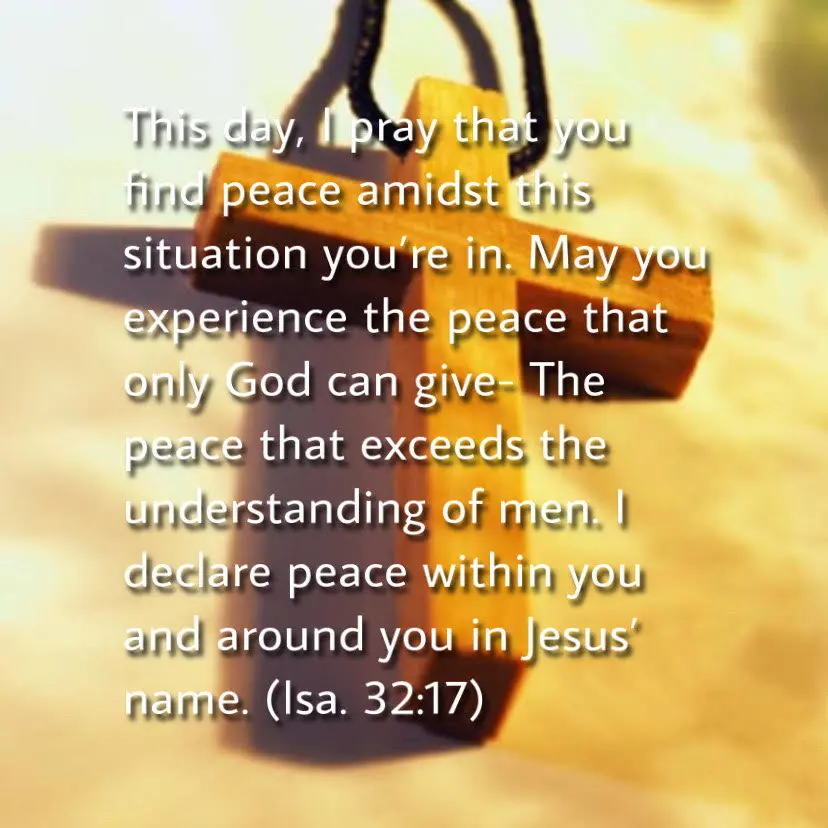 40. Today, I pray that your path be lined with favor. May you see the beauty in every situation. May you find the solution to every challenge. Good morning.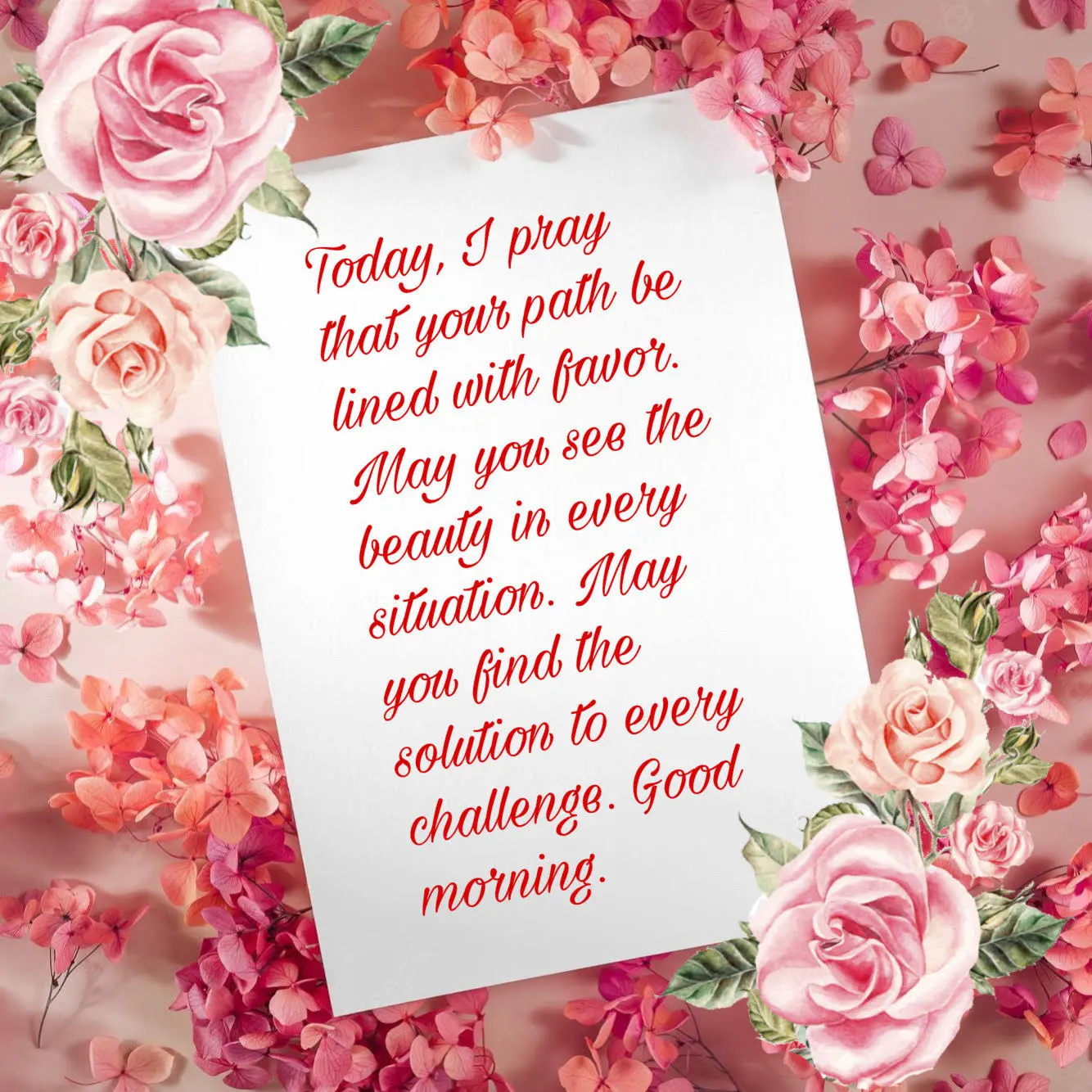 41. As you go out this morning, may you be able to discern the opportunities in every situation, and may you find the strength to maximize them to your full advantage. Good morning.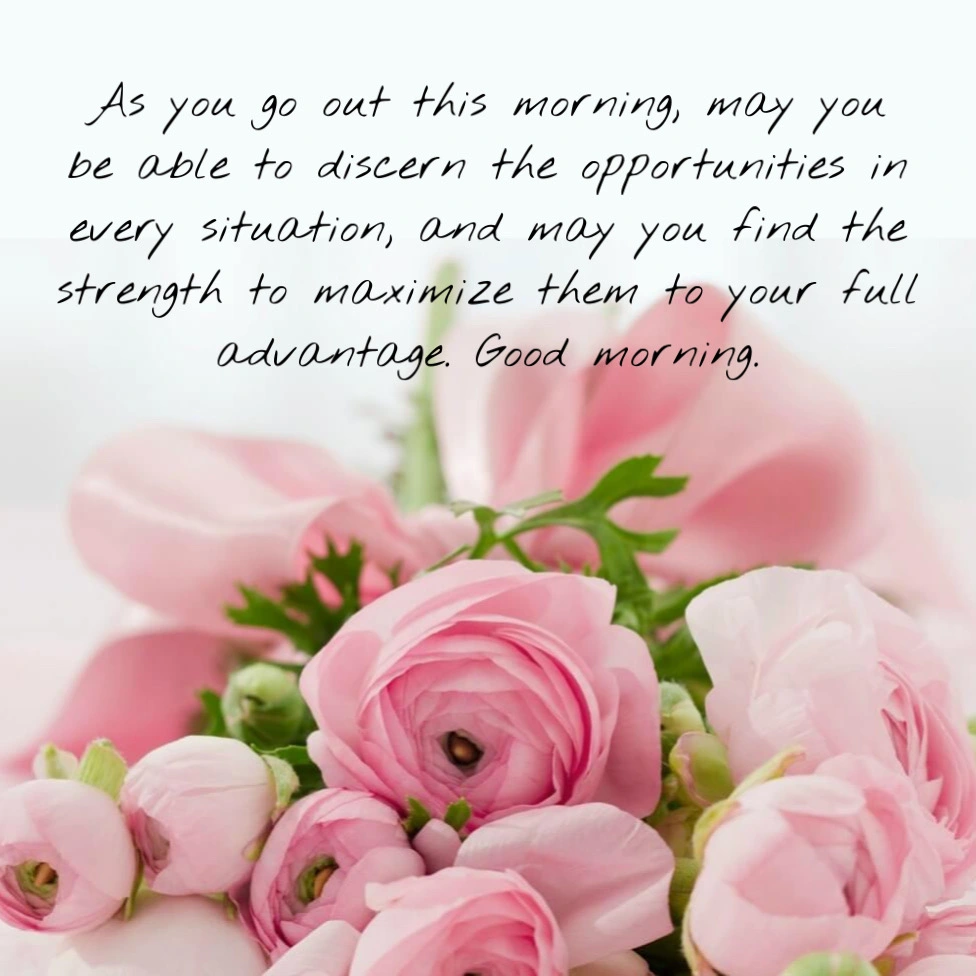 42. You are alive this beautiful morning because of the tender mercy and amazing love of God. On this brand new day, may all the crooked ways in your paths be made smooth, and may your steps always be directed into the right places and you will never go astray. Good morning.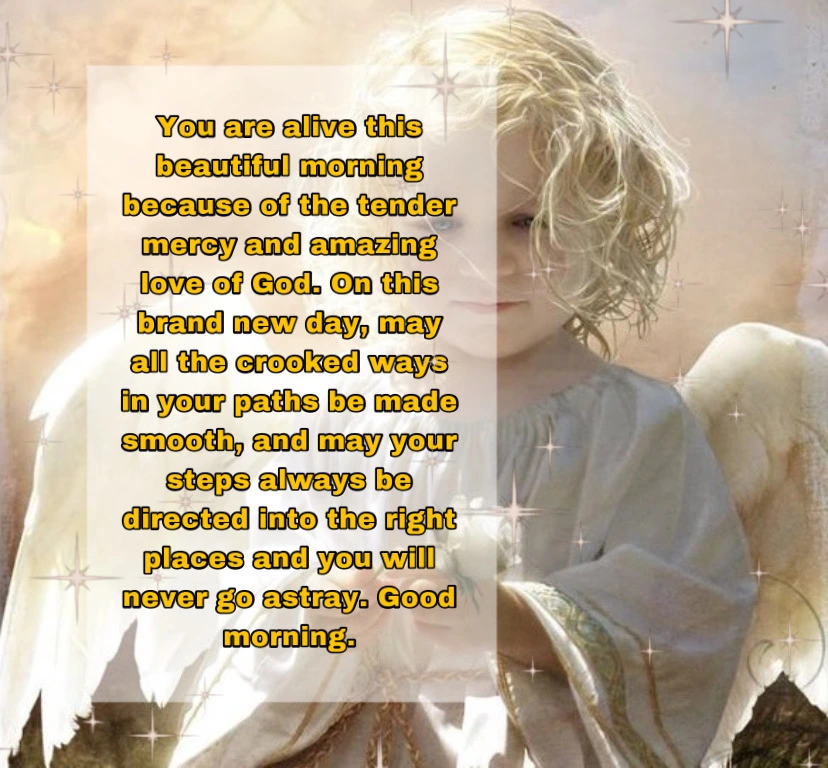 43. Today will be better than yesterday and lines will fall for you in pleasant places. This day will be better than yesterday and will shine through within your week. Have a great morning!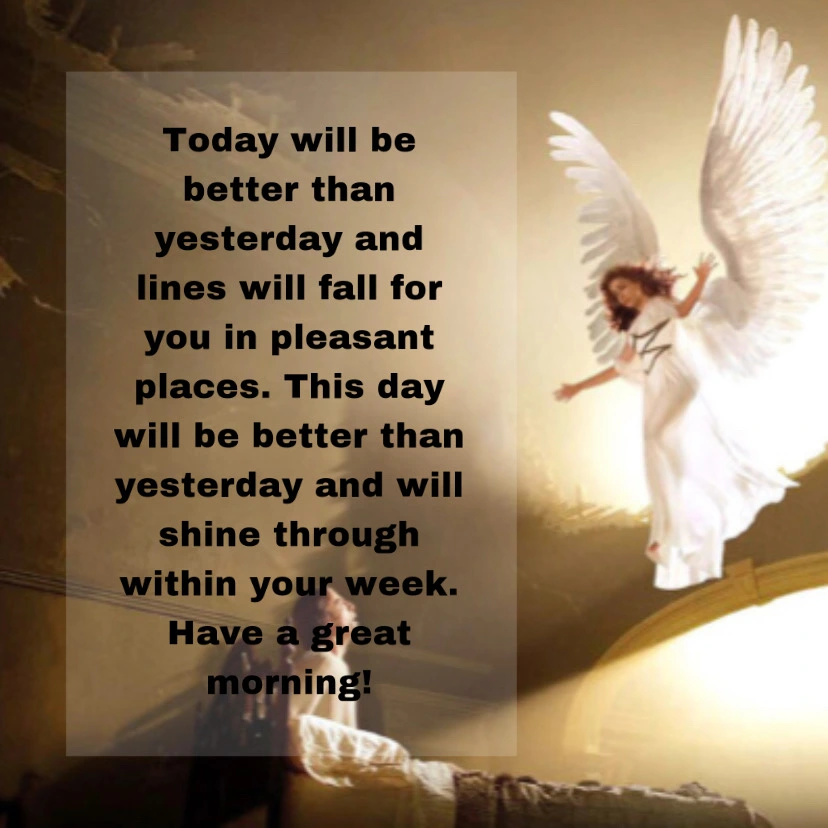 44. As the sun shines beautifully, giving light to all. May your life shine beautifully. May men gather in honour of you. Those who have rejected you will celebrate you today. You will smile in triumph over your enemies today. Good morning.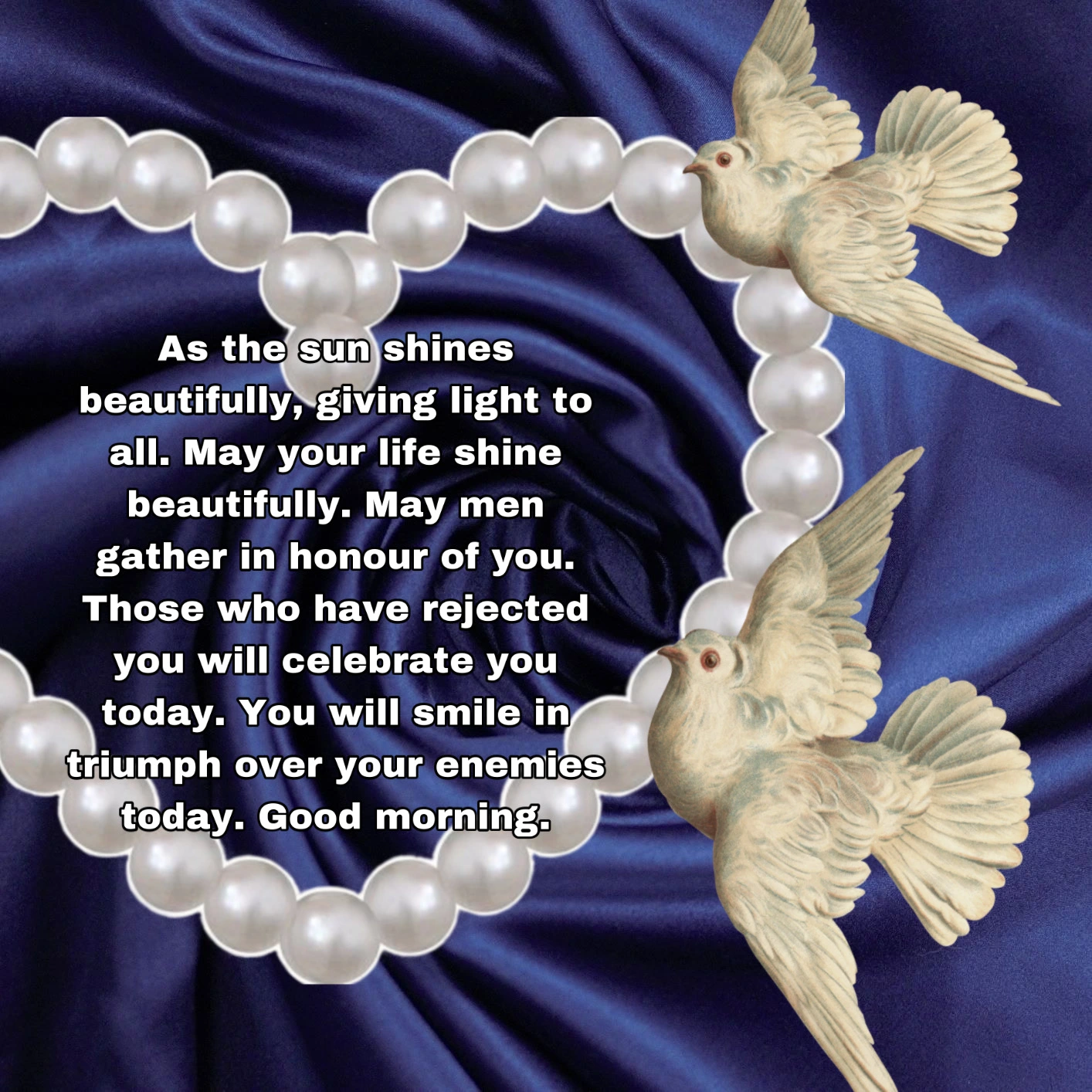 45. May His heavenly hand shield you, and may peace constantly reign under your roofs. As you go about your activities for the day, God will be right by your side to guide and guard you. Good morning.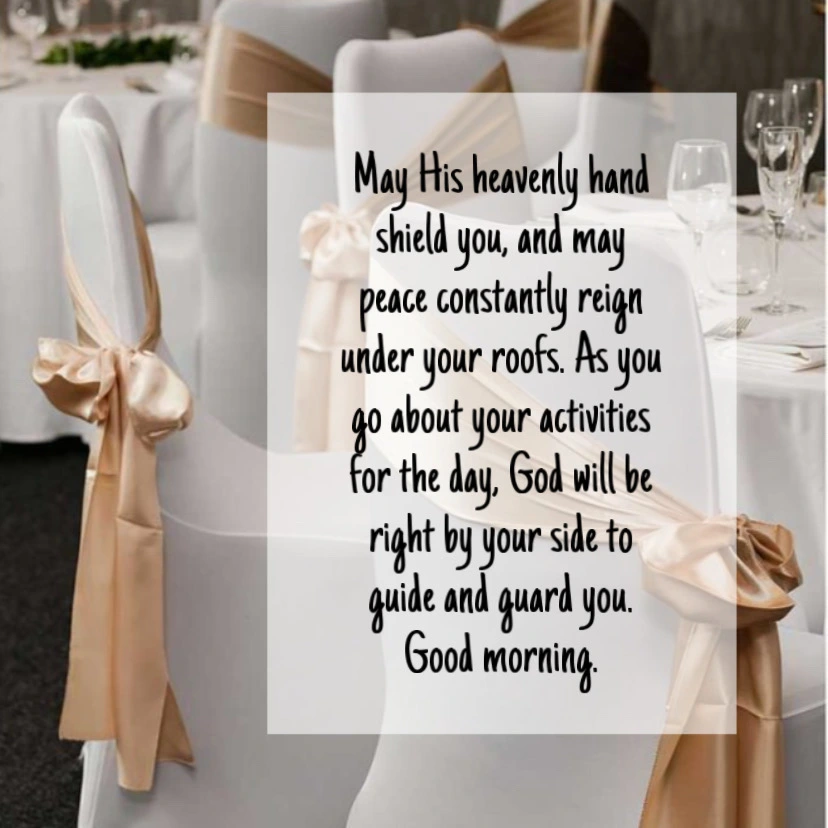 46. As you begin your day today, I pray the Lord will guide you through the storms and struggles of today. Fill you with the strength to overcome your fears and anxiety. He will grant you all your heart desires in Jesus' name. Amen. Good morning.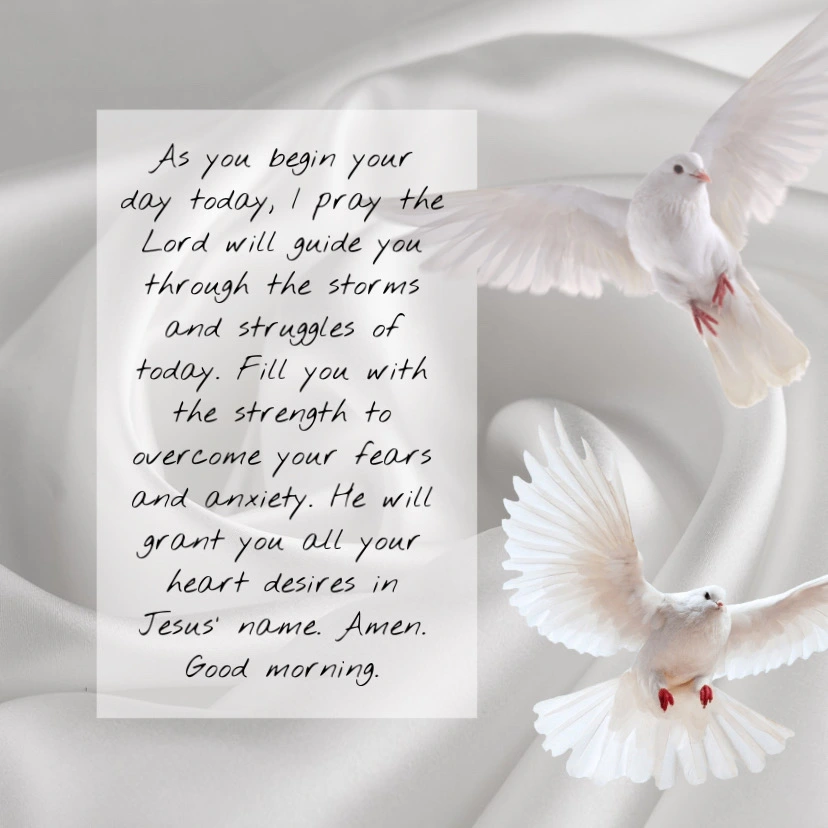 47. The best things are yet to happen to you. Keep dreaming and never be discouraged by the failures in life. May your life be filled with more blessings than you can count! Good morning.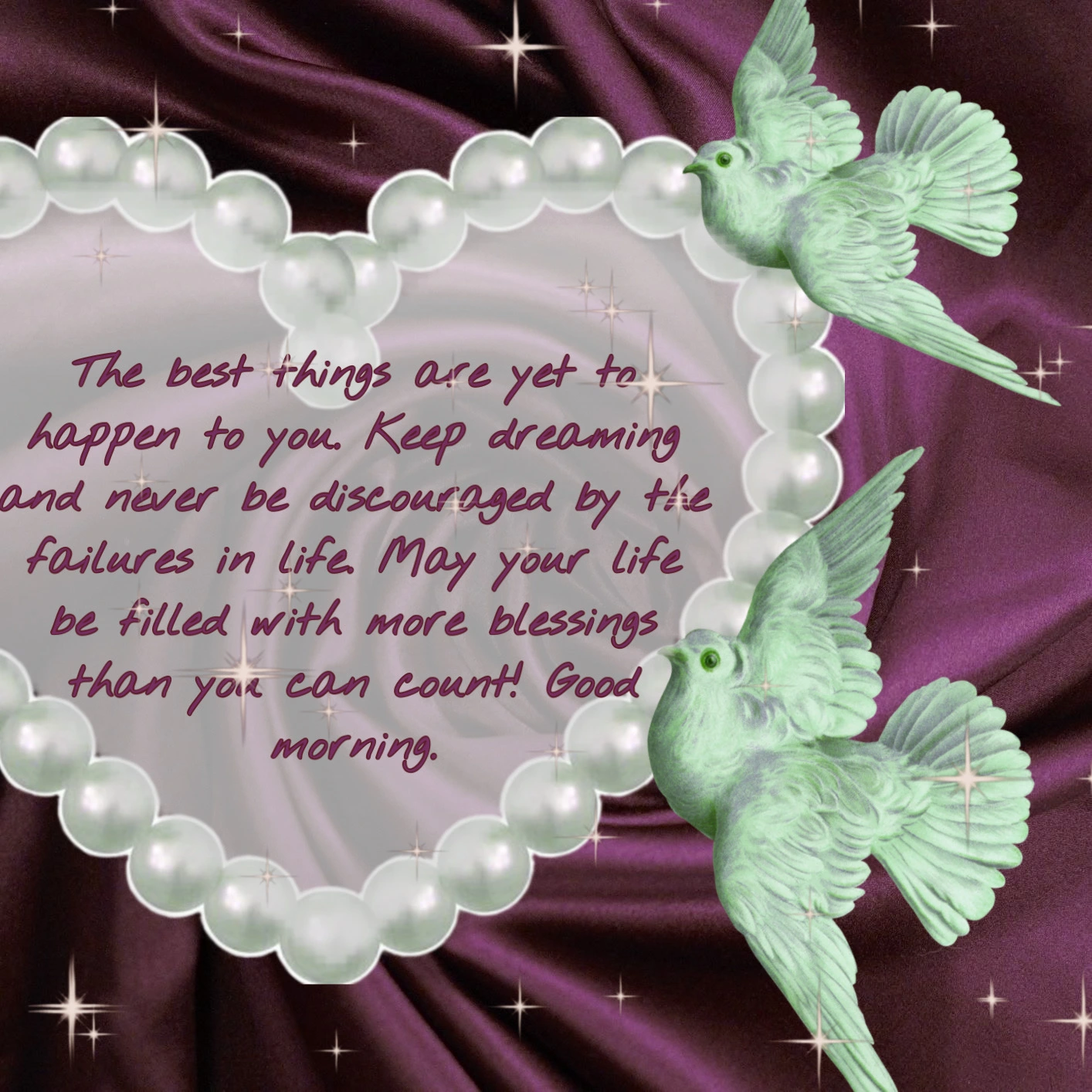 48. Truly you are blessed beyond measure. God bless you, shower His ultimate graces upon you and give you peace that surasses understanding. Step out today and be a blessing to anyone you meet. Wish you a great day. Good morning.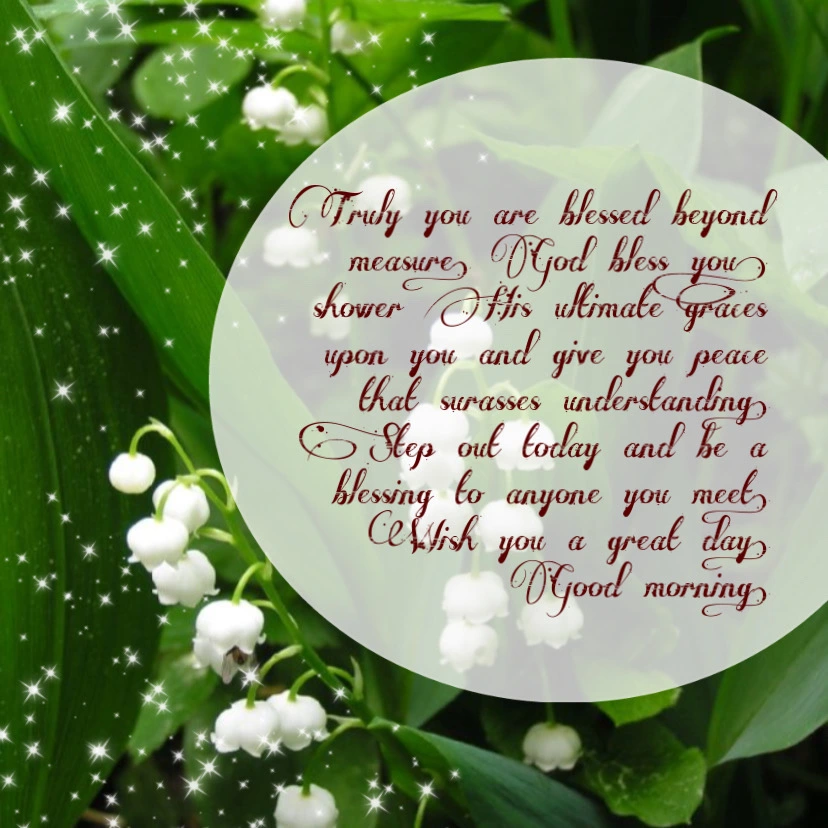 49. May this Thursday morning bring to your life a greater sense of God's presence. That He would fill your heart with His mercy and grace, so that throughout the day may be joyful and peaceful. Let this Thursday morning bring to your life greater peace in knowing that God is there for you today, tomorrow, and always.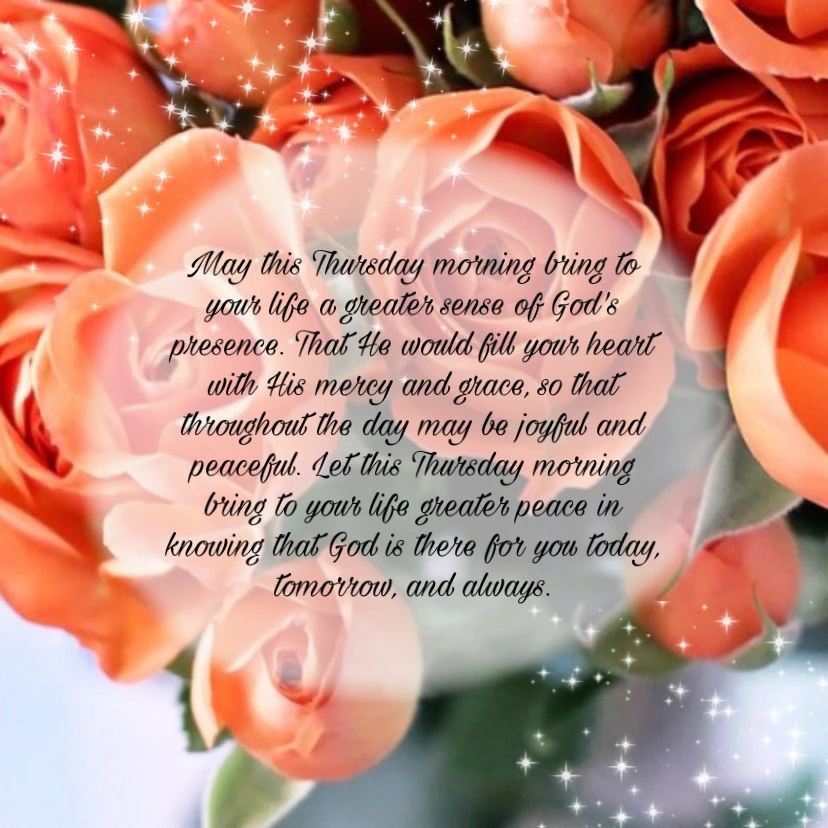 50. Today, may this Thursday morning bring you God's blessing. May He shower His love upon you, so that throughout the day you will walk with joy and peace in your heart. Have a blessed Thursday morning! Full of God's love and peace for you to get through the rest of the day.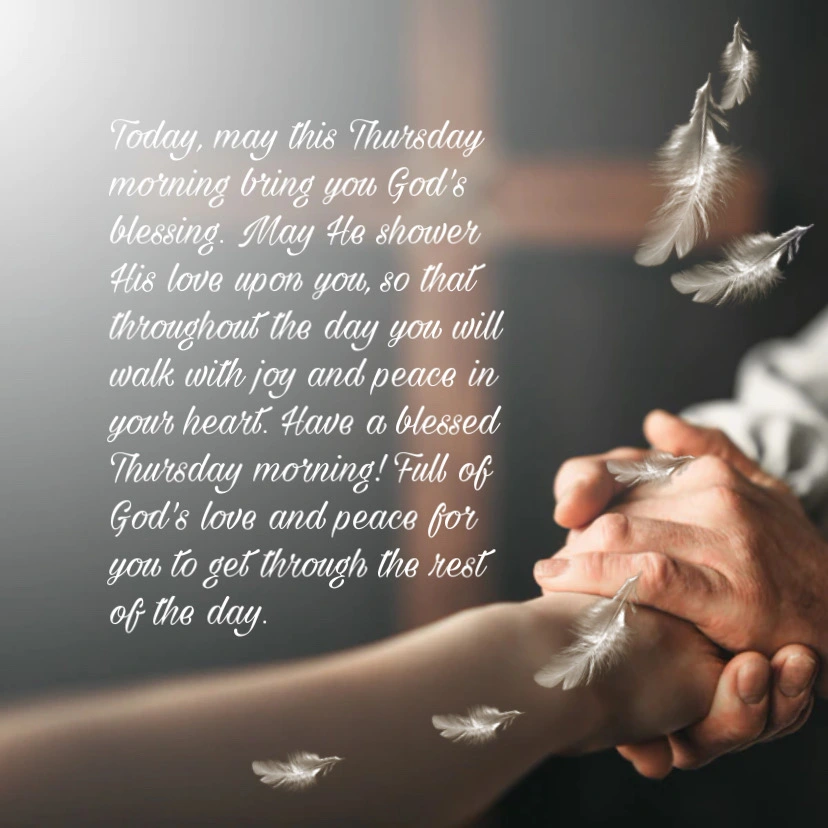 Final Thoughts
Prayer and spoken blessings greatly alter the course of your path in an unbelievable way. These fifty blessings are sure to give each of your Thursdays a wonderful start and end.
Select your favorites, mix one or two of them, and personalize them as you want. Utilize the vast choice of blessings at your disposal.
Don't forget to share. Bless someone's Thursday, just as you also receive your blessings.