Prayers for Forgiveness: Unleash the Power
July 2023
Forgiving others can be difficult, but it is necessary for personal growth. It is one of the crucial steps toward self-improvement. In fact, forgiveness is part of what makes up the foundation of the church. Jesus Himself commands believers to forgive others on earth whenever they are offended. Forgiveness heals the soul and sets the forgiver free from the slavery of resentment.
So what do you do when people hurt you and it seems almost impossible to let it go? How can you find healing when you feel condemned for sinning against God? Do you have concerns about whether He will forgive you?
During this journey to forgiveness, guardian angel prayers for divine support can be a helpful guide. Whether you need words to aid you in forgiving others or seeking forgiveness yourself, these prayers can provide the guidance you seek.
How to Pray for Forgiveness?
When we come to God in prayer asking for forgiveness, there are not many things He expects from us. No ambiguous, high-sounding words or any of those frivolities.
Psalm 51:17 helps us understand that there's only one requirement for prayers like this; a broken and repentant heart.
A heart that recognizes its sin, feels terrible for it and genuinely wants to make a change. This, the Lord will never look away from.
The prayers gathered in this article will serve as a valuable guide on your journey to wholeness.
Short Prayer for Forgiveness
Dear God,

I come before you today to seek your mercy for the wrongdoing I have done. I acknowledge my sin and my evil state of heart. I know I am not worthy to come before You, but in Your love, You've asked us to come boldly to You when we sin. And so I come contrite before Your throne. Show me mercy Lord, by reason of Jesus' sacrifice on the cross and cleanse me from my iniquities.
Amen.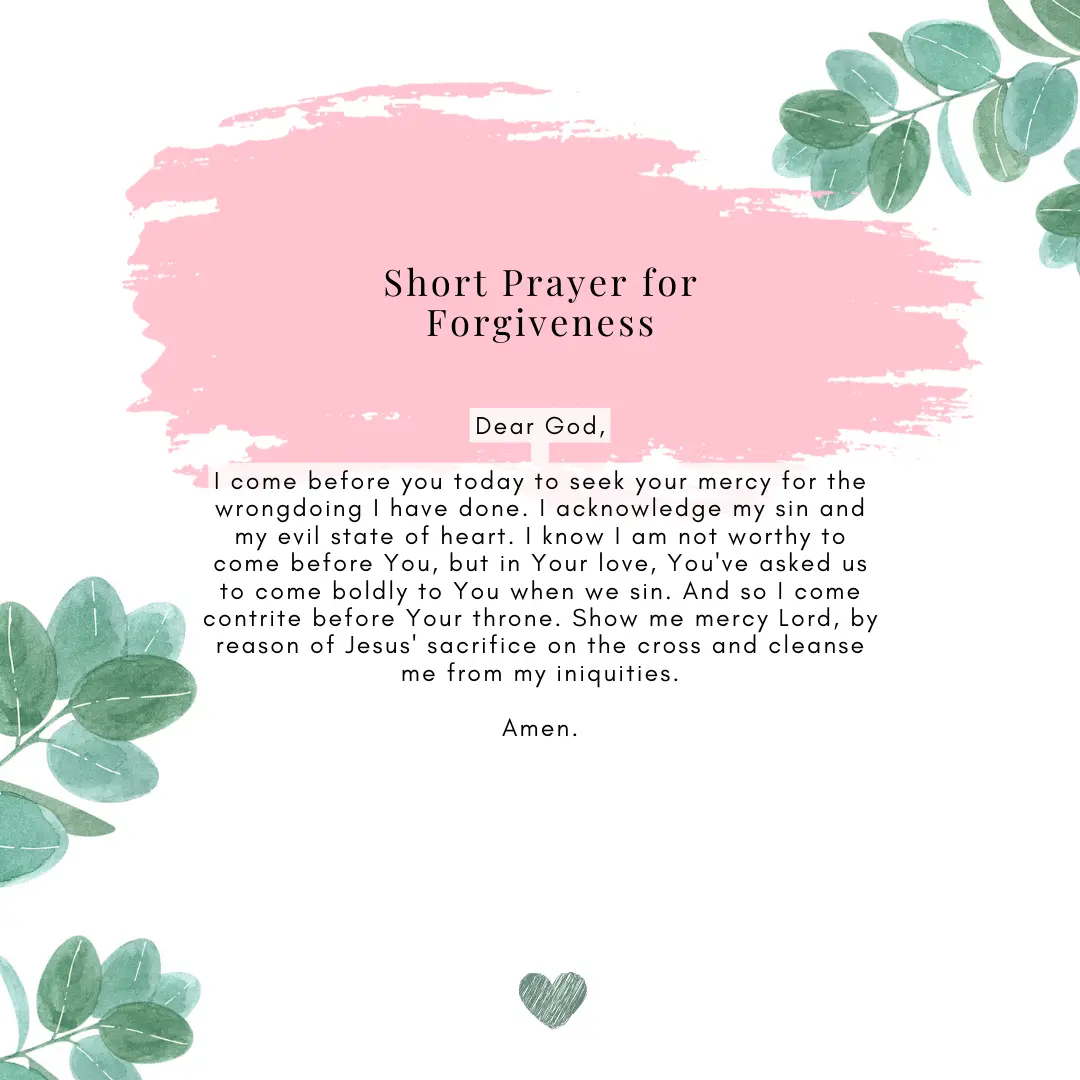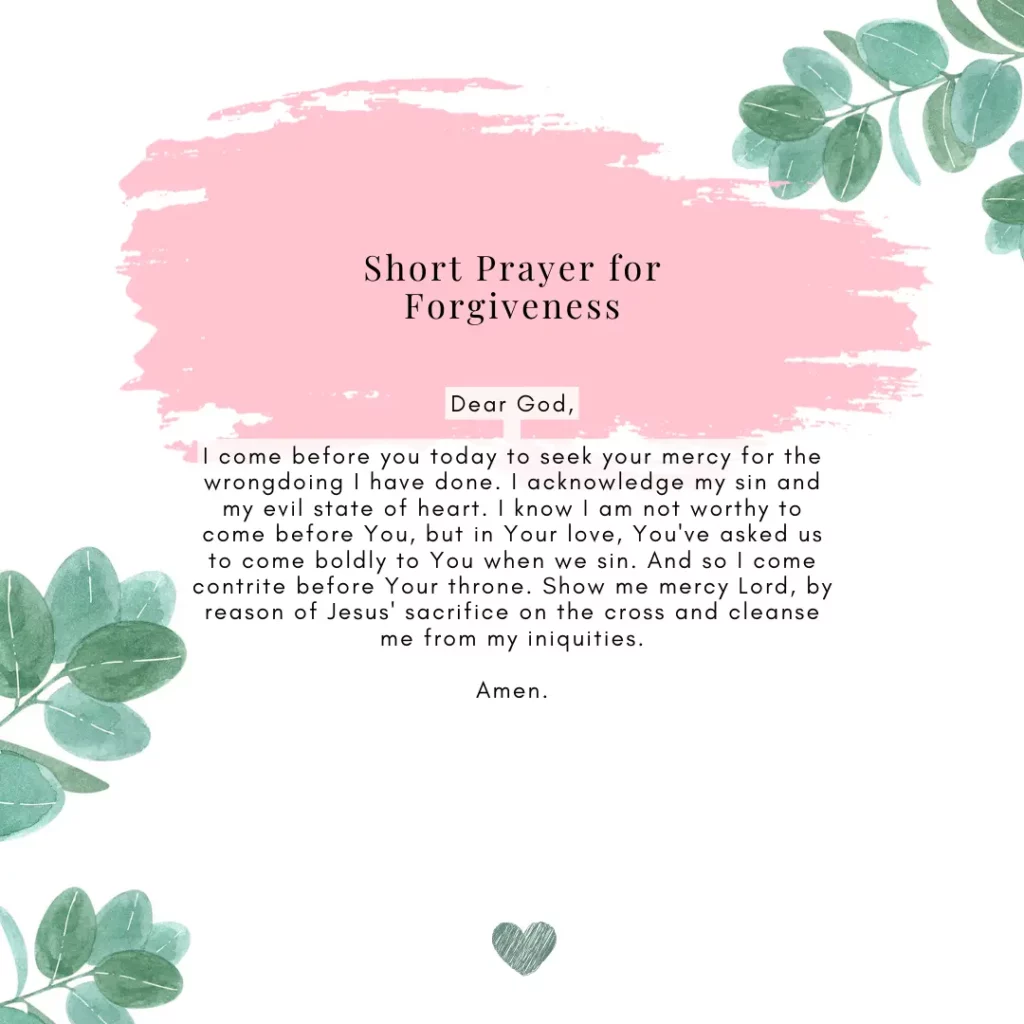 Prayer for Forgiveness of Sins
Dear God,
The words of the Lord's Prayer which You taught us while You were on earth say, "Forgive us our sins as we forgive those who sin against us". Lord, I admit that I find it very challenging to pardon people who wrong me. It makes me think of how You must feel pardoning me each and every time I offend You. Therefore Gracious Father, I ask for the spirit of forgiveness which is in You to come into my heart. Teach my heart to walk in mercy with everyone around me.
Amen.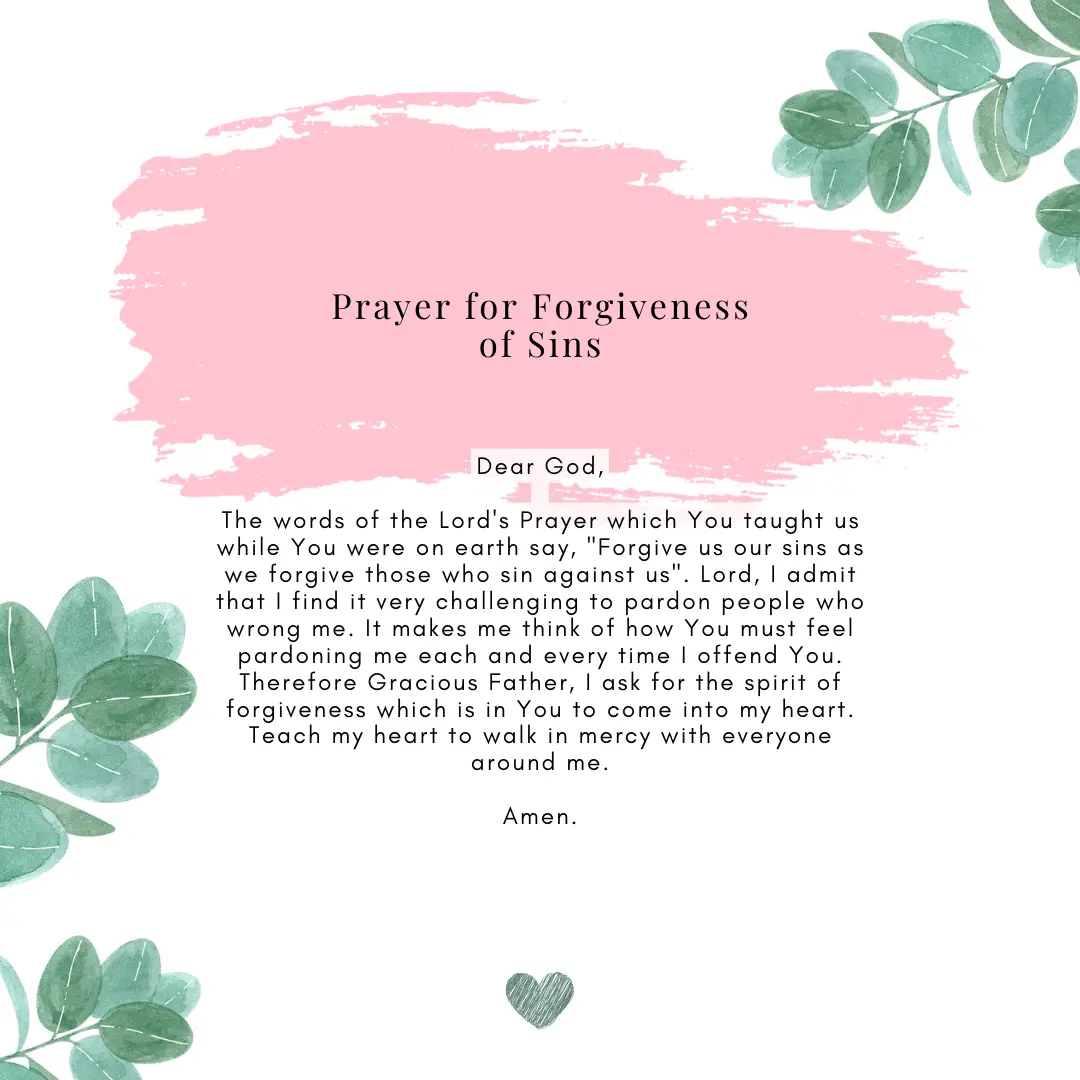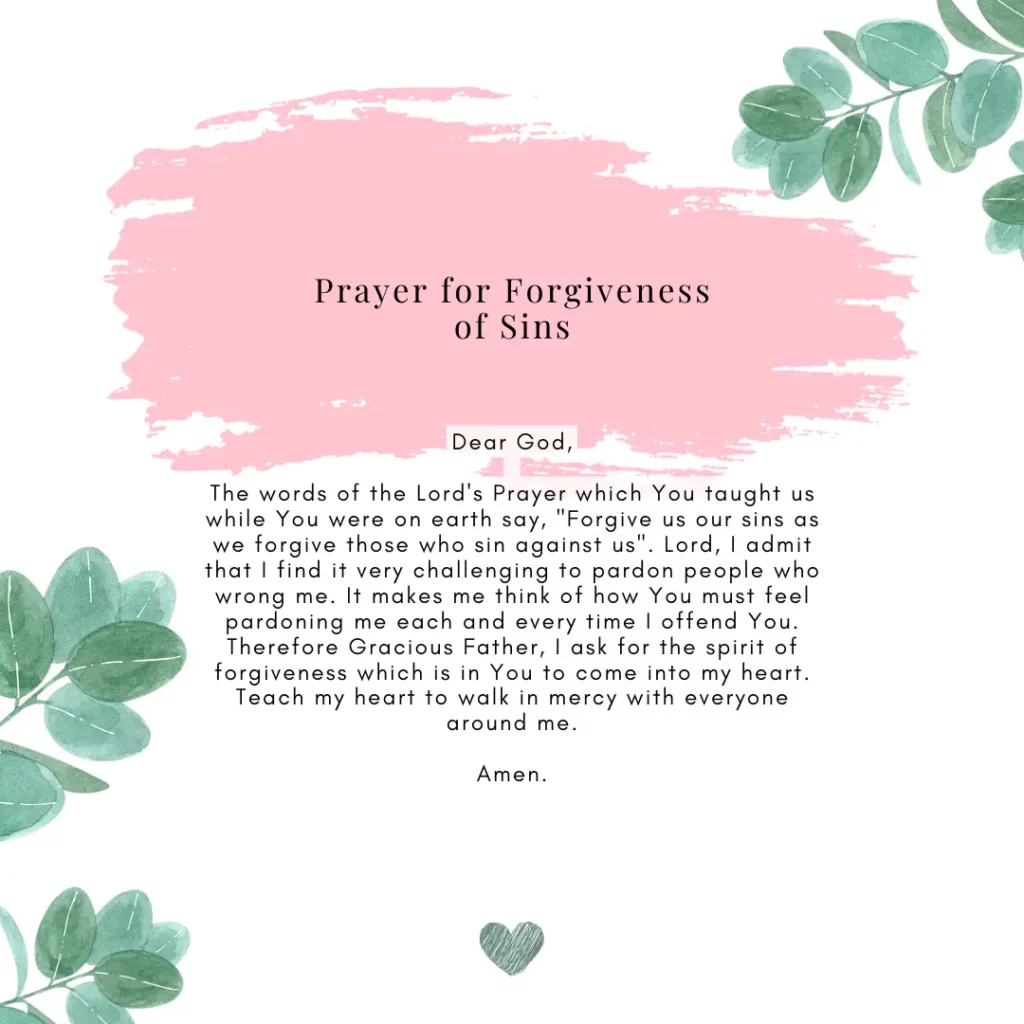 Prayer to Forgive Yourself
Lord God,
Thank You for Your manifold mercies towards me every time I come to You in repentance of my sins. I confess, however, that it's even harder to pardon myself. Forgive me for implying that Your sacrifice is not enough to take away my sins by holding on to my wrongs in my heart. Help me to truly forgive and love myself as You forgive and love me.

Amen.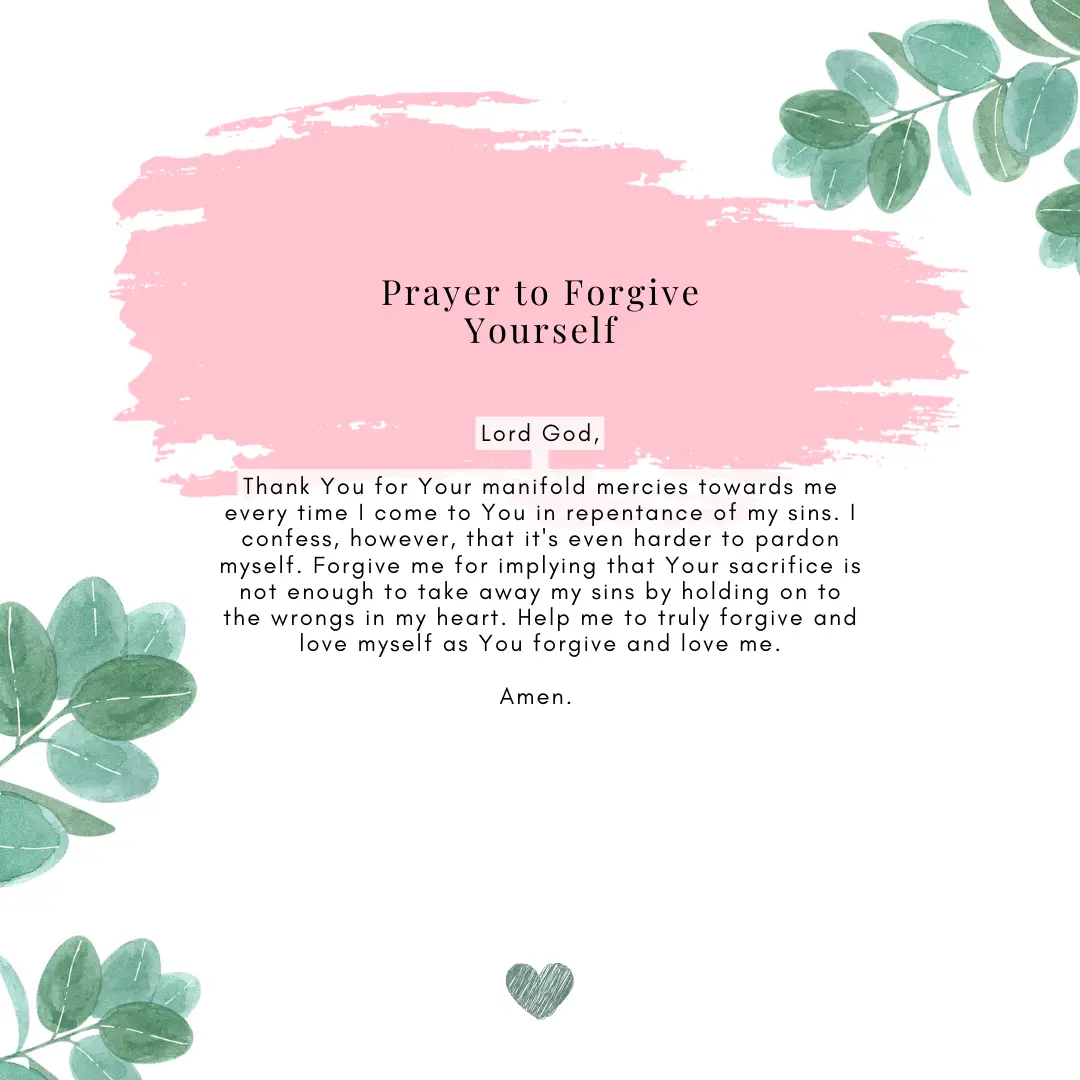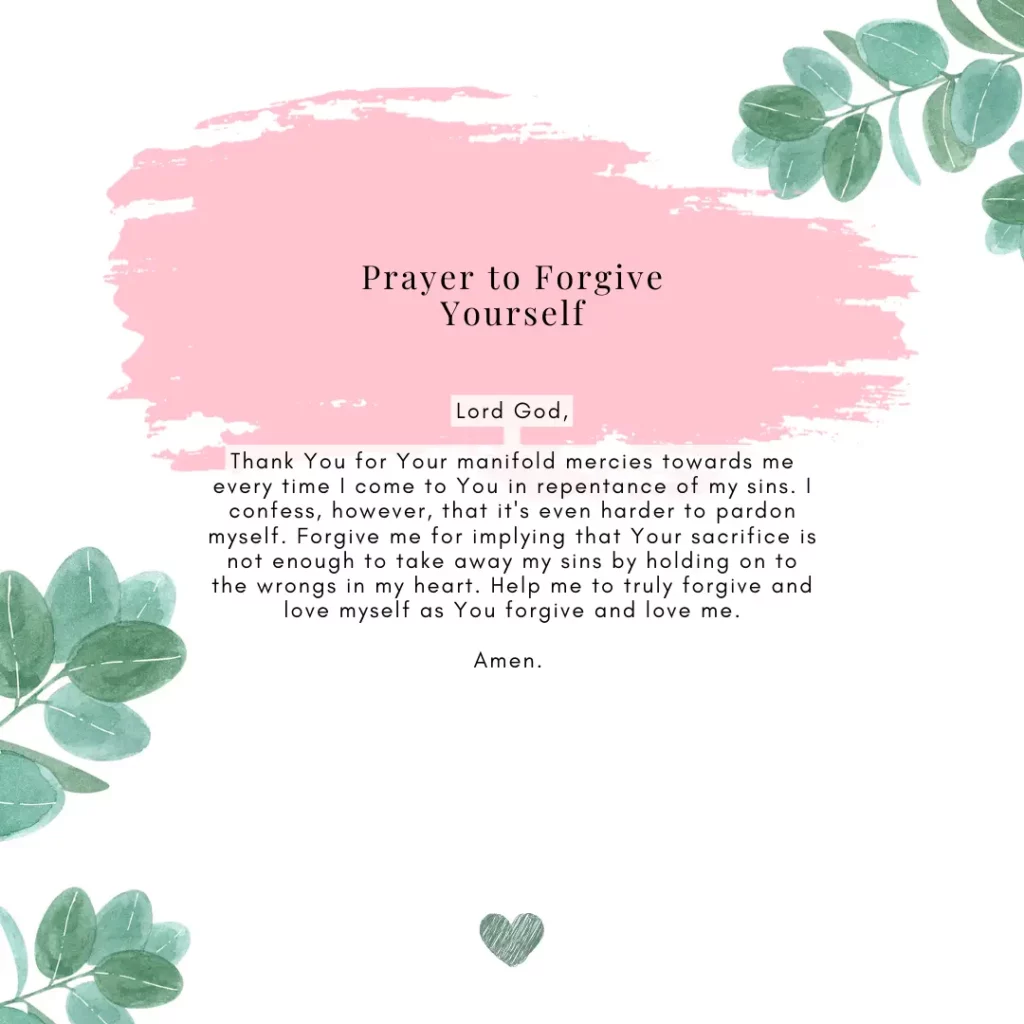 Prayer For Forgiveness Of Others
Heavenly Father,
I thank You for Your goodness and loving-kindness towards me. I come before You today to ask for the grace to forgive and forget the wrongdoings against me. Help me to understand that the people who hurt me are also Your children, Your creation and I have to show them mercy as You do.
Amen.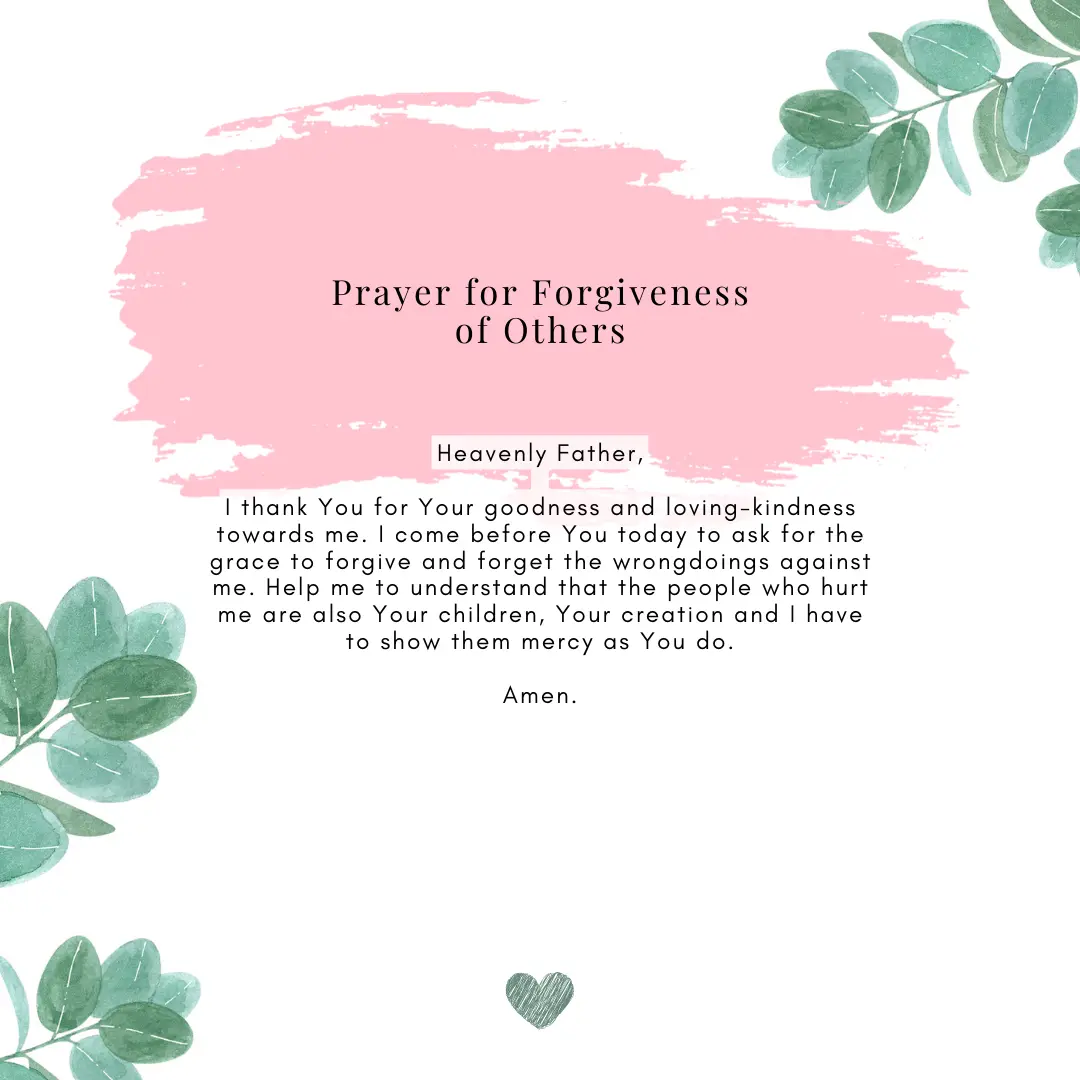 Prayer To God For Forgiveness
My Lord,
Forgive me when I allow bitterness and resentment to take root in my heart. I must admit they've almost become old friends, so much that I don't know how to put them away. But I trust in Your ability to help me. Teach me how to lay down my ego and pride and truly forgive the people who have hurt me. Heal my heart of anger and bitterness and replace it with Your wonderful joy.

Amen.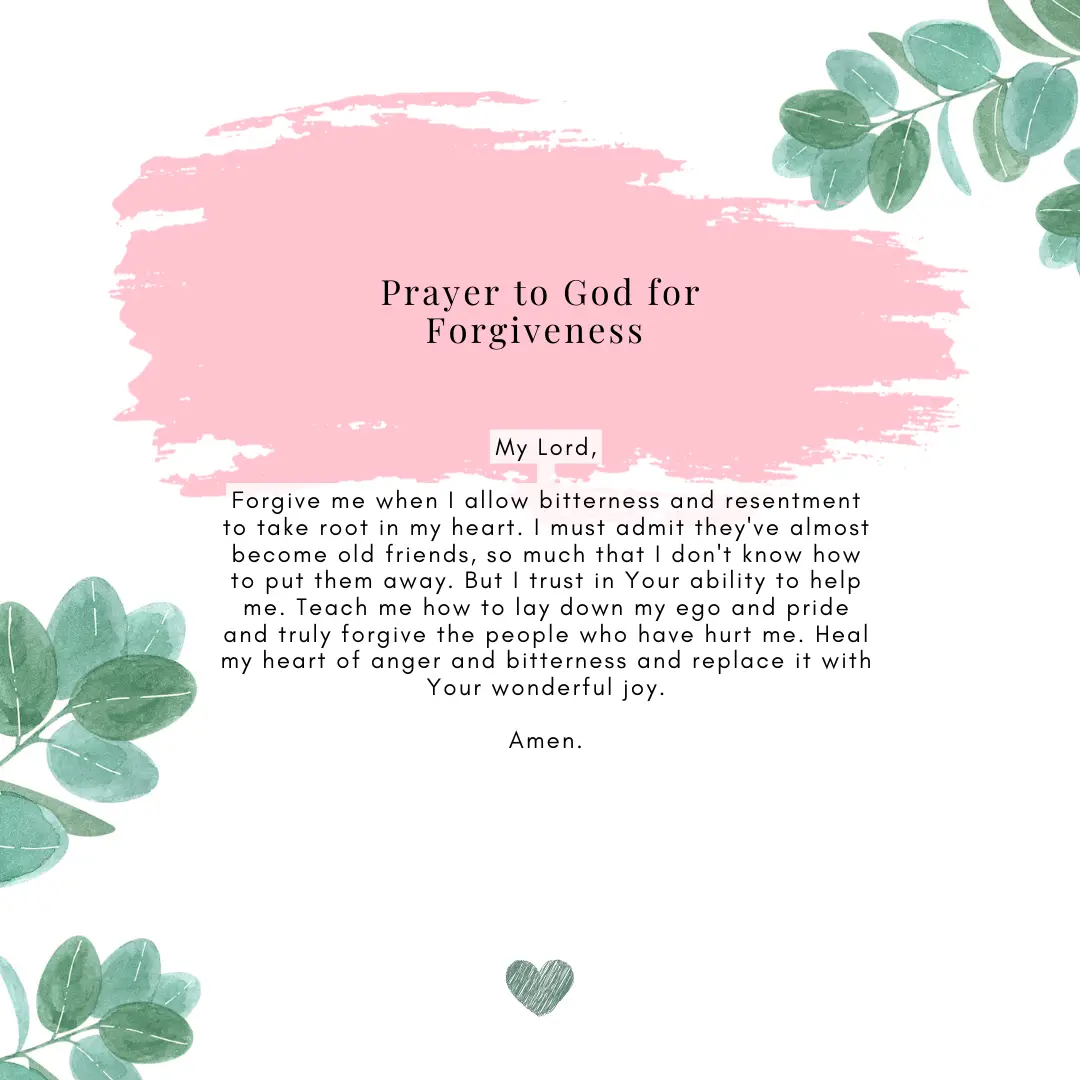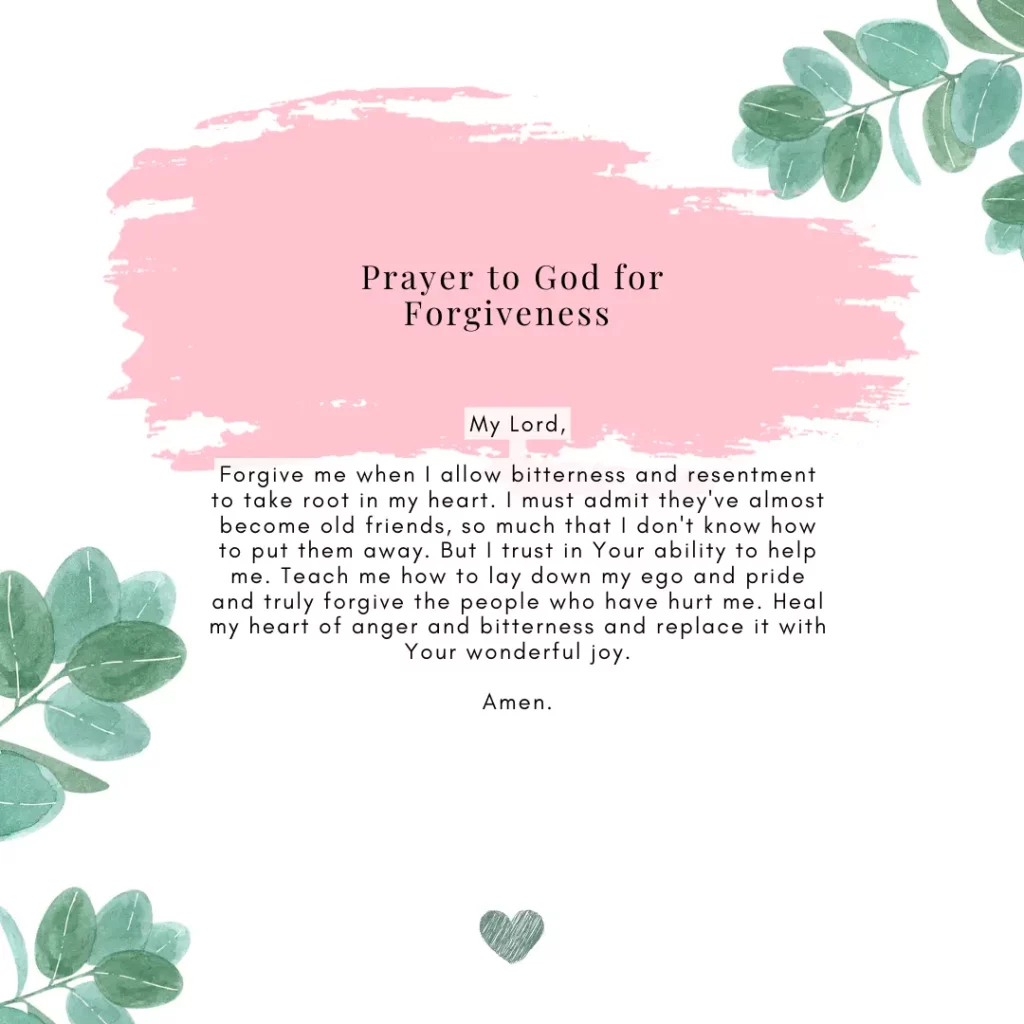 Prayer for Forgiving When You Can't Forget
Jesus,
I feel so betrayed and hurt. I do not want to carry this offense in my heart, but it is harder than I thought. My heart wants to let go, but my mind just can't forget. Precious Holy Spirit, help me. Help me to follow Your example of complete forgiveness; letting go of our sins as if we never even committed them in the first place.
Amen.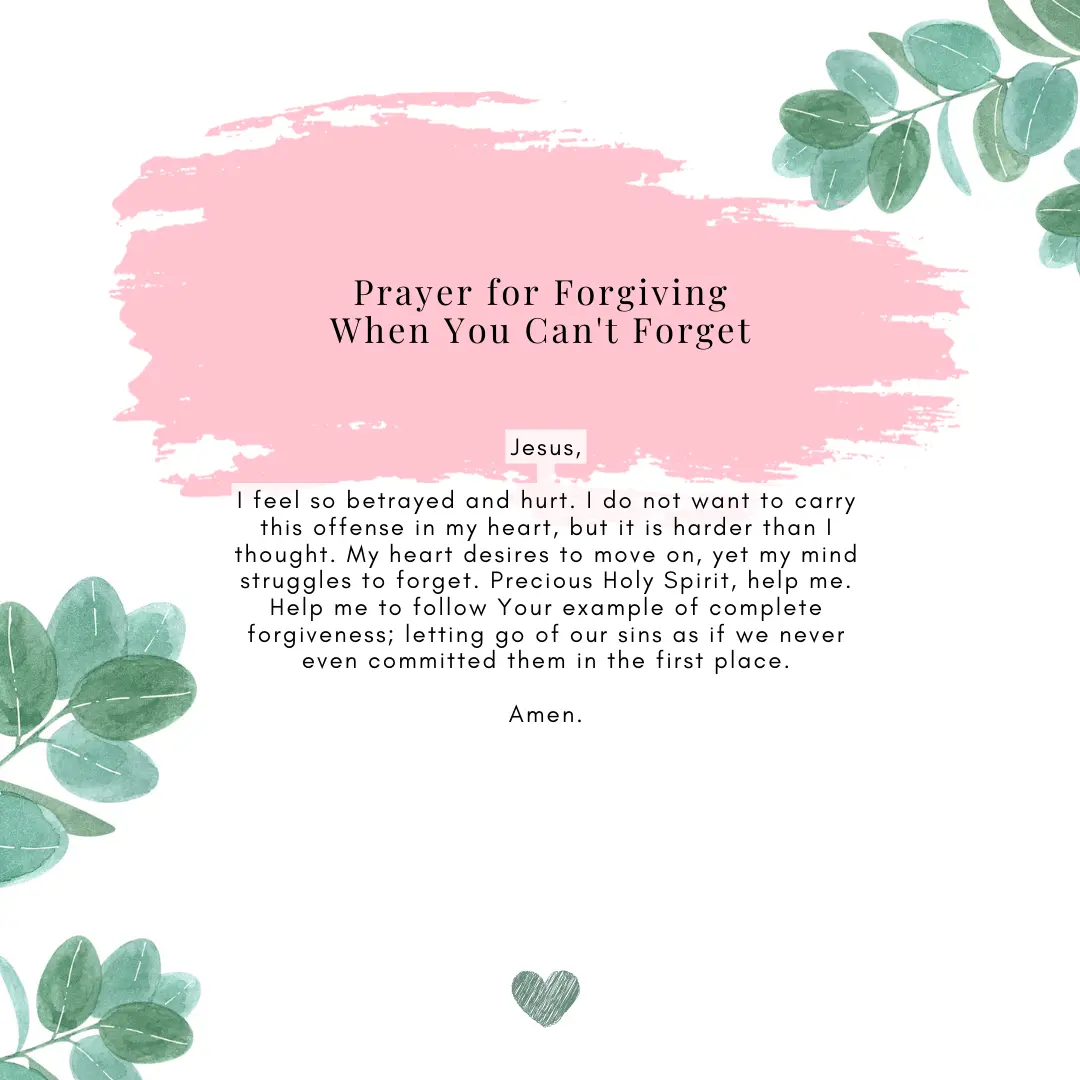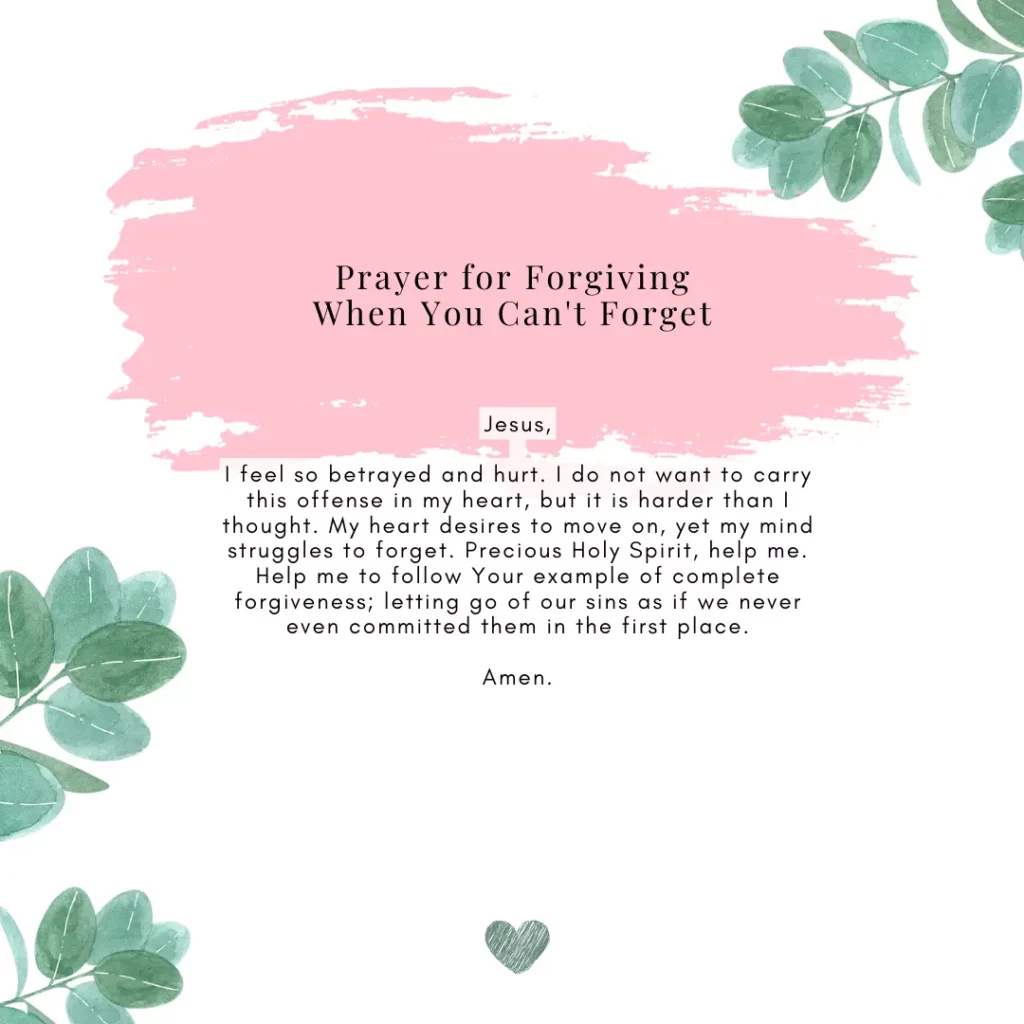 Prayer for Freedom from Guilt
Father,
Thank you for your amazing sacrifice on the cross to give us freedom and eternal life. As I say this prayer for forgiveness, free me also from the guilt that seems to still plague my mind after. Grant that I may put my trust in the mercy You have shown me and be set free from the hold of sin consciousness over my mind. Silence the voice of Satan the accuser, who doesn't want me to believe in Your total mercy. Cause me to love and live like You and lead me in Your way everlasting.
Amen.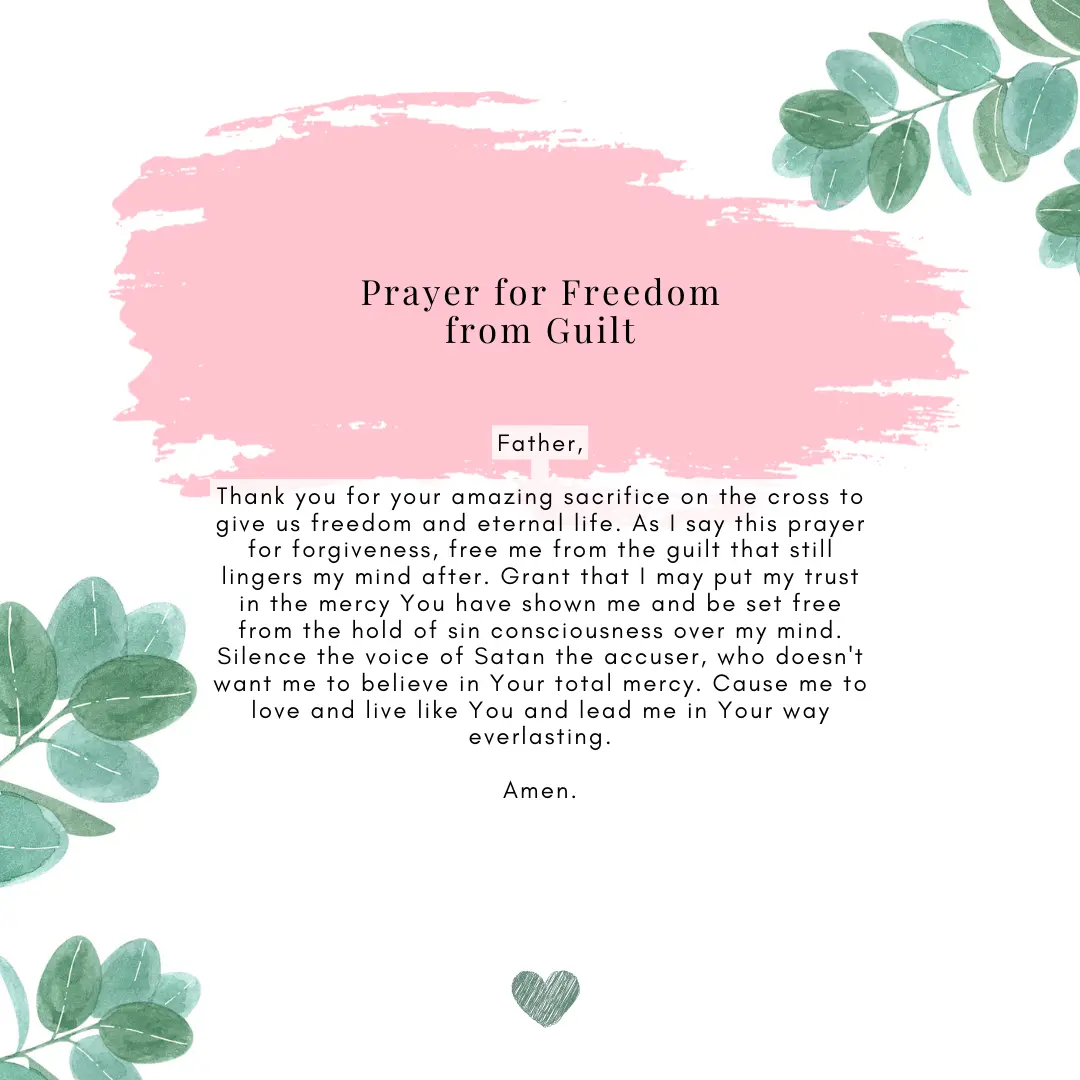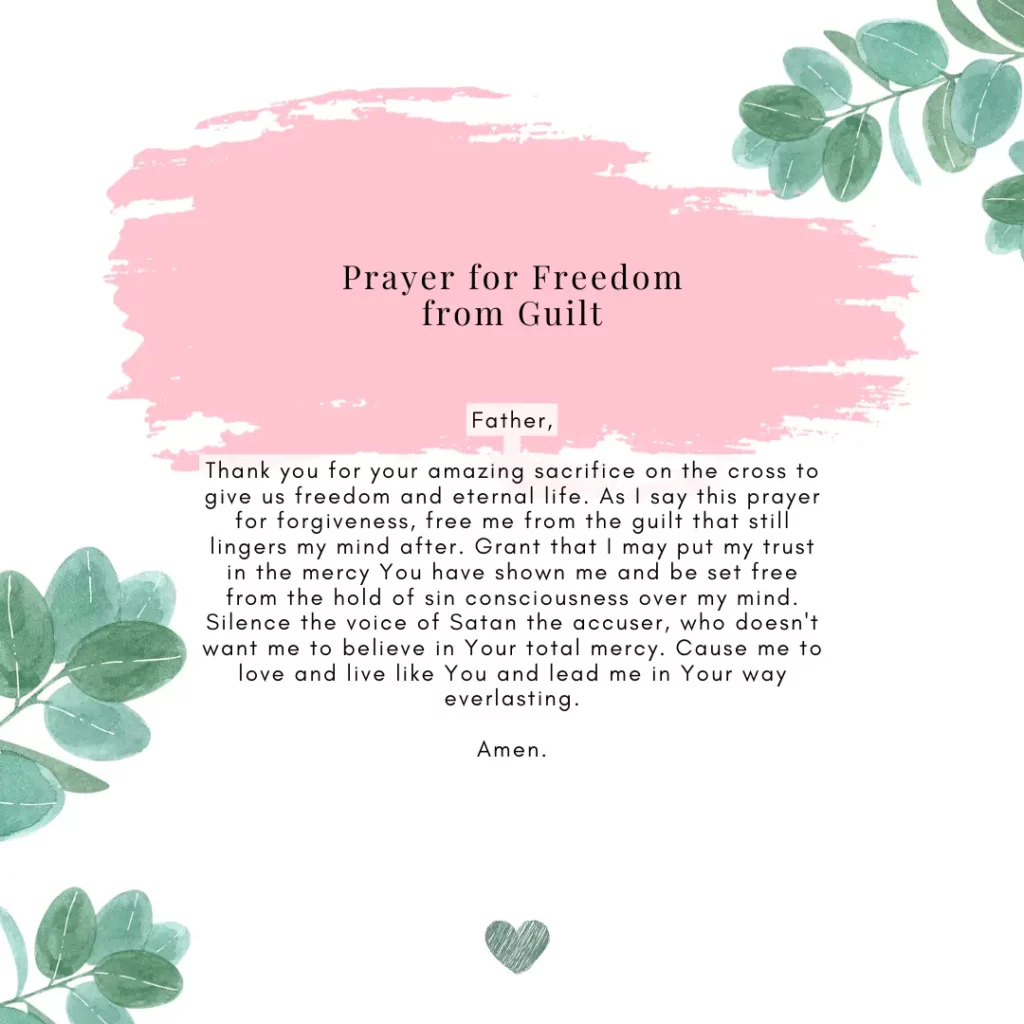 Catholic Prayer for Forgiveness
Merciful Father,
I come before You with a contrite heart, acknowledging my sins and weaknesses. I humbly ask for Your forgiveness and mercy. Grant me the grace to truly repent and change my ways. Help me to reconcile with those I have wronged and to seek reunion with You. May Your love and forgiveness flow through me as I strive to live a life pleasing to You.
Amen.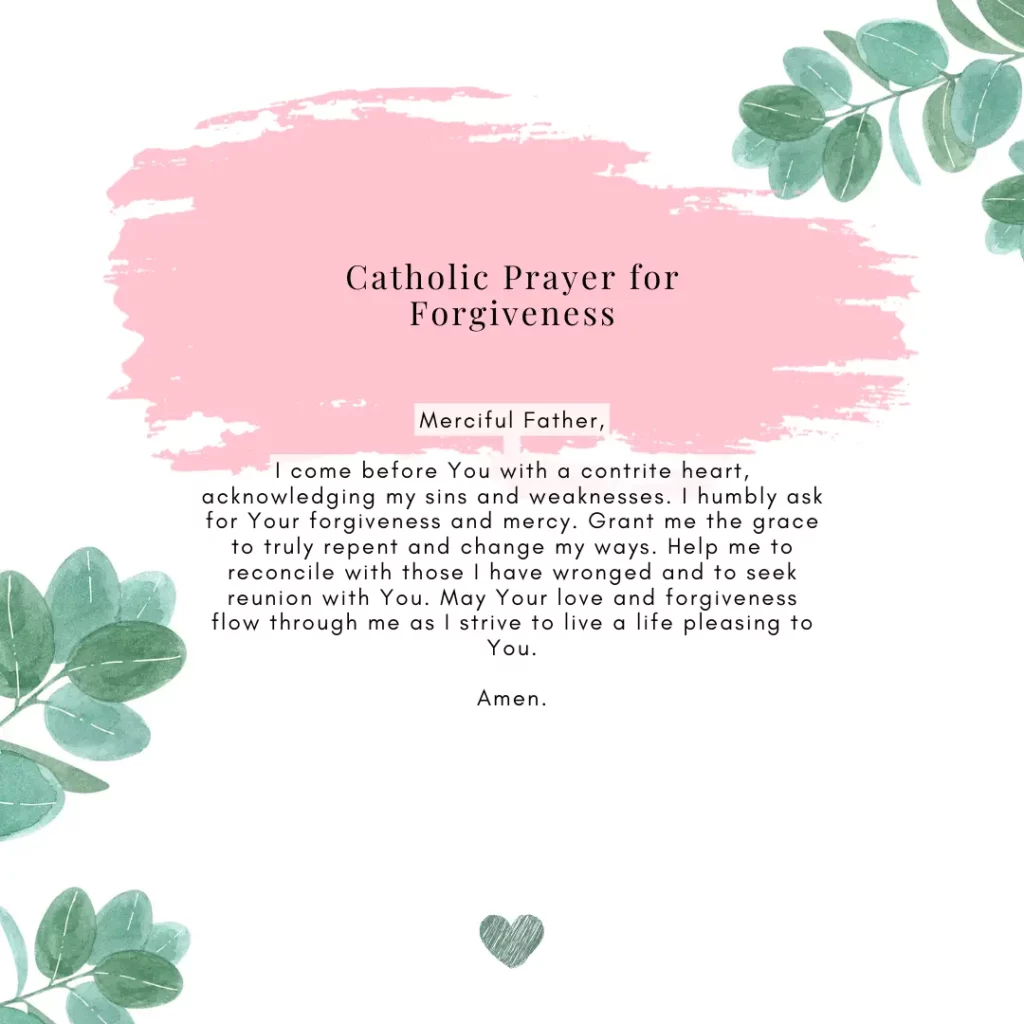 Prayer for Abortion Forgiveness
Dear Heavenly Father,
I come before You with a heavy heart, acknowledging the pain and regret of my past decision. I ask for Your forgiveness for the choice I made, for ending the precious life that You created. I am filled with remorse and sorrow, and I ask for Your healing and restoration. Lord, I know that Your love is greater than any sin. I trust in Your mercy and grace, knowing that You are able to forgive even the darkest of mistakes. Help me to find peace and forgiveness within myself, and guide me on a path of healing and redemption.
Amen.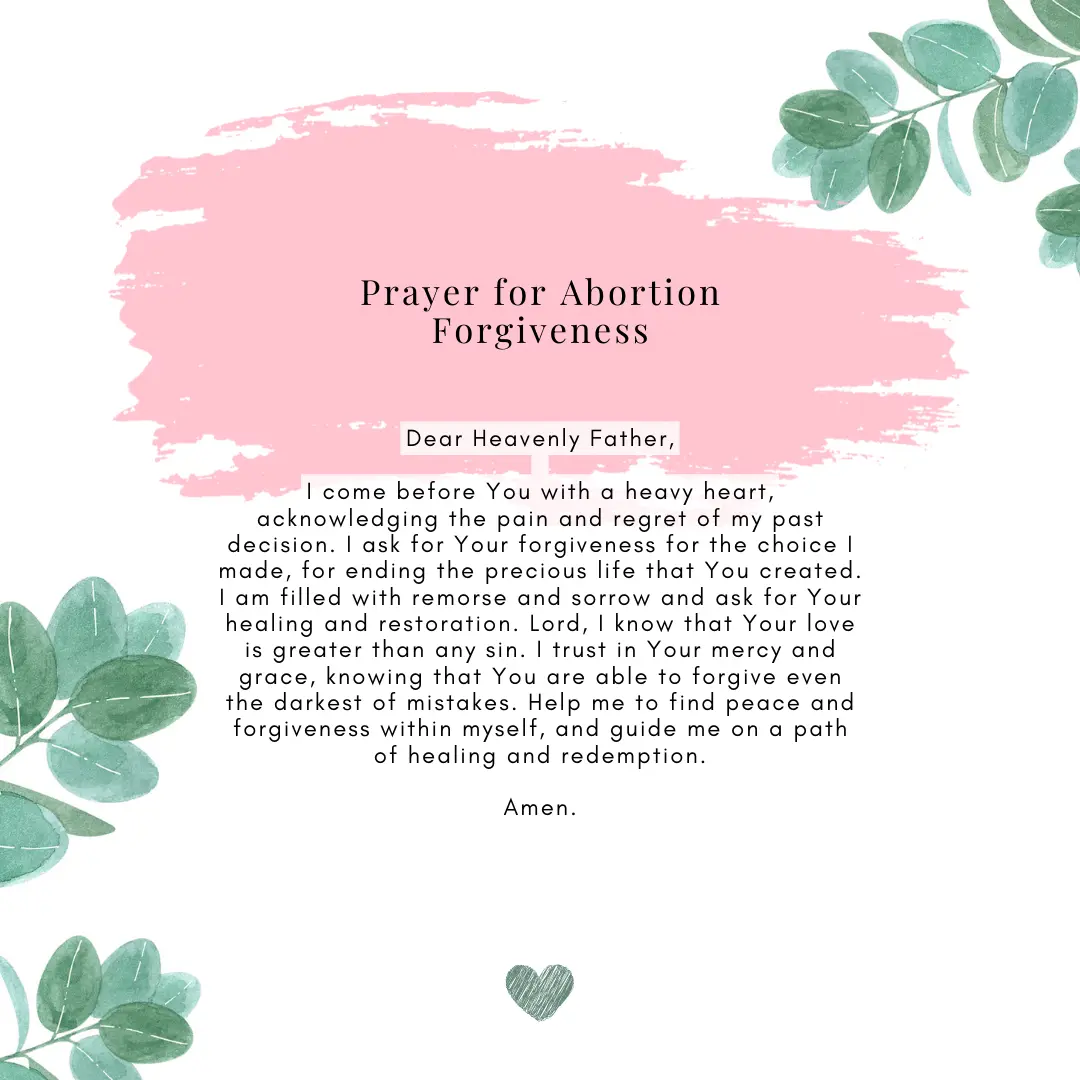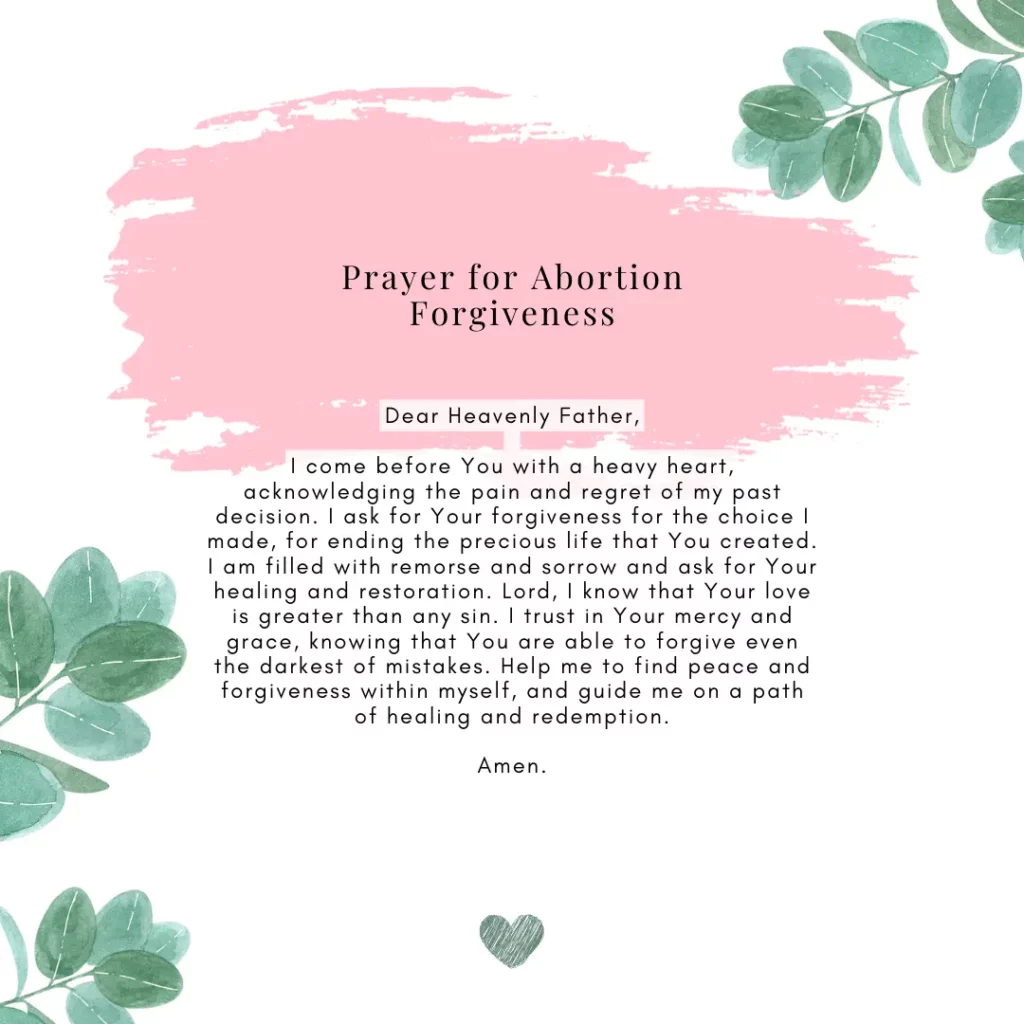 Prayer for Forgiveness of Sins Renewal and Repentance
Dear Heavenly Father,
I humbly come before You, acknowledging my sins and weaknesses. I ask for Your forgiveness and mercy, knowing that I have fallen short of Your perfect standard. I repent of my sins and ask for a renewed heart and mind. Help me to turn away from my past mistakes and walk in righteousness. Lord, I thank You for Your unending love and grace. I trust in Your promise that if we confess our sins, You are faithful and just to forgive us and cleanse us from all wrongdoing. I surrender my life to You and ask for Your guidance and strength to live a life pleasing to You.
Amen.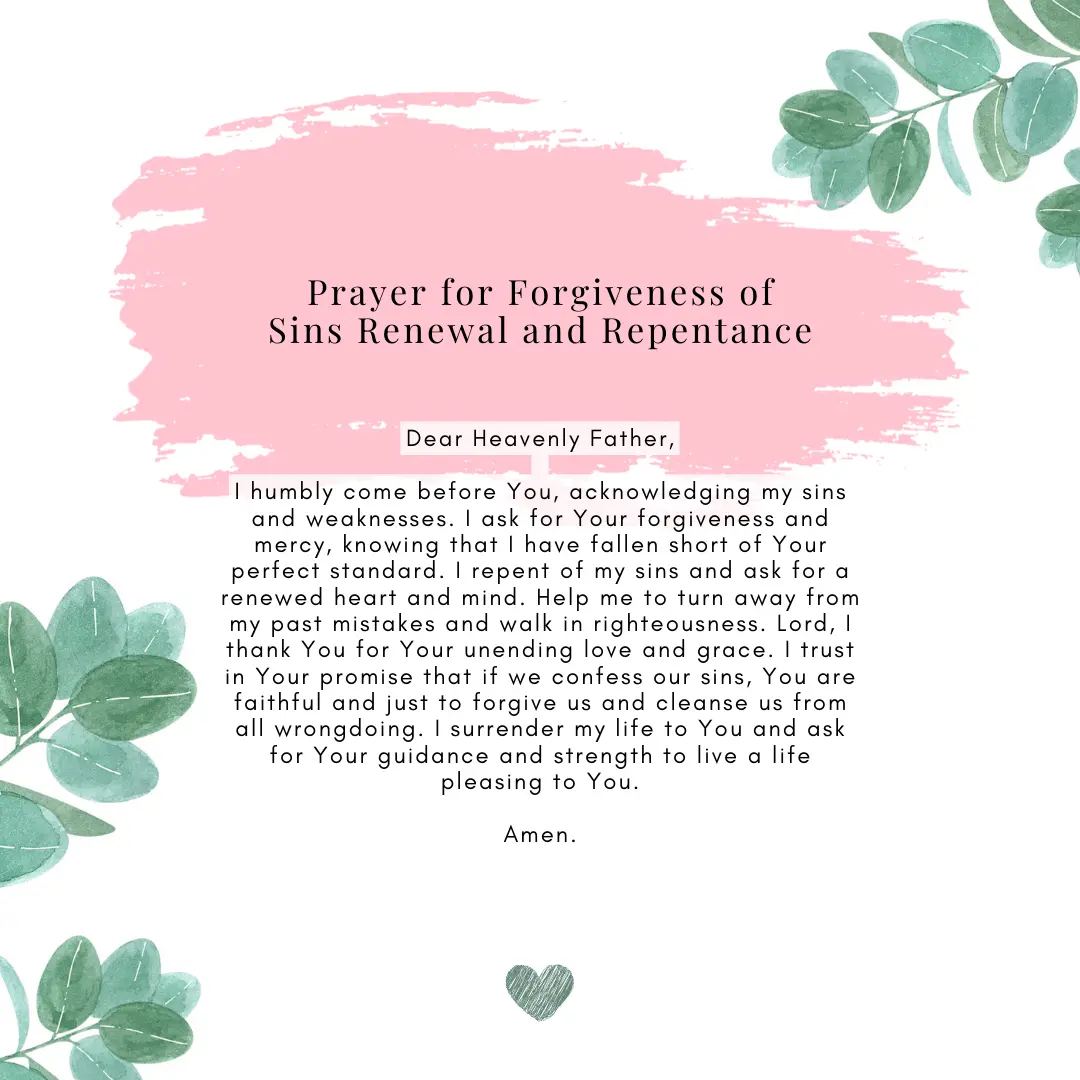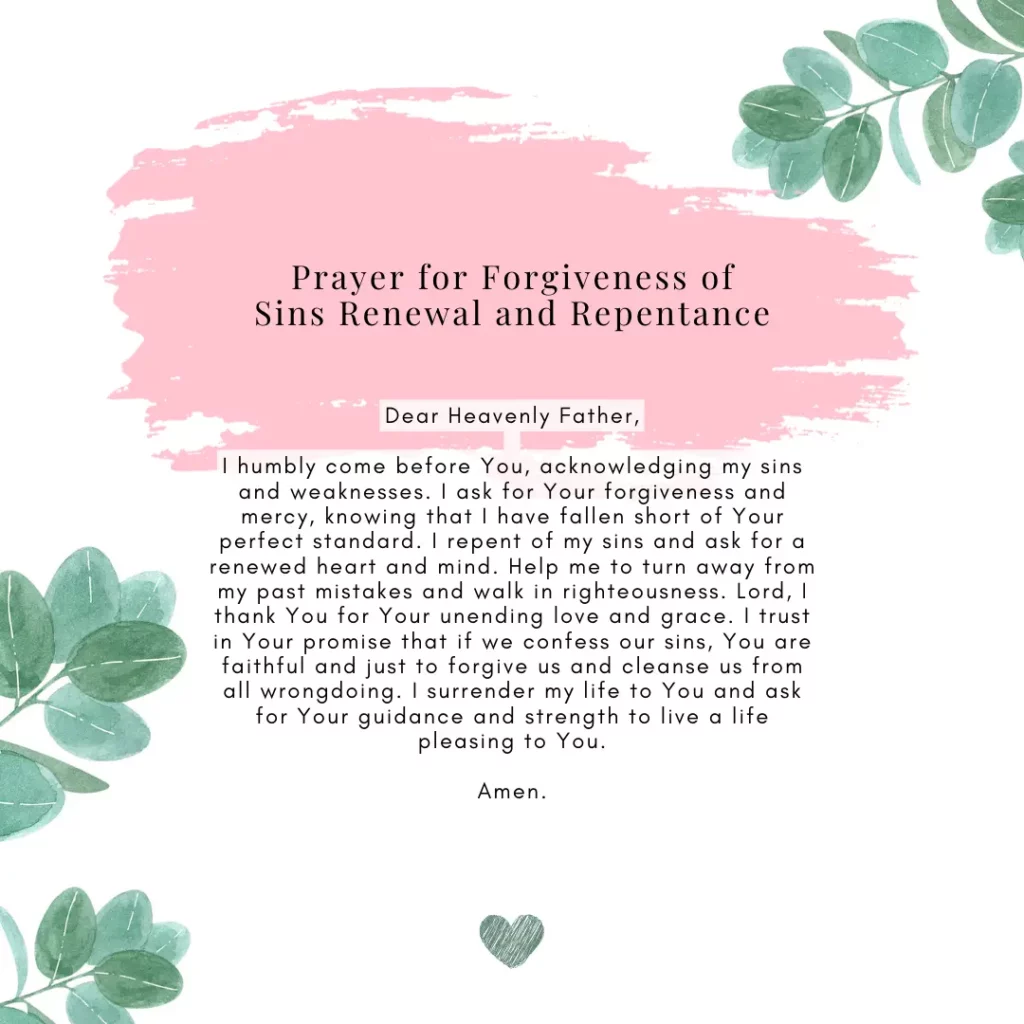 Bible Verses About Forgiveness
As you say these forgiveness prayers, here are a couple of verses to remind you of the totality of God's mercy, as well as why and how we must also forgive;
The LORD is slow to anger and abounding in steadfast love, forgiving iniquity and transgression, but he will by no means clear the guilty, visiting the iniquity of the fathers on the children, to the third and the fourth generation.'
He does not deal with us according to our sins, nor repay us according to our iniquities. For as high as the heavens are above the earth, so great is his steadfast love toward those who fear him; as far as the east is from the west, so far does he remove our transgressions from us.
"But if we walk in the light, as he is in the light, we have fellowship with one another, and the blood of Jesus his Son cleanses us from all sin. If we say we have no sin, we deceive ourselves, and the truth is not in us. If we confess our sins, he is faithful and just to forgive us our sins and to cleanse us from all unrighteousness."
"Then Peter came up and said to him, "Lord, how often will my brother sin against me, and I forgive him? As many as seven times?" Jesus said to him, "I do not say to you seven times, but seventy-seven times."
Conclusion
When you pray for forgiveness, remember to come with confidence because you will receive what you ask for. Our sins have been paid for by our Lord Jesus' sacrifice on the cross. This is the reason you have a precious promise of being right with God and living eternally with Him someday.
When you forgive others for hurting you, you start revealing the compassionate nature of Christ to them. Additionally, you are able to live a life without resentment on this earth. This assures you that you will one day walk the streets of heaven with your Saviour and Lord.