13 Powerful Sunday Prayers and Blessings
October 2022
In some countries, Sundays are considered the first day of the week. In Christianity, it is also known as the Lord's day, a day for believers to worship God and fellowship with one another. This gathering of brethren is so important, that the Bible in Hebrews 10:25 entreats us not to neglect it.
So the first thing most Christians think of when they wake up on Sunday mornings is "oh, I have church today." There's also that soft reminder of the new week looming ahead.
As a result, a lot of believers enter Sundays with two emotions; anticipation for church service and a sinking feeling because the weekend is almost over.
As much as we'd also like to get some work done on this day, we must remember that it is a day set aside for God. After all the hustle and bustle of the week, it's always nice to give at least a day to our Father who led us through it.
That's why it's recommended that we rest and spend the day in prayer and conversation with Him. Here's a compilation of Sunday blessings and prayers you can use to spend time in His presence in preparation for the day and week ahead.
Sunday Morning Prayer
Father God,
Lord, we come before You first and foremost with hearts of gratitude. You have seen us through another week, and we stand at the threshold of a fresh week, full of new beginnings.
Lord, help us start this bright embarking with You. Stir in us a deep desire to come into further communion with You. Remind us that it is not solely by going to Sunday service that we worship and come before You; rather, it is through the daily communion with You through relationship and prayer.
Highlight to us how we may be obedient to Your call and heart. Embrace us with Your love, oh Lord, for we desperately desire to know You and to feel Your love around us. Give us a hunger for Your Word and truth, oh Lord. Help us begin our week this day in preparation through contemplation and connection with You.
In Jesus' name, Amen.
Sunday Prayer For Church
Lord,
I come to You today with lots on my mind and a busy life stealing my focus. Heavenly Father, this morning and all of history are about You. Please help me worship You with an undistracted heart. You know how my mind wanders to my upcoming week, present worries, and thoughts of others and other things. Help me put those thoughts away and focus on You and Your glory. I ask that my mind be still for honoring You at church.
Help me open my eyes to what You want me to see and hear instead of me going for my agenda. Cause me to treasure the church Your Bride as You do. Lead me in building others up with the gifts and opportunities You have given me. Guide our leadership also in faithfully shepherding the flock.
Help me be Jesus' hands and feet in a world that needs You now more than ever. Deepen my faith and joy in the glories of Your gospel.
In Jesus' name, Amen.
Sunday Prayer To Focus Your Heart On God
Father,
We ask that You would direct our hearts and minds towards You, and fill us with Your Spirit, bringing renewal, peace, and joy. You remind us in Your word that You are faithful to carry our burdens. You tell us that You will renew our strength, and You promise to give us rest as we come to You.
Forgive us for the times we have worked so hard to be self-sufficient, forgetting our need for You and living independently of Your Spirit. Forgive us for letting fear and worry control our minds and for allowing pride and selfishness to wreak havoc over our lives. Forgive us for not following Your ways and for living distanced from Your presence.
Help me to understand that Your ways are far greater than our ways and Your thoughts far deeper than our thoughts. Thank You that Your face is towards the righteous, You are close to the brokenhearted, You hear our prayers, and know our hearts.
Thank You for your daily, powerful presence in our lives, so that we can be assured, no matter what we're facing, that Your heart is towards us, Your eyes are over us, and Your ears are open to our prayers.
Thank You for surrounding us with favor as a shield and we are safe in your care. We give You praise and honor for Your ways are righteous and true.
In Jesus' name, Amen.
Sunday Prayer Of Gratitude
Father,
I thank You for this day. I woke up this Sunday morning knowing that with God on my side, it is enough. We give You thanks that our needs are supplied and are grateful for all You provide. Today we glory in Your presence, great Father. We wonder and gaze upon the great works Your hands have made. Your splendor surrounds us every day.
Thank You for sending Your Precious Son to die for our sins. You raised Him from the dead as You have raised us and called us to be Your own, bringing us into Your marvelous light. Continue to guide and direct my steps each and every day.
In Jesus' name, Amen.
Sunday Prayer of Thanks
Lord of All Days,
On this peaceful Sunday, I pause to bask in the stillness and reflect upon the multitude of blessings You've bestowed upon me. Each breath I take, each song of a bird, every smile from a loved one – all are testaments to Your endless love and grace.
For the week that has passed, with its challenges and victories, its lessons and joys, I offer my heartfelt gratitude. Each moment, whether trying or jubilant, has woven the tapestry of my journey, and for that, I am eternally thankful.
For the sanctuary that is this day, a pause between the endeavors of life, a moment to rest, reflect, and rejuvenate, I am grateful. This Sunday, a gift of peace and renewal, stands as a symbol of Your constant presence and love.
As I prepare for the week ahead, I carry with me the gratitude for days past and the hope for days to come, always mindful of Your guiding hand in every aspect of my life.
Thank You, O Loving Father, for the blessings seen and unseen, for the beauty of this day, and for Your unfailing love.
In Jesus' name, I pray.
Amen.

Sunday Prayer For Abundance In The Coming Week
Father,
You are all mighty and worthy and we are so very honored that we serve a God of abundance. Out of Your abundance, we ask that You bless us. Jehovah Jireh our provider, go ahead of us this week.
Multiply our every work so that our cup will run over in this coming week. Let the springs of living water flow through us so that we may also be a blessing to others.
In Jesus' mighty name we pray, Amen!
Sunday Evening Prayer
Heavenly Father,
As the day is drawing to its close I ask that Your continued love and presence be with me and with all that are Your children in Christ. Guard us through the long hours of darkness this night I pray, and keep us safe from all harm and dangers that may try to cross our threshold.
Give us an untroubled night of rest and quietness of heart. May we be refreshed and renewed in body, soul, and spirit as we rest our weary hearts in You through the hours of the night.
Lord, I pray that by Your great grace and mercy, You would grant us untroubled sleep so that we may rise in the morning strong to do Your bidding. May we all rejoice for the dawn of a new day, knowing that Your mercies are new every morning.
In Jesus' name, Amen.
Sunday Prayer for Family
Lord, on this radiant Sunday,
I come before You with a heart full of gratitude for the family You've blessed me with. They are my strength, my refuge, and the source of countless joys.
As we stand on the threshold of a new week, please envelop us in Your protective embrace. Guide our actions, words, and thoughts so that they mirror Your divine love and compassion.
Strengthen the bonds that tie us, teaching us patience, understanding, and selfless love. May our home be filled with peace, laughter, and Your divine presence, serving as a sanctuary for all who dwell within.
Thank You, O Lord, for the gift of family. As we walk the path of life together, let us be ever-cognizant of Your blessings and grace, supporting and uplifting each other in every season.
In Jesus' name, we pray.
Amen.
Sunday Prayer for My Love
Lord, on this blessed Sunday,
I lift my heart in gratitude for the love that illuminates my life. Bless my beloved, the one who walks beside me, sharing joys, comforting in times of sorrow, and embodying Your love in countless ways.
As we embark on another week, protect and guide us. May our love be a testament to Your grace and mercy, growing stronger with each sunrise and deepening with every sunset.
Strengthen our bond, O Lord, teaching us patience, understanding, and unwavering support for one another. Let our love be a beacon, reflecting Your own boundless love, and inspiring others with its light.
Thank You for the gift of love and for the blessings it brings. As we journey together, may we always be reminders to each other of Your unceasing love and care.
In Jesus' name, we pray.
Amen.
Sunday Prayer for Friends
Lord, on this beautiful Sunday,
I lift up my voice in gratitude for the gift of friendship. For the companions who laugh with us in joy, stand by us in trials, and enrich our lives in countless ways, I give thanks.
As we embark on a new week, please watch over my friends near and far. Infuse their days with Your love, guide their decisions, and protect them from harm.
Strengthen our bonds of friendship, O Lord. Teach us to be kind, understanding, and supportive, reflecting Your love in our interactions. May our friendships be a source of comfort, joy, and inspiration, always pointing towards Your grace.
Thank You for the bonds that tie souls together in the name of friendship. As we journey through life, may we cherish these connections, nurture them, and recognize them as a reflection of Your divine love for us.
In Jesus' name, we pray.
Amen.
Sunday Prayer for My Boyfriend
Lord, on this blessed Sunday,
I come before You with a thankful heart for the love and companionship I've found in my boyfriend. He has been a beacon of support, joy, and love, reflecting Your grace in my life.
As a new week dawns, I ask for Your protection and guidance over him. Bless his endeavors, enlighten his path, and keep him safe from harm.
Strengthen our bond, O Lord, nurturing understanding, trust, and patience between us. May our relationship always be a testament to Your love, growing deeper and more meaningful with each passing day.
Thank You for bringing him into my life, and for the moments of happiness and growth we share. As we journey together, may we always find solace in each other and in Your unwavering love.
In Jesus' name, we pray.
Amen.
Sunday Blessings and Prayers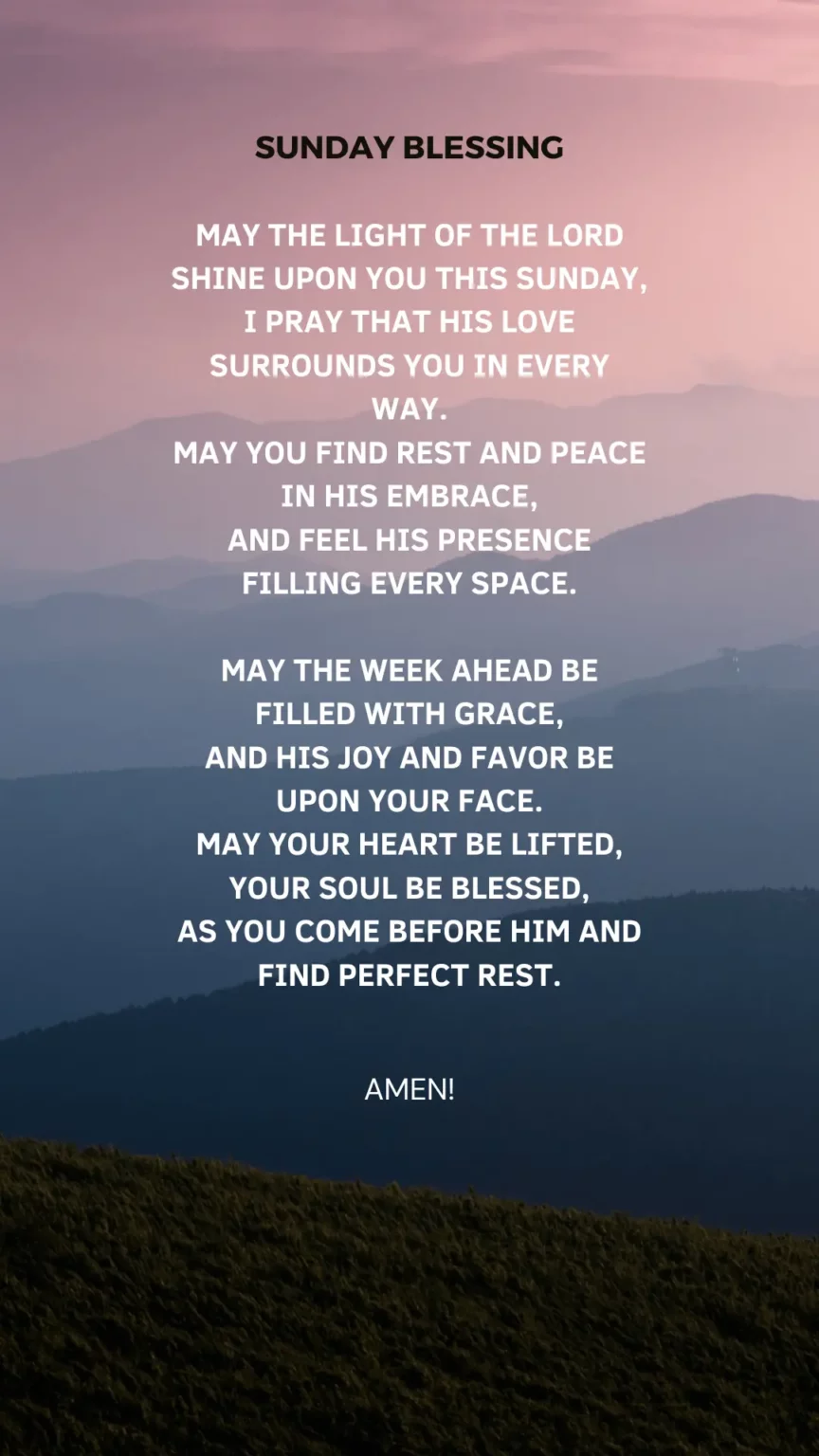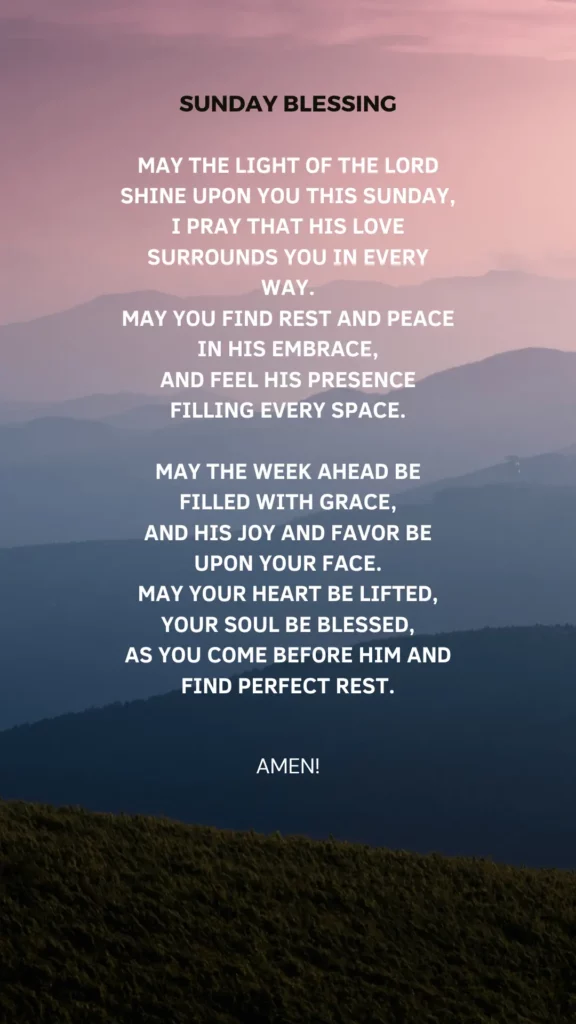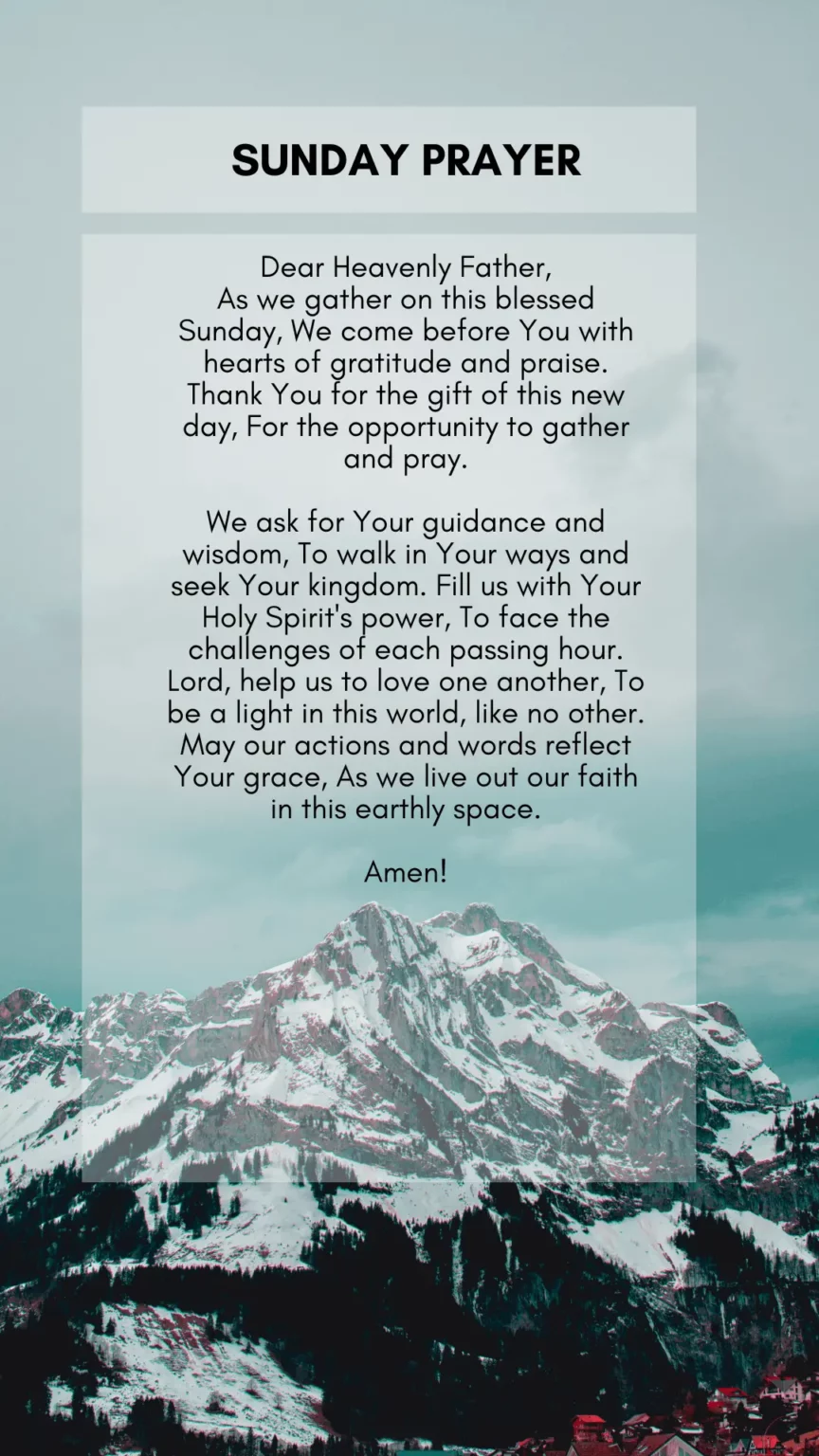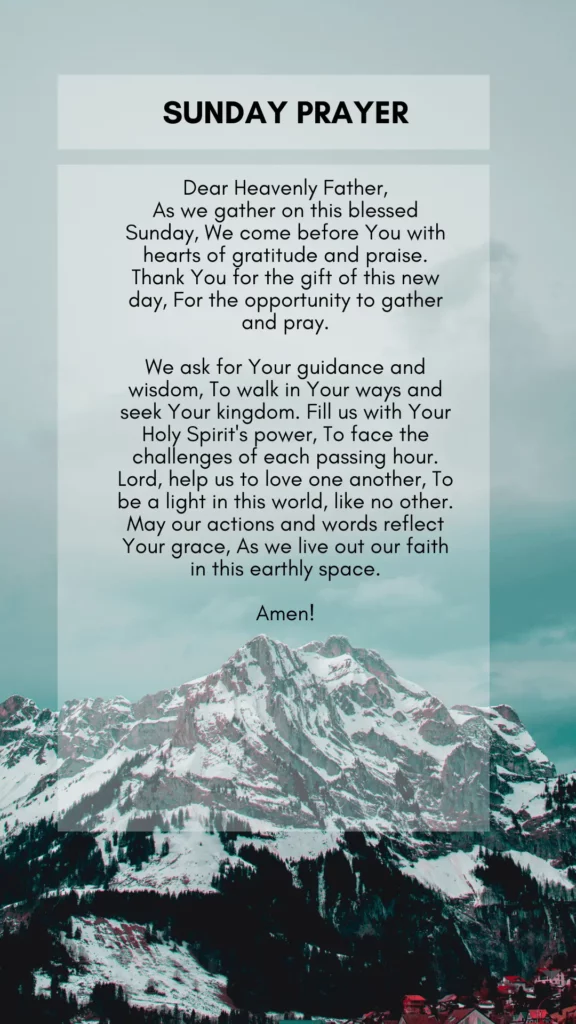 Final Thoughts
A simple Sunday prayer goes a long way in putting us in a state of focus and openness to receive wisdom and grace from God.
Spending the day in His presence helps us to get all we need to carry us throughout the week to come. It's also very thoughtful to send these prayers to our loved ones so that they can be blessed by them as well.
Although Sundays and church services are just one day a week, our communion with God should be constant. Every day is a new chance to deepen our walk and relationship with God.
Prayers for other days of the week